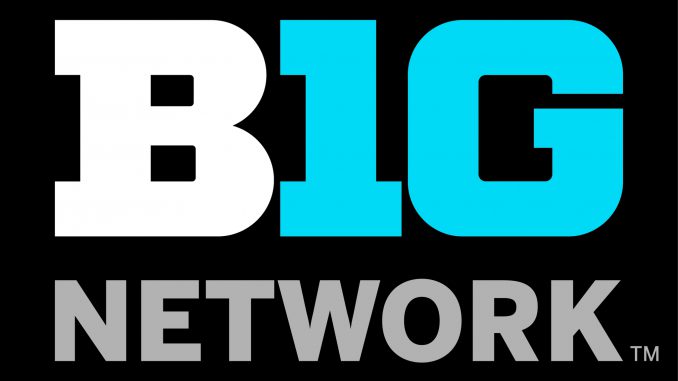 Iowa Extends Stay at BiG Ten Men's Conference Championships
by: Shawn Martin
The Iowa Hawkeyes came into this year's B1G Men's Basketball Tournament as one of the hottest teams in the country – winners of eight of their last ten games and showing significant improvement in most statistical categories.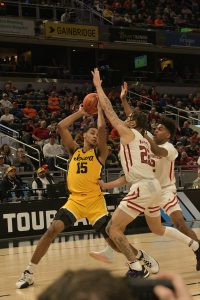 Photo by: Tony Harper, Excel H Sports/Indiana Sports Network
Rutgers has been a team all season that has upped its performance from what was expected to be a middle of the pack B1G team this season and earned the #4 Seed this week in the strongest basketball conference in college basketball.
Photo by: Tony Harper, Excel H Sports/Indiana Sports Network
After a slow start, the Hawkeyes used a 9-0 spurt midway through the first half to take the lead and went onto to win the game 84-74.
That 9-0 run took the Hawkeyes from down 19-13 to up 22-19 and took only 1:23 to do it. It was part of an efficient and impressive 25-7 blitz that gave the Hawks a 12-point lead (38-24) with 1:39 remaining in the first half.
The teams hit the lockers for halftime with Iowa up 41-32. The Hawkeyes maintained that spread or more the remainder of the game – hitting a high mark of 18 midway through the second half.
Iowa (24-9) has now won 10 of their last 12 games covering all of February and March so far. They have upped their scoring average during that span by three points per game, held their opponents to one less point a game, thus winning by an average of four more points per game.
The usual suspects led the Hawkeyes. Keegan Murray was efficient in scoring 26 points on 10-19 shooting and added eight rebounds. Tony Perkins was 6-9 from the field, including 2-3 from 3-point range to card 16 points. Jordan Bohannon also had 16 points and Kris Murray had 9.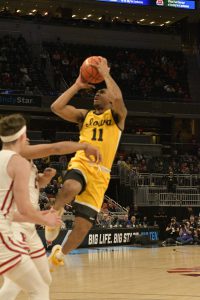 Photo by: Tony Harper, Excel H Sports/Indiana Sports Network
The game got really chippy in the second half as both teams (players and coaches) combined for six technical fouls – four on Rutgers.
Geo Baker led the Scarlet Knights with 23 points. Clifford Omoruyi had 17 points and 7 rebounds, while Ron Harper Jr and Paul Mulcahy each had 13. No bench player scored for Rutgers (18-13).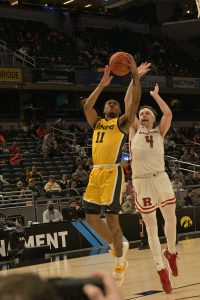 Photo by: Tony Harper, Excel H Sports/Indiana Sports Network
Iowa moves on to play two-time upset winners in this tournament Indiana in Saturday's first semi-final game in Gainbridge Fieldhouse in Indianapolis. Rutgers does have several impressive wins over some of the top teams in the country to boost their NCAA resume – but at 18-13, they are at the mercy of the selection committee meeting here in downtown Indianapolis.
Notes and News (Credit Source: University of Iowa Athletics)
Iowa Post-Game Press Conference
http://asaptext.com/orgs/bigtenmbbtournament/browse_file.php?browse_file_name=transcripts/117733.html
Rutgers Post-Game Press Conference
http://asaptext.com/orgs/bigtenmbbtournament/browse_file.php?browse_file_name=transcripts/117732.html
FINAL: #24 Iowa 84, Rutgers 74
Iowa won its 24th game of the season, its most wins in a season since winning 25 in 2013.
Iowa has won four of the last five meetings against Rutgers.
The Hawkeyes have won 10 of its last 12 games – winning all 10 by double figures – dating back to Feb. 6.
Twenty-one of Iowa's 24 victories have come by double digits this season.
Iowa will play in a Big Ten Semifinals game for the sixth time and second straight season.
Jordan Bohannon became just the third Hawkeye to score 2,000 points. Bohannon entered the game needing eight points to reach the milestone and the sixth year senior tallied 16 points today increasing his career total to 2,008. Bohannon has scored in double figures 99 times in his career.
Bohannon made a team-best three triples today. He now has 448 career 3-pointers, the second most by a player from a major conference in NCAA history (457 by Duke's J.J. Reddick).
All-American Keegan Murray became the school's single-season scoring champion, surpassing Luka Garza's benchmark of 747 established last season today. Murray posted game bests in scoring (26) and rebounding (8). He has totaled 25 points or more an NCAA-best 15 times this year. He has posted 20 points or more 12 of the last 13 games, dating back to Jan. 31.
Iowa made its first 22 free throw attempts, finishing the contest sinking 25-of-27 (.926). The 92.6 percentage is a new school Big Ten Tournament record.
Tony Perkins registered 16 points, marking the fourth time in six games the sophomore has reached double figures.
The Hawkeyes improved to 20-0 this season when outrebounding their opponents.
The Hawkeyes have won six of their last seven games away from home (Maryland; Ohio State; Nebraska; Michigan; Northwestern; Rutgers).
Iowa outscored the Scarlet Knights 20-4 (+16) in fastbreak points.
Today was the first time Iowa competed against Rutgers in a Big Ten Tournament game.
Iowa improved to 2-4 as the No. 5 seed in Big Ten Tournament games.
UP NEXT
No. 24 Iowa (24-9, 12-8) will face Indiana (20-12, 9-11) in the Big Ten Tournament Semifinals on Saturday at approximately noon (CT) at Gainbridge Fieldhouse in Indianapolis. The game will be televised nationally on CBS and broadcast on the Hawkey Radio Network.