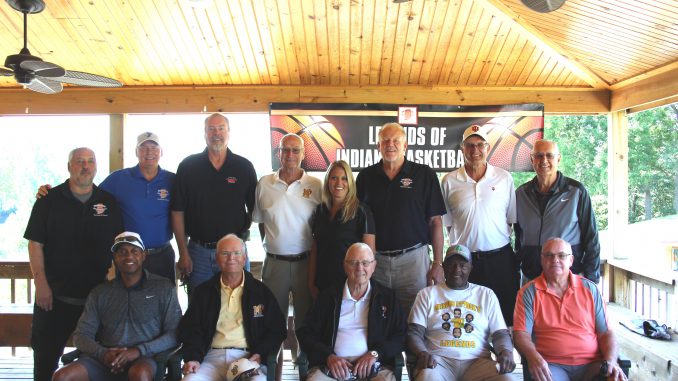 Hoosier hoops Legends draw crowd to golf event
By Jeff Robison | For The Herald Bulletin Aug 26, 2017
ANDERSON — In a city with one of Indiana basketball's richest histories, some of the state's legends made a triumphant journey Thursday to Grandview Golf Course for the Esther Pfleiderer Charitable Trust and 1st Source Bank Legends of Indiana Basketball Golf Classic.
Former New Castle and Indiana University star Kent Benson and Classic staff gathered a storied group of former players, including former Anderson High School and Purdue star Troy Lewis for the day's festivities. The gathering held a larger purpose, as the scrambles tournament raised funds supporting scholarships for two college-bound freshmen continuing their own basketball journeys, along with supporting other worthy causes.
"By far this has been the most unqualified success for our event," Benson said. "We appreciate the support of our many sponsors, including title sponsor Esther Pfleiderer Charitable Trust and 1st Source Bank. We also received tremendous volunteer support from Kohl's and the City of Anderson."
The event attracted nearly 100 golfers in its fourth meeting. The day started early with fans able to meet and greet and share moments with Benson, Lewis, and others such as former Indiana Pacer Billy Keller, IU super-sub John Laskowski, Milan legends Roger Schroeder, Ray Craft, Rollin Cutter, and Glenn Butte, Purdue graduate Jerry Nichols and a new Hall of Famer, Crispus Attucks star Bill Hampton.
Benson, co-founder of the Indiana Class Basketball All-Star Classic held at Anderson University each June, enjoyed his return to the city, renewing old rivalries and friendships with his fellow legends.
"It is always great getting to meet golfers and talking with fans and seeing their excitement," Benson said. "It's also great to be with the other legends, to share mutual admiration and respect."
Lunch was provided by Arni's Restaurant, prior to the players taking the course. Later — dinner by The Curve Restaurant at Grandview — an all-day silent auction, a live auction and awards rounded out festivities.
2017 scholarship recipients Shenandoah graduate Gavin Griggs and Pike graduate LaRae Rascoe were saluted. Griggs is continuing his basketball career at Olivet Nazarene, while Rascoe will participate at Ancilla College.
Griggs' father, Dale, was impressed with what he observed.
"I want to thank (the legends) for the scholarship awarded to Gavin," the elder Griggs said. "Hopefully, I can become an increased supporter of their important things being done in support of Christian youth."
Scoring success in golfing were top three teams Indiana Chiropractic (Bloomington), Big Brothers/Big Sisters (Fort Wayne), and Wayne Allen and Team. Chris Daoust starred, claiming two Closest to Pin holes and the men's longest drive. Lee Ann Dwiggins had longest drive among women golfers, while legend Jerry Nichols and Casey Beach also won Closest to the Pin holes. Joe Boardsley took a prize for longest putt.