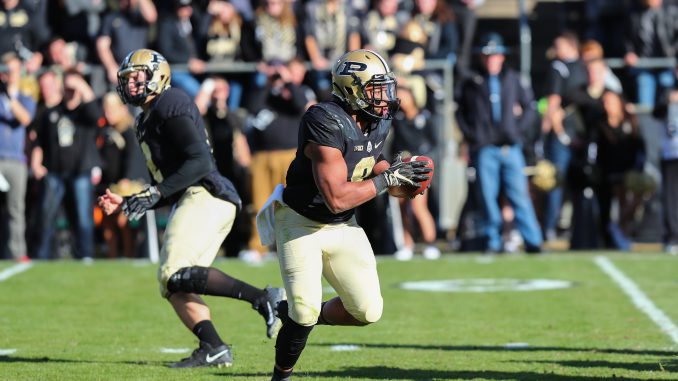 Boilermakers Earn Old Oaken Bucket, Bowl Bid
Steven Stremming
WEST LAFAYETTE:  On a bright, clear 54 degree Saturday afternoon, the Purdue Boilermakers continued their amazing turn around behind Head Coach Jeff Brohm, as they not only claimed the Old Oaken Bucket but became bowl eligible with a victory over in state and BiG rival Indiana 31-24.
The novel Great Expectations was written in 1860-1861 by the renowned author Charles Dickens and one team came into the 2017 season with those expectations (Indiana) and one team was just trying to get the program back on solid footing (Purdue).
What this Saturday would have in store was the expectations of a 6'4, 230 pound sophomore, Caldwell County Kentucky High School's Elijah Sindelar.  Not to have great expectations but to manage those expectations and manage this Old Oaken Bucket game he did. Sindelar was 17 of 25 for 159 yards and two touchdowns with no interceptions or fumbles.
Photo by: Rick McIntyre, Excel High School Sports/McIntyre Imaging
Sindelar threw the ball with effectiveness, ran the offense seamlessly and helped earn the Boilers  a bucket for the first time since 2012 and end the season with a six and six won/loss mark while Indiana home with disappointment of a season that went off the rails for New Castle, Indiana graduate, first year head coach Tom Allen.
Running the ball is part of any offense and boy did the Boilers run the ball.  On a sleek looking play Jackson Anthrop (two rushes for nine yards and two touchdowns, and one reception for 20 yards) scampered across the line of scrimmage, firmly held onto the ball from a hand off from Sindelar and slid off tackle to score a touchdown for the Boilers just minutes after Richard Lagow  (32 of 60 for 373 yards, three touchdowns and a lone interception), Indiana's quarterback threw a interception on the first play of the game for the Hoosiers. Garrett Hudson collected the errant throw and set up the Boilers first score. Hudson was in the game as a substitute for Glendale, Maryland senior linebacker Ja'Whaun Bentley.
Photo by: Rick McIntyre, Excel High School Sports/McIntyre Imaging
Indiana would tie the game in the first quarter as Lagow would hit Senior Simmie Cobbs, Jr.(seven receptions for 105 yards) with a one yard pass completing a 11 yard drive that encompassed 41 yards that started when Boilermaker Junior wide receiver fumbled a handoff.
Photo by: Rick McIntyre, Excel High School Sports, McIntyre Imaging
The Boilermakers struck again in the second quarter when Anthrop scored his second score of the game on a four yard off tackle run. The big play in the quarter and what ended up being the game was a 22 yard, fourth down pass from punter, Indianapolis Cathedral junior Joe Schopper to sophomore, Newhall, California's Mike Little. This was Little's only reception of the game, but ended up being the Bucket game changer.
Purdue would tack on yet another touchdown when Sindelar hit 6'3, 210 senior wide receiver Anthony Mahoungou (two catches for 88 yards) with a 49 yard strike. The big play that series was a 17 yard, third down run.
Junior Markell Jones (Former Goal Post Football Yearbook Cover photo player). Jones would rush for over 217 yards on 31 carries  on sweeps, off tackle runs and simple over Hoosier defenders.
Jones who wasn't even recruited by Indiana made them pay dearly on this Saturday.
Photo by: Rick McIntyre, Excel High School Sports, McIntyre Imaging
After the half, Indiana would score first when Greenwood, Indiana senior Griffin Oakes would hit from 22 yards out to close Indiana with ten at 21-10.
Purdue's kicker, Charlotte, North Carolina's sophomore J D Dellinger put the Boilers back up by 14 when he hit from 26 yards out.
Purdue would place another score on the board when Milledgeville, Georgia's junior wide receiver Isaac Zico pulled in a four yard pass from Sindelar early in the final stanza and with a Dellinger extra point the Boilers found themselves up 31-10.
Indiana came back when Richard Lagow went five for five and a touchdown throw to Brooklyn, New York's redshirt freshman Taysir Mack  (seven receptions for 71 yards) to close the gap to 14.  The big play on that drive was a Lagow to Southlake, Texas junior Luke Timian (six receptions for 69 yards) for 22 yards.
Photo by: Rick McIntyre, Excel High School Sports, McIntyre Imaging
Indiana would onside kick and come up with the ball. Lagow would hit pay dirt one more time in his Indiana career as he hit true freshman, DeAngelo Phylor, Tampa, Florida with a nine yard pass to pull Indiana to within seven.
Other notables: Indiana's Ricky Brookins, Terre Haute North Vigo junior wide receiver, two rushes for 71 yards and eight receptions for 48 yards), Brownsburg, Indiana fifth year senior Chase Dutra a team high ten tackles and Jonathan Crawford with eight tackles. Purdue: D J Knox five rushes for 48 yards, Sophomore Markus Bailey, nine tackles, two assists, fifth year senior Danny Ezechukwu, seven tackles, three assists and Miami, Florida, fifth year senior captain Da'Wan Hunte six tackles.
Photo by: Rick McIntyre, Excel High School Sports/McIntyre Imaging