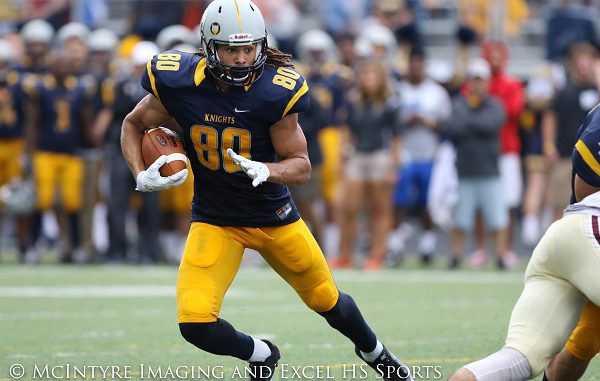 photo by Rick McIntyre, McIntyre Imaging/Excel High School Sports
Knights fly over the Eagles in 2nd half
(By Steven Stremming)
#1 NAIA ranked Marian University Knights woke up at half-time and simply mauled Robert Morris Eagles in the 2nd half of the game at St. Vincent Field securing a 45-7 victory.
Leading only 17-7 at the half the Knights got two third quarter down scores from touchdown passes from Southport and 2016 Goal Post Football cover graduate Luke Johnston to  Trey White. One was a 68 yard score early in the quarter and another Johnston to White for 57 yards with a littleover 2 minutes left in the quarter.
The fourth quarter saw more scoring from the Knights as Warren Central graduate Krishawn Hogan's second score of the game with a three (3) yard run to put the Knights up 38-7. Jakhari Gore would cap off the scores with a 67 yard punt return to make the margin 38 points at games end.
Lucas Johnston was 14/19/325 yards with three (3) touchdowns), Jakhari Gore rushed 18 times for 104 yards while Trey White caught six (6) passes for 193 yards and Krishawn Hogan caught five (5) passes for 89 yards.
Marian racked up 543 yards on 60 offensive plays while RMU gained 267 yards on 57 offensive plays.