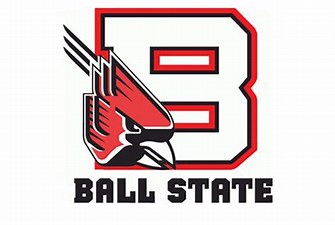 #8 Ball State (10-12, 8-9) vs. #1 Toledo (20-7, 15-4)
Date
Thursday, March 11
Time
11 am ET
Location
Rocket Mortgage Fieldhouse – Cleveland, Ohio
Television
ESPN+  (Michael Reghi, Dave Bacon) (Watch)
Radio
96.7 and 104.9 FM (Joel Godett, David Eha) (Listen)
Tourney Central
MAC Championship Page
Game Notes
Ball State    |    Toledo  (Toledo attached)
Live Stats
Live Stats
Social Media
Twitter    |    Instagram
The Starting 5 – The Top 5 Storylines For The MAC Tournament
TOURNEY TIME
The season's biggest stage is here. The Cardinals are the No. 8 seed in the MAC Men's Basketball Championship, where they own an all-time record of 39-32. The Cardinals have won seven tournament titles, the highest number in the league. The last time Ball State was the 8 seed it lost 69-63 in a play-in at Western Michigan. Ball State is 1-8 all-time against the 1 seed, with that win coming over Miami in 1995.
STORIED TOURNAMENT TRADITION
Ball State owns a league-best seven MAC tourney titles and nine trips to the final game. BSU is fourth in the conference in all-time tournament wins with 39 (Ohio 41, Kent/Miami 40). Eight times a Cardinal has won the tournament MVP award, by six different players. Bill Gillis won the award in 1992 despite Miami beating Ball State 58-57 in the final.
MAC Basketball Titles By School

| | |
| --- | --- |
| 1. Ball State | 7 |
| T-2. Ohio | 6 |
| T-2. Kent State | 6 |
| T-4. Miami | 4 |
| T-4. Buffalo | 4 |
| T-4. Eastern Michigan | 4 |

​
All-MAC CARDINALS
Ishmael El-Amin and K.J. Walton earned All-MAC honors, as announced this week by the conference office. El-Amin, BSU's leading scorer at 16.3 points per game, was voted second team All-MAC. He was a third-team honoree last season and second-team in the preseason. K.J. Walton, BSU's leading rebounder, earned honorable mention honors. Toledo, Ball State's opponent on Thursday, had the league's coach (Tod Kowalczyk) and player of the year (Marreon Jackson).

4. THE MATCHUP WITH TOLEDO
The 1 vs. 8 matchup with Toledo is especially intriguing when you consider the two regular season meetings. On Feb. 6 in Muncie, Toledo led 19-3 early before Ball State stormed back and won 81-67 behind 19 points from Jarron Coleman. Last Friday in the regular season finale, it was 38-34 at halftime before Toledo pulled away late to win 89-70. Ball State has won eight of the last 12 against Toledo and the two teams have been the best programs in the west over the last five years when the league had divisions.

5. CARDS AND TOLEDO – THE 100th MEETING
The tournament opener is the 100th meeting between Ball State and Toledo, with UT holding a slight 51-48 lead in the all-time series that dates back to 1938. Ball State has won eight of the last 12 and seven of the last 10 over Toledo. UT won 13 of the first 14 meetings but the series has been nearly even since 2000.
Tournament Tidbits
Homecoming For Miryne: Miryne Thomas played his high school ball at Cleveland Central Catholic, and was a close friend of Toledo star and MAC Player of the Year Marreon Jackson. Thomas's high school team defeated Jackson's Garfield High School on a buzzer beater in Rocket Mortgage Classic in 2017. Thomas says he expects close to 40 friends and family in attendance for the tournament.
Luke As A Playmaker Luke Bumbalough has emerged as a playmaker this season, leading the team in assist-turnover ratio. The sophomore has 64 assists against 23 turnovers this season. In conference play, his ratio is 60 assists vs. 20 turnovers (3 to 1). Bumbalough has 20 assists over the last five games.
BSU & Toledo At A Glance BSU and Toledo have been the top two western schools in the MAC in recent years. Ball State owns a piece of three division crowns recently (2016, 2017, 2020) and Toledo has won the division twice (2018, 2019). Since the 2015-16 year, Ball State is 56-51 in MAC play and UT is 66-43. Top Cards vs. Toledo Here's a look at how Ishmael El-Amin, K.J. Walton and Jarron Coleman have performed in their careers against Toledo. Ball State and Toledo have split a pair of games each year for the last three seasons:
El-Amin (7 games): 12.7 ppg, 4.8 rpg, 2.2 apg, 34-73 FG (.466), 14-33 3FG (.424)
Walton (3 games): 11.0 ppg, 4.3 rpg, 0.3 apg, 13-34 FG (.382)
Coleman (4 games): 14.5 ppg, 7.8 rpg, 2.8 apg, 19-47 FG (.404), 8-27 3FG (.296)