Morton Is Purdue's Salt
by Steven Stremming
photos by: Anthony Harper/Excel H Sports/Indiana Sports Network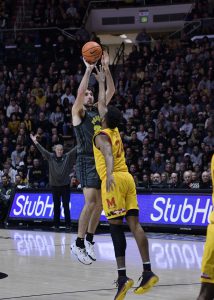 photo by: Anthony Harper/Excel H Sports/Indiana Sports Network
Salt, you might wonder why I chose salt as a descriptor of Ethan Morton's over-all play, but let's look at the definition of the word salt.
An adverb of salt is to preserve and that is exactly what Morton did on this snowy, January 22nd, 2023, day, but we will get back to that later in the story.
The first half saw the Boilermakers run out to a twenty-four to nine early first half lead, as the Terrapins came out the chute slow. A tendency Maryland has more often than not, displayed this season.
Zach Edey was once again, a major factor in the early lead as he scored at will, yes, being guarded by three Terps, as he overpowered them near the rim.
Both Purdue and Maryland never could find the range from long range, as they combined for a five of 34 attempts for the game; though both, kept firing away.
The second half saw poor Boilermaker choices, which led to a sprint out baskets by Jahmir Young, a grad student from Upper Marlboro, Maryland and the steady play of Baltimore, Maryland sophomore, Julian Reese, which saw Maryland cut the Boilers lead to below double digits.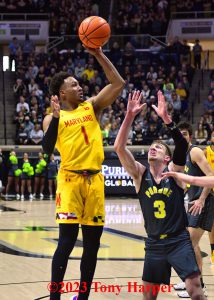 photo by: Anthony Harper/Excel H Sports/Indiana Sports Network
This was setting up as a trend as the Boilers became sluggish, complete with bad passes and troubles moving the ball pass the center line.
Then again, and again, Morton, would break up a Maryland pass, make a key rebound from a Terps shot and yes, block two shots, bring the ball up the court and stop virtually every run Maryland made in the second half. Maryland would cut the lead to three but then Morton would come to the rescue and yes, preserve (Salt) the lead for the Boilers while Edey continued his laser like domination in the offensive paint.
Maryland was relentless in the second half as they outscored Purdue in Mackey Arena in front of loud sold-out crowd, 34 to 23 points.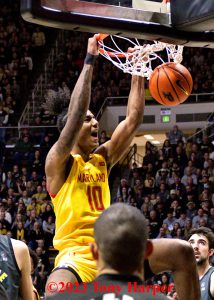 photo by: Anthony Harper/Excel H Sports/Indiana Sports Network
Zach Edey was dominant again as he scored 24 points on ten of seventeen shots and pulled in 16 rebounds, that included seven vital offensive rebounds.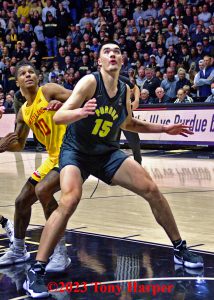 photo by: Anthony Harper/Excel H Sports/Indiana Sports Network
Another Boiler of notice was the defense of David Jenkins, Jr. who recorded two key rebounds and scored three points in his twelve minutes of floor time.
No other Boiler managed to score double figures.
Maryland was led by Reese's 19 while Hakim Hart added 11 and Young scored ten.
per: Purdue University Athletics
No. 3-ranked Purdue improved to 19-1 overall and 8-1 in the Big Ten Conference with a 58-55 victory over Maryland in front of the 51st straight sellout at Mackey Arena. The win was Purdue's sixth in a row.
Purdue became the fifth Big Ten team since 2000 to start a season 19-1 (2019 Michigan; 2013 Michigan; 2011 Ohio State; 2005 Illinois). The 19-1 record is the best 20-game start in Purdue history.
Purdue improved to 8-5 all-time against Maryland. Of the 13 games played with Maryland, 11 of them have been decided by single-digits and eight of them by five or fewer points, including four straight contests (3, 1, 1, 3 points).
Purdue's 58 points in a home win were its fewest scored since Feb. 27, 2020, vs. Indiana (57-49).
Purdue has held three of its last four opponents to 55 or fewer points (Nebraska – 55; Minnesota – 39; Maryland – 55). Over the last four games, Purdue is holding foes to 53.0 points per game.
Over the last four games, Purdue has trailed for a total of 12:41 of a possible 160 minutes. It didn't trail in wins over Nebraska, Minnesota and Maryland.
Purdue has held every opponent to 70 points or less, one of two teams nationally that can say that (Saint Mary's).
Purdue now owns an 8-1 record against top-40 teams in KenPom, the most wins against the KenPom top-40 nationally.
Purdue is now 173-7 (.961) under Matt Painter when holding teams to 59 or fewer points. Purdue has won 17 straight game when holding foes to 59 or fewer points.
The win was Purdue's 75th in Big Ten play since the 2017-18 season (75-31 record). Purdue owns the league's best record by 4.5 games in that span over Michigan State (71-36).
Zach Edey scored 24 points with 16 rebounds, two blocks and an assist for his 16th double-double of the season. He already ranks eighth on Purdue's single-season double-double list. His 28th career double-double in ninth in school history.
Edey recorded his 250th rebound of the season in his 19th game. Just eight players since 2010-11 have had more rebounds in their first 19 games of the year. He is the only player since 2010-11 to have 400 points and 250 rebounds through the first 19 games.
Edey recorded his fourth 24-16 game of the season. The rest of the country has 11 and no player has more than one.
Based on a 35-game schedule, Edey is on pace for 751 points, 460 rebounds and 82 blocked shots. The only player we can find in the Sports-Reference database with 750 points, 450 rebounds and 75 blocks in a season is Navy's David Robinson (796-455-207 in 1985-86; 35 games played). No one since 1992-93 has even done 700-400-75.
Ethan Morton had four points, five rebounds and two blocks, but held Maryland's Jahmir Young to 4-of-18 shooting from the field.
Braden Smith has had at least four assists in eight straight games.