Newman Garners 2nd Freshman of the Week Accolades
Credit Source: Purdue University Athletics
WEST LAFAYETTE, Ind. – Following a big game against No. 21-ranked Minnesota on Saturday, Brandon Newman was named the Big Ten's Freshman of the Week, the league office announced Monday.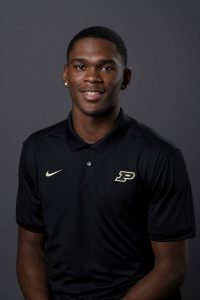 The 6-foot, 5-inch guard from Valparaiso, Indiana, scored a career-high 29 points with six rebounds and two steals in Purdue's 81-62 win over the Golden Gophers. He was 9-of-14 from the field, 5-of-6 from 3-point range and 6-of-6 from the free throw line.
His 29 points are the fourth most by a freshman in school history, third most by a freshman in a Big Ten game in Purdue history and second most by a freshman at Mackey Arena. His five 3-pointers tie the school record for most 3-pointers by a freshman.
Since the 2010-11 season, only eight players from the Big Ten Conference have scored 29 points with six rebounds, six made free throws and five made 3-pointers. However, Newman is the only player to reach those marks as a freshman (Illinois' Brandon Paul and Malcolm Hill, Iowa's Peter Jok twice, Michigan's Caris LeVert, Michigan State's Denzel Valentine, Penn State's Talor Battle and Purdue's Carsen Edwards and Brandon Newman).
For the season, Newman is averaging 10.1 points per game, 3.5 rebounds and 1.5 assists per game. He is shooting 30-of-68 (.441) from long range on the season. In 11 Big Ten games, his 3-point percentage increases to 46.3 percent (19-of-41) while averaging 10.7 points per game.
Purdue freshmen have now garnered five Big Ten Freshman of the Week honors this season (Zach Edey – Nov. 30, 2020; Mason Gillis – Dec. 21, 2020; Brandon Newman – Jan. 18, 2021; Jaden Ivey – Jan. 25, 2021; Brandon Newman – Feb. 1, 2021), including the last three weeks.
The Boilermakers will travel to Maryland for a 6:30 p.m. ET, tip on Tuesday on the Big Ten Network