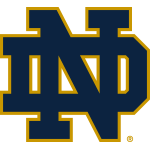 No. 2 Irish Named Reveal Suits National Team of the Week

Credit Source: Notre Dame University Athletics
NOTRE DAME, Indiana — The University of Notre Dame Football team has been named the Reveal Suits National Team of the Week by the Football Writers Association of America with its performance in the win over No. 1 Clemson. It marks the sixth time the Irish have earned the award, and the first time since 2017 (vs. Southern Cal).
Saturday marked Notre Dame's ninth win over an Associated Press (AP) No. 1 opponent, which is tied for second all-time (Miami). The Irish trail just Alabama (10 wins over No. 1) in wins over No. 1. Notre Dame has won six of the last seven games when playing No. 1 as a top-five team.
The last two times the Irish have played at Notre Dame Stadium as a top-five team against a No. 1 program the Irish are undefeated (1993 vs. Florida State), and Notre Dame's 47 points against Clemson were the most an Irish team has ever scored against a No. 1 opponent.
The Irish own the longest win streak among all FBS teams (13 games), and are now 30-3 overall since the beginning of the 2018 season (.909). Additionally, they boast a 23-game home winning streak, the second-longest in the nation. Through Saturday, the Irish have only trailed for 23:20 total minutes this season out of a total 420:00 regulation minutes.
Through the first seven games of the season, Clemson averaged 167 rushing yards per game. In the first half, Notre Dame limited Clemson to just five rushing yards. The Tigers finished with 34 yards rushing on 33 carries. It marked the second time this season that Notre Dame has held an opponent to single-digit rushing yards in a half (First half at Pitt). Travis Etienne, the ACC's all-time leading rusher, averaged 86.6 yards per game this season entering Saturday. The Irish defense held him to 28 yards on 18 rushes.
Entering the game, Notre Dame was averaging 34:11 time of possession, a figure which led the ACC. The Irish have now won the time of possession battle in six of seven games this season, posting 30:22 minutes Saturday.
Scoring on the first official play of the game's opening drive, the Irish posted a one-play, 75-yard drive, marking the fewest plays and shortest amount of time in an Irish scoring drive this season. It marked the first time since 2016 (Syracuse) that Notre Dame scored on its first offensive play, and the first time in the last 15 seasons that Clemson has allowed a touchdown on its first defensive play.