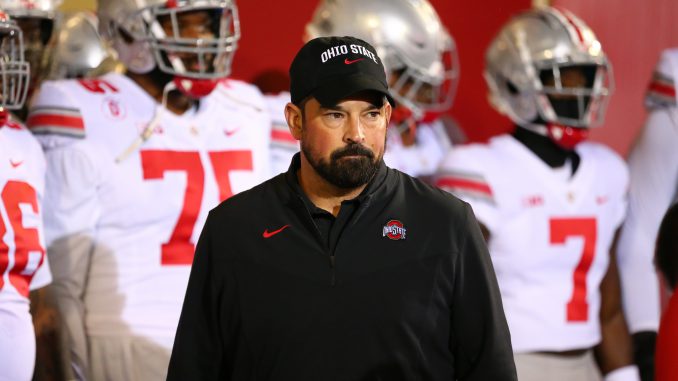 Ohio State Suffocates Indiana 54 to 7
by Steven Stremming
photos by: Rick McIntyre/Excel H Sports/McIntyre Imaging
There are many adjectives that could be used after the fourth ranked Buckeyes exited Memorial Stadium with a more than convincing win over a staggering Indiana Hoosier program. I chose Suffocates.
How bad was the beat down, one of the messages online, that went through the game was a Buckeye fan who wrote, Buckeyes Kicking the LEO out of Indiana. LEO is the saying that Indiana Football Coach Tom Allen came up with last season and has stuck this year.  So as I said, many adjectives.
For the game, the Buckeyes outgained Indiana 539 total yards to Indiana's 128. The Buckeyes threw for 352 while Indiana managed a anemic 80 yards while Ohio State also outgained Indiana 187 to 48 on the ground.
Ohio State's tremendous redshirt freshman C J Stroud (21 of 28 for 266 yards and four touchdowns) diced the Hoosier defense from the moment he entered the game till his exit early in the second half. Stroud has plenty of help in a outstanding receiving corps which includes Jaxon Smith-Njigba (six receptions for 99 yards), Garrett Wilson (five catches for 59 yards), Jeremy Ruckert (five catches for 47 yards and two scores) and all-everything Chris Olave (two catches for 24 yards and one score). Marvin Harrison, Jr., Emeka Egbuka and Evan Pryor each collected two receptions as piece in reserve.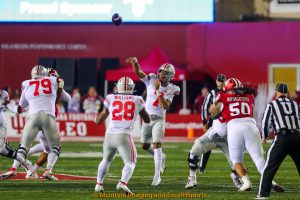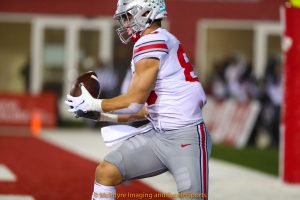 Photo by: Rick McIntyre/Excel H Sports/McIntyre Imaging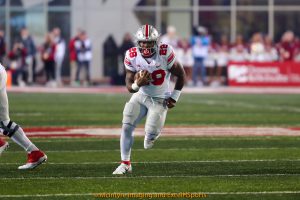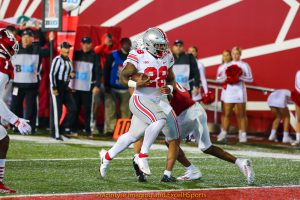 On the ground, no difference the Buckeye backs ran where they wanted and when they wanted as the Hoosiers had no answers.
TreVeyon Henderson (nine rushes for 81 yards and in the end zone twice), Miyan Williams (eight rushes for 60 yards and a score) and Evan Pryor (eleven rushes for 48 yards in a reserve role).
Indiana's biggest moment was the first drive of the game when they opened Ohio State's opening drive with a drive of their own, capped by  Peyton Hendershot's seven yard grab from Indiana quarterback Jack Tuttle.
Tuttle would be injured on that play and  would spend the exception of one play, would spend the game on the sidelines. A update will follow in the coming days.
Indiana was forced to go to freshman Donaven McCulley and Grant Gremel the rest of the game.