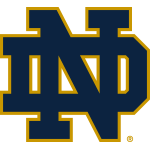 Owusu-Koramoah Named Finalist for Lott IMPACT Trophy
Credit Source:  University of Notre Dame Athletics
NOTRE DAME, Indiana — University of Notre Dame linebacker Jeremiah Owusu-Koramoah has been named a finalist for the 17th annual Lott IMPACT Trophy, which honors the best defensive player in college football based on character and play. It is the first college football trophy to give equal weight to personal character, as well as athletic performance.
A unanimous All-American and the 2020 Butkus Award winner, Owusu-Koramoah was also named ACC Defensive Player of the Year. He was a finalist for the Bednarik Award and Nagurski Award. The senior earned All-ACC First Team honors from the conference and Associated Press. In addition, Owusu-Koramoah is a finalist for the Bowden Trophy, which honors a player who best represents the student-athlete.
Owusu-Koramoah was Notre Dame's 35th unanimous All-American in program history, the first since Quenton Nelson in 2017, and the first Irish defense player since Manti Te'o in 2012. Te'o was also Notre Dame's most recent Butkus Award winner prior to Owusu-Koramoah.
The senior totaled 62 tackles (42 solo), 11.0 TFL, 1.5 sacks, one interception, three PBU, two FR and three FF on the season, leading Notre Dame's defense to be among the best in the nation in third-down defense, rushing defense and scoring defense. Owusu-Koramoah himself ranks tied for 12th among all FBS players with two fumble recoveries this season. He ranks tied for eighth among all ACC players in forced fumbles (0.25 per game).
The winner of the Lott IMPACT Trophy will be announced February 21. The Lott IMPACT Trophy was named in honor of Ronnie Lott, a two time All-American for USC and College Football Hall of Fame Inductee.