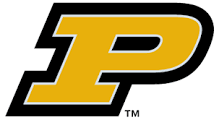 Boilers Top Cards in Grit Fest
Steven Stremming
WEST LAFAYETTE:  Matt Painter's Boilers came back from the Bahamas with one win (#2 Arizona) and two setbacks (Tennessee and Western Kentucky) to a Louisville team still looking for a identity.
Photo by: Rick McIntyre, Excel High School Sports/McInytre Imaging
Louisville came into the game with a spotless record with all wins coming at home.
Acting Head Coach David Padgett's Cardinals entered Mackey Arena and quickly jumped out to a 7-0 lead, quieting the sold out crowd at Mackey early on.
Purdue would chip away at the margin through tough, gritty defense, that was a thick as molasses on the Cards.
One of the main keys for Purdue was a lockdown defense in the waning moments of the first half when the Boilers floored a team of Edwards, Mathias, Eastern, Taylor and Eifert that crimped Louisville's offense.
If one of Painter's keys to victory was putting pressure of Card Senior Guard Quentin Snider it worked. Snider was pressured when he controlled the ball as he had to work to distribute the ball.
Snider would end up with three points on one of six shooting and four turnovers in 39 minutes of floor time.
On the Purdue side of the ledger, Vincent Edwards, though saddled with fouls responded with a strong second half effort with a team high 15 points, seven rebounds was crucial in the late second half but none more than fellow senior Dakota Mathias who drilled three three-pointers to expand a Purdue lead.
Mathias would end the night with 13 points, three rebounds, two assists, a blocked shot and two steals.
Photo by: Rick McIntyre, Excel High School Sports/McInytre Imaging
Two more Boilers who played strong down the stretch were Atasocita, Texas sophomore guard Carsen Edwards and Hokes Bluff, Alabama's 7'2 Isaac Haas. Both players would have a difficult time, to say the least of finding the bottom of the basket from the field but both were active in drawing fouls from the Cards.
Photo by: Rick McIntyre, Excel High School Sports/McInytre Imaging
Edwards would just hit two of eleven shots from the floor, including a o-fer for six from behind the arc, but would hit on nine of eleven charity shots (Purdue would hit on 23 of 32 from the free throw lines for the game). Edwards would end up with 13 points, with two steals, two assists and only two turnovers in 27 minutes of floor time.
Haas would also have a difficult time in the paint, (two of seven) but hit five of six free throws during a crucial second half period. Haas would score nine points on the night.
Ryan Cline would add five points along with P J Thompson, Matt Haarms would add four points, five boards and four blocked shots in 22 minutes.
The Cards were led by Cleveland, Ohio sophomore V J King's 17 points and six boards. Junior Deng Adel would add 13 and Anas Mahmoud would add 11.
Photo by: Rick McIntyre, Excel High School Sports/McInytre Imaging
Purdue moves on to Maryland while Louisville host Seton Hall.