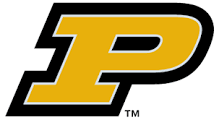 Carson Edwards Named First-Team Preseason All-American by AP
WEST LAFAYETTE, Ind. – Purdue's Carsen Edwards was named a preseason first-team All-American by the Associated Press, the organization announced today.
Edwards was the leading vote-getter on the six-person team (extra player because of a tie), appearing on 63 of 65 ballots. He was joined on the first team by North Carolina's Luke Maye, Duke's R.J. Barrett, Kansas' Dedric Lawson, Nevada's Caleb Martin and Wisconsin's Ethan Happ.
Edwards is Purdue's first preseason AP All-American since JaJuan Johnson in 2010-11. Maye was second in voting, appearing on 52 of 65 ballots.
Edwards, who was named the preseason National Player of the Year by Blue Ribbon Magazine and the Big Ten's preseason Player of the Year, earned the nod after an outstanding sophomore season, helping the Boilermakers to a 30-7 overall record and a spot in the Sweet 16 for the second consecutive season.
Edwards' 1,046 career points are the 12th most for an active player nationally through his sophomore season. His 686 points last year were the ninth most nationally for a freshman or sophomore and he was one of six underclassmen a year ago to have 650 points, 100 rebounds and 100 assists. He is the only player in Purdue history to have reached those marks in the same season.
Edwards, a 6-foot, 1-inch, 200-pound guard, was at his best late in the season, averaging 21.1 points per game in 13 games played after February 1. He tallied 40 points in a win over Illinois in late February and 30 against Texas Tech in the Sweet 16, while averaging 20.5 points per game in six postseason games. He scored in double-figures in 20 straight games to end the season, surpassing 20 points nine times.
Edwards and the Boilermakers open the regular season Nov. 6, when Fairfield visits Mackey Arena. Season tickets are available by calling the Purdue Athletics Ticket Office at 800.49SPORT or online at PurdueSports.com.
ONTACT: Chris Forman (765.494.3201 / cforman@purdue.edu)
Purdue Opens Season Ranked No. 24 in AP Poll
WEST LAFAYETTE, Ind. – The Purdue men's basketball team is ranked No. 24 in the preseason Associated Press Top 25 poll released earlier today.
The Boilermakers garnered 170 votes to sit in 24th place, 17 points behind 23rd-ranked LSU and five points ahead of No. 25-ranked Washington (165 points). Purdue is one of three Big Ten teams ranked, joining Michigan State (10th) and Michigan (19th).
Among top-25 teams, Purdue will face Michigan State, Michigan, Florida State (17th) and possibly Virginia Tech (15th). Among teams receiving votes, Purdue will face Indiana twice (28th), Nebraska (30th), Maryland (31st), Wisconsin (32nd), Notre Dame (33rd), possibly Alabama (36th), Texas (45th) and possibly Davidson (50th).
With the ranking, Purdue has been mentioned in the preseason top 25 poll in four straight seasons for the first time in school history. The Boilermakers, which have won the ninth-most games in college basketball and the most in the Big Ten over the last three seasons, were ranked 23rd in 2015-16, 15th in 2016-17, and 20th in 2017-18.
Purdue has now been ranked in 57 of the last 58 Associated Press Top 25 polls, the fourth-highest total nationally. Kansas, Villanova and North Carolina have been ranked in every poll since the start of the 2015-16 season. Purdue has been ranked in every poll but one.
The Boilermakers open the regular season Nov. 6, when Fairfield visits Mackey Arena. Purdue's lone exhibition game will be Nov. 1, as Marian University comes to West Lafayette for a 7 p.m. ET, tipoff.
Mini plans and single-game tickets are now on sale to the general public. For more information and to purchase tickets, please contact the Purdue Athletics Ticket Office at 765.494.3194 or toll-free at 800.497.7678. Fans can also order online at PurdueSports.com.