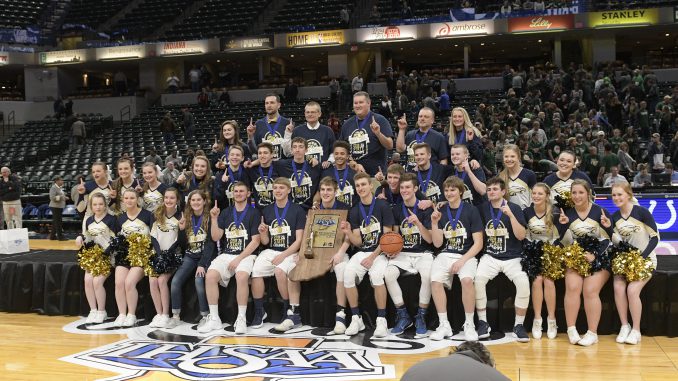 INDIANAPOLIS
Oak Hill controls game and Rangers
by: Steven Stremming
Morristown and Southwood fans both brought large crowds into Banker's Life Fieldhouse for the 1A game on Saturday.
Not to be outdone both Oak Hill and Forest Park High School's followed suit bringing Banker's Life to a near sell out as 13,127 paying patrons braved a Indiana blizzard to take in the action.
The first half was played to a virtual standstill with Oak Hill up by six at the break 23-17.
Contributing for Oak Hill were Caleb Middlesworth, 6'8 Senior and fellow Senior David Arens.
Photo by: Steven Underwood, Excel High School Sports/TrilogyyImaging
Middlesworth totaled nine points and Arens eight.
Ranger Senior Sam Englert led the team with six points in the half.
A big run in the first half was highlighted by 6'3 Junior Konner Kabe's layup, and back to back buckets by Arens, a jumper with an assist by Cal Mann and a three pointer with an assist by Tyce Frank.
The second half was a decisive fourth quarter advantage of 17-10 by Oak Hill.
The quarter saw Oak Hill  secure the win, Oak Hill's first title in Boy's Basketball.
A lay up by Middlesworth put the Golden Eagles up 56-44 with 44 seconds left and a couple of charity throws by Tyce Frank.
Frank's defensive prowess was key in Oak Hill's victory.
Oak Hill was led by Middlesworth's 25 points, nine board and three steals and Arens thirteen points. Tyce Frank added six points, six assists, a steal and and two rebounds. Ballinger riddled with foul issues scored five.
Forest Park's 6'7 freshman Curt Hopf led the effort with ten points while 6'5 do everything senior Sam Englert added eight points, seven boards, Daniel Lusk added seven points, two boards, four assists and three steals.
Photo by: Steven Underwood, Excel High School Sports/TrilogyyImaging
Uebelhor and Steffe both tallied six a piece for Forest Park.
Forest Park's Senior Collin Hochgesang received the Arthur L Trestor Mental Attitude Award for Class 2A.
Photo by: Steven Underwood, Excel High School Sports/TrilogyyImaging