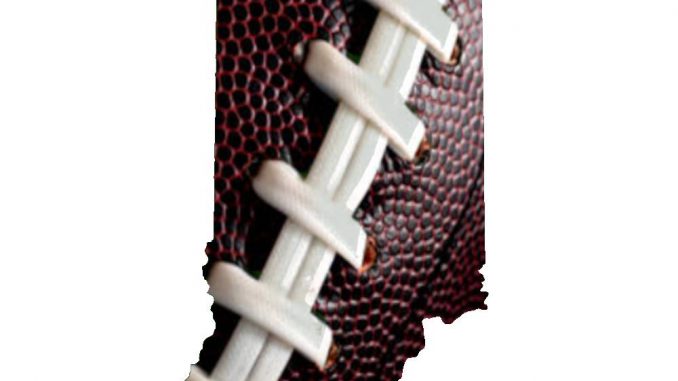 Here's a State Finals Indiana Football Report, which is capsule previews of each game.
Andrew Smith
GridironDigest.com
Lucas Oil Stadium will host the golden anniversary IHSAA football State Finals this weekend, It features an intriguing mix of blue bloods and newcomers to downtown Indy. This year's field features two rematches from last year's State Finals, a Center Grove team going for a three-peat in 6A, and an Indianapolis Chatard team seeking its 16th state title in 3A, and two newcomers to the State Finals in Whiteland and Carroll (Fort Wayne). It also features three unbeaten teams in Carroll and 1A finalists Indianapolis Lutheran and Adams Central.
Class 6A: (5) Carroll (13-0) vs. (3) Center Grove (11-2), 7 p.m. Friday
This matchup features one of the state's premier programs in Center Grove against a Carroll squad that is making its first State Finals appearance.
CG is in the State Finals for the fourth consecutive year, seeking its third straight title, which would be a 6A record. The Trojans are familiar visitors to Lucas Oil Stadium, as this is their sixth State Finals appearance in the last eight years and ninth since 2000.
The Trojans feature the state's seventh-leading rusher in Micah Coyle, who has tallied 1,941 yards and 21 TDs. Jalen Thomeson moved from defense to offense this season and is nearing the 1,000-yard mark himself. Noah Coy has 1,081 receiving yards, as Tyler Cherry has thrown for 2,124 yards.
It all adds up to a squad that is scoring nearly 36 points per game and tallying 412 yards per game.
Last week, CG avenged a regular-season loss to Cathedral with a 33-10 victory. The Trojans surrendered the first 10 points and then took over, with Coyle running for 218 yards and four TDs.
Carroll also rallied last week to earn its first State Finals berth, trailing 12-7 after a quarter but scoring TDs in the second and third quarters to go up by two scores in an eventual 21-15 victory over Hamilton Southeastern. The Chargers were outgained 295-186 in the game but got big plays on defense and in the kicking game with an INT and a blocked punt setting up short fields. Jayden Hill had a 69-yard catch to set up a TD, while Braden Steely ran for 64 yards and two touchdowns.
The Chargers won a 21-20 game with Lafayette Jeff in the regional – the program's first regional title – after trailing 20-7 at halftime. That came after sweeping Penn and Warsaw in the sectional and going unbeaten through the tough Summit Athletic Conference.
Sophomore Nate Starks leads the Chargers' rushing game with 1,127 yards, while sophomore QB Jimmy Sullivan has thrown for 2,203 yards – 737 to Camden Herschberger. Carroll's defense has held teams to 9.8 ppg and 223.7 yards per contest this season for 13th-year coach Doug Dinan.
Class 5A: (9) Valparaiso (10-3) vs. (2) Whiteland (12-1), 7 p.m. Saturday
One of the many intriguing matchups this weekend features Valparaiso and Whiteland. The Vikings advanced with two close wins in the regional and semistate to make their second State Finals appearance in four years, while Whiteland is making its State Finals debut.
Valparaiso went 6-3 in the regular season, but got on a roll in tournament play, winning multiple close games. The Vikings defeated arch-rival Chesterton 14-7 in the sectional final, then avenged a regular-season loss to Merrillville with a 15-14 victory in the regional. Last week, Vikings quarterback Justin Clark eluded pressure and scrambled for a touchdown on fourth down in overtime, then the Vikings went for the win and converted to defeat No. 1 Fort Wayne Snider 22-21.
Travis Davis scored the second of his two TDs in the fourth quarter to tie the game and send it to OT. He ran for 277 yards in the contest.
Valpo's defense has carried the Vikings throughout the year, pitching two shutouts and holding 10 opponents to 14 points or less in regulation. It's led by Alex Rodriquez (82 tackles), Ty Veen (10 TFL) and Tyler VerSchure (7 INT).
Clark leads the Vikings in rushing with 950 yards. He's thrown for 885 as a dual-threat QB. The Vikings' run-heavy attack averages 243 yards per game on the ground. Davis has run for 863 yards, Thomas Burda 769.
Whiteland also has a powerful running game, led by Peyton Emberton, who has run for 1,297 yards and 11 TDs. Jonathan Crowley has rushed for 862 yards and the Warriors average 304 yards per game on the ground. They don't throw often – averaging eight pass attempts per game – but QB Kevin Denham has thrown for 1,027 yards and four touchdowns.
The Warriors' lone loss came to Martinsville in Week 6, but they've responded with multiple lopsided wins. In the tournament, they won the sectional over Terre Haute North and Franklin by a combined score of 87-3, then routed Plainfield 49-14 in the regional before a 21-7 victory at Castle in the semi state.
It's the first State Finals appearance for 32-year coaching veteran Darrin Fisher, who has been at Whiteland for 18 seasons. A victory would give Whiteland its first-ever state championship in any sport.
Class 4A: (7) New Prairie (13-1) vs. (4) East Central (12-2), 3 p.m. Friday
East Central has long been one of the powers in southern Indiana and it makes its third State Finals appearance in eight years, seeking its first title since 2017. New Prairie returns to Lucas Oil Stadium for the first time since 2014, when the Cougars were the 4A runner-up.
East Central made a statement at the start of the season, defeating 3A finalist Lawrenceburg 38-3. And the Trojans made one at the end, blocking a potential game-winning field goal in the closing seconds of Friday's semi state game against Roncalli. The Trojans then won in overtime 24-21, avenging a Week 9 loss to the Royals.
Both teams have strong running games and strong defenses – each allows 10.6 ppg.
New Prairie staged a rally of its own in the semi state. The Cougars trailed Kokomo 9-0 in the late stages of the fourth quarter, but Owek Chalik kicked a 23-yard field goal, the Cougars recovered an on-side kick and quickly marched down the field for the winning TD by quarterback Marshall Kmiecik.
Kmiecik ran for 69 yards and RB Noah Mungia 71 in the Kokomo contest. On the season, Mungia has 1,868 rushing yards and 21 TDs, while Kmiecik has run for 1,31 yards and 14 scores and thrown for 1,198 and 16 TDs, leading an offense tallying 353 yards and 35 points per game. New Prairie's lone blemish was a Week 8 loss to Penn, but the Cougars rolled through the tournament, with only Hobart scoring in double-digits in a 49-28 sectional championship game victory.
East Central features one of the state's top rushers in Josh Ringer, who has 2,197 yards and 35 touchdowns. That complements a passing game led by Cole Burton (1,744 yards, 22 TDs passing) and the receiving combo of Ryan Brotherton (841 yards, 11 TDs) and Eli Ashton (612 yards, 7 TDs).
Class 3A: (3) Indianapolis Chatard (10-4) vs. (5) Lawrenceburg (13-1), 3 p.m. Saturday
Class 3A features two programs familiar with very proud traditions. Chatard is appearing in its 17th state championship game, seeking its 16th title and third in four years. Lawrenceburg is back to Lucas Oil Stadium for the first time since 2016, but it is the sixth championship game appearance for the Tigers, who are seeking their first title since 1978.
Lawrenceburg joins East Central as Dearborn County and Eastern Indiana Athletic Conference schools in the State Finals. The Tigers dropped the season opener to EC, but have since ripped off 13 straight victories, led by a defense that leads the state, allowing just 6.1 ppg. The Tigers shut out six straight opponents to finish the regular season and then posted a seventh in a 28-0 victory over Greensburg in the sectional semifinal. Only East Central in Week 1 and Milan in Week 3 have scored more than once against the Tigers.
Jake Pierce leads Logansport's defense with 114 tackles, 10 TFLs and four INTs. Niko Ferreira has 95 tackles, Noah Knigga 79 tackles and 14 TFLs and Zavyn Slayback four interceptions.
Lawrenceburg rolled to a 35-7 victory over Monrovia in the semi state after dispatching Southridge 31-7 in the regional and Batesville 33-7 in the sectional final.
The Tigers' running game is led by Teagan Bennett (1,410 yards, 18 TDs) and Alex Witte (1,201 yards, 18 TDs). QB Logan Ahaus has thrown for 1,106 yards and 11 touchdowns.
Chatard went 5-4 in the regular season but was still in the top 5 because of its schedule – the losses came to two semi state teams in larger classes – Roncalli and Cathedral – as well as two quality out-of-state teams. In the tournament, the Trojans used a powerful offense to score 40-plus points in four consecutive games, winning a tough sectional field with a 49-13 win over Guerin Catholic in the championship game. They then defeated Yorktown 42-14 in the regional and No. 1 West Lafayette 21-3 in the semi state.
QB Drew VanVleet has thrown for 2,732 yards and 28 TDs, completing 68 percent of his passes, with Noah Dudick (816 yards, 8 TDs) and Aiden Duncan (788 yards, 7 TDs) his top targets. The Trojans have a balanced running game that averages 145 yards per contest, as well.
Class 2A: (3) Andrean (10-3) vs. (5) Evansville Mater Dei (11-3), 11 a.m. Friday
The first game of the State Finals will be the first of two rematches from last year's championship game, a game Andrean won 21-9 to clinch its third state football title. Mater Dei has climbed one rung of the ladder each of the last three seasons – sectional champion in 2019, regional in 2020, semi state in 2021 and is now looking to add the program's first state championship since 2000. The Wildcats have been a state runner-up four times since then.
Head coach Mike Goebel led the Wildcats to that 2000 title and also has won 12 state championships as Mater Dei's wrestling coach.
Andrean features one of the state's top players in all-everything back Drayk Bowen, who has run for 1,689 yards and 26 TDs and leads the 59ers on defense with 137 tackles, 19 TFLs, five sacks and two interceptions. The 59ers balance the run and the pass, with Bowen leading the way in the running game and Billy Henry throwing for 1,837 yards and 23 TDs in the passing game, with Patrick Clacks (1,075 yards, 14 TDs) his top target.
The 59ers opened the tournament with a 28-6 victory over previously unbeaten LaVille before defeating two other ranked teams – Lafayette Central Catholic 30-12 in the regional and Fort Wayne Luers 48-29 in the semi state. Bowen was unstoppable in the semi state, running for 358 yards and five touchdowns. Andrean jumped ahead 28-13 at halftime and continued to extend the lead.
Mater Dei's offense was also unstoppable in a 51-28 regional victory over previously unbeaten Linton. QB Mason Wunderlich was 14-18 for 222 yards, while senior Joey Pierre ran for 181 yards and a score.
Mater Dei's Mason Wunderlich is ninth in the state with 2,565 passing yards and has thrown for 27 touchdowns. Ethan Stolz (676 yards, 9 TDs) and Blake Herdes (567 yards, 7 TDs) are his top targets. Pierre (1,015 yards, 12 TDs) leads the running game.
Mater Dei tied for first in the tough Southern Indiana Athletic Conference and after rolling through the sectional, won a 35-28 game over Triton Central – also ranked No. 5 in the coaches' poll – in the regional before the win over Linton in the semi state.
Class A: (2) Adams Central (14-0) at (1) Indianapolis Lutheran (14-0), 11 a.m. Saturday
It's the one matchup of unbeaten teams in the State Finals and the second rematch. The top two teams in the Class A rankings meet for the state championship.
Last year's meeting was a classic, with Lutheran winning 34-28 for its first-ever football state championship. The Saints are making their third State Finals appearance in four years, while Adams Central's Jets are seeking their first state title since 2000.
Lutheran has the state's highest-scoring offense, tallying 49.4 ppg, led by the state's passing leader Jackson Willis. He stepped into the QB role this season and has thrown for 3,890 yards. Micah Mackay ranks third in the state with 1,403 receiving yards. Adams Central tallies 46.1 ppg offensively, fourth in the state. Both teams have also been stout defensively – Lutheran allows 9.7 ppg and Adams Central 10.1 ppg.
Adams Central's Wing-T offense has always featured a powerful running game under 14th-year coach Michael Mosser and this year is more of the same. The Jets tally 316 yards per game on the ground, led by Keegan Bluhm (1,488 yards, 18 TDs), Ryan Black (931 yards, 28 TDs) and Gavin Clark (810 yards, 10 TDs). As the quarterback, Black has thrown for 800 yards.
AC's defense, led by Bluhm (93 tackles, 3 INTs) and Jack Hamilton (89 tackles, 4 INTs), allows 191 total yards per game.
The Jets have played one game decided by less than 21 points this season – a 25-21 victory over Eastside in Week 2. In the tournament, they've tallied at least 35 points in each game, with identical 35-0 wins over Carroll (Flora) and North Judson in the regional and semi state.
Lutheran has rapidly built into a state power under 15th-year head coach Dave Pasch, with Willis and Mackay leading an offense that tallies 457 yards per game. In addition, Joe Davis has rushed for 1,769 yards and 28 touchdowns, complementing the Saints' powerful passing game. Their defense allows 170 yards per game, led by Jonny Hall (105 tackles, 4 INTs).
Like Adams Central, the Saints have played two games decided by less than 21 points this season – a 54-41 victory over Triton Central in Week 3 and a 28-19 win over Scecina in Week 6. The Saints shut out South Putnam, Cloverdale and Covenant Christian to win the sectional before beating Providence 49-7 in the regional and North Decatur 28-7 in the semi state. Davis ran for 207 yards and Willis threw for 220 in the semi state.