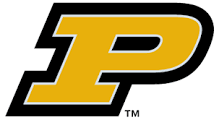 Purdue Wins Sloppy, Ugly Game
by: Steven Stremming
LAFAYETTE:  On a crisp Sunday afternoon in a packed Mackey Arena, the Purdue Men's Boilermakers won a game they should have, one that encompassed sloppy, uneven, ugly play by both the visiting Nebraska Cornhuskers of Head Coach Tim Miles and Matt Painter's Boilers.
The beginning of the game was a showcase of perhaps, the best over-all play of Middletown, Ohio Senior, Vincent Edwards.
Photo by: Rick McIntyre, Excel High School Sports/McIntyre Imaging
Not only did Edwards score nine of the first eighteen Boiler points in the first seven minutes and ten seconds of the game but he also did a solid job of defense as he helped out the interior Boiler defense.
Another bright spot was the six points at the end of the first half by Elida, Ohio, Senior, Dakota Mathias who helped keep a Nebraska surge at bay and send the Boilers to the locker room with a 41-31 lead.
The second half was more uneven play, with the majority of both teams 32 over-all turnovers occurring and with that seventeen steals from both teams following making it a open floor frenzy fest.
Give Purdue credit though, the team hung in there and won a game they needed to. The Boilers came into the game with a perfect 3-0 BiG Ten league mark and sporting a 14-2 over-all mark while the Huskers were 2 and 1 in conference and 11 and 5 over-all.
Edwards led the way with 21 points, 10 rebounds and six assists while 7'2 IsaacHaas added 14 points with six boards and Mathias finished the list of double figure scorers with 11 points. Mathias also led the team with four steals.
Photo by: Rick McIntyre, Excel High School Sports/McIntyre Imaging
P J Thompson added nine points, Matt Haarms added eight and Carsen Edwards put seven on the board.
Photo by: Rick McIntyre, Excel High School Sports/McIntyre Imaging
Upper Marlboro, Maryland Junior, James Palmer Jr. led the Cornhuskers with 22 points on six of thirteen field goals and nine out ten from the charity stripe. Palmer also recorded seven boards, three assists and a couple of steals. Also recording double figures was Raleigh, North Carolina Junior, Isaac Copeland with sixteen points.
Purdue moves on now to a January 9th showdown at Michigan while Nebraska returns home to a contest with Wisconsin.
Today's sell out crowd at Mackey Arena were treated to a appearance from the Three Amigos.
Todd Mitchell's jersey number was raised to the roof banners in honor of his play while a Boiler.