Westfield's Smith voted Indiana Mr. Basketball for 2022
Shamrocks' star is sixth Hamilton County player to wear All-Stars' No.1 jersey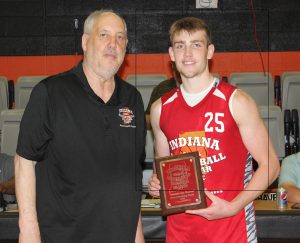 Braden Smith has earned the top individual award in Indiana high school boys basketball.
            Smith, a 6-0 guard from Westfield High School, has been named IndyStar Indiana Mr. Basketball for 2022 in online voting of media and boys' varsity coaches conducted by the Indiana Basketball Coaches Association and All-Star game director Mike Broughton, it was announced Saturday (April 2).
            The Mr. Basketball result means Smith will wear the No. 1 jersey for the Indiana All-Stars in their annual series with Kentucky. The Mr. Basketball award goes to the top boys' basketball senior in the state. The Mr. Basketball and Miss Basketball awards are part of the IndyStar Indiana All-Star program that dates to 1939. The Miss Basketball award, along with the girls All-Stars, was added to the All-Star program in 1976.
            The remainder of the 2022 Boys All-Star team and the 2022 Boys Junior All-Star team will be announced later. The 2022 Miss Basketball, 2022 Girls All-Star team and 2022 Girls Junior All-Star team were announced last month.
            Smith earned the boys' top honor after receiving 128 votes submitted to Broughton in balloting that ran from March 11 through March 29. Fletcher Loyer of Homestead was runner-up with 109 votes. C.J. Gunn of Lawrence North finished third with 57 votes. Connor Essegian of Central Noble placed fourth with 41 votes and Travis Grayson of Chesterton finished fifth with 16 votes. In total, 11 players received at least one Mr. Basketball vote.
            A Purdue University recruit, Smith averaged 18.3 points, 6.0 rebounds, 6.0 assists and 1.9 steals as a senior while leading Westfield to a 22-7 season that included the Shamrocks' first sectional championship. He converted 50.7 percent on field goals (139 of 274), including 41.9 percent from 3-point range (52 of 124). He also sank 75.3 percent of his free throws (55 of 73).
            Smith is the 13th Mr. Basketball recipient — and second in two years — bound for Purdue. He joins Joe Sexson (1952), Willie Eison (1955), Dennis Brady (1964), Billy Keller (1965), Rick Mount (1966), Kyle Macy (1975), Dan Palombizio (1981), Troy Lewis (1984), Woody Austin (1988), Glenn Robinson (1991), Caleb Swanigan (2015) and Caleb Furst (2021) as Mr. Basketball winners who joined the Boilermakers.
            For his career, Smith totaled a school-record 1,629 points while adding 476 rebounds, a school-record 453 assists and 158 steals. He tallied a career-high 41 points against Noblesville in the sectional as a junior. He also notched single-game bests of 10 rebounds on four occasions, 10 assists on three occasions and nine steals against Cathedral as a senior in the Raymond James Hall of Fame Classic.
            Smith's career point total stands ninth on Hamilton County all-time boys basketball scoring list, and he becomes the sixth Mr. Basketball honoree from Hamilton County. The previous Mr. Basketball winners from Hamilton County are Billy Shepherd of Carmel in 1968, David Shepherd of Carmel in 1970, Tom Coverdale of Noblesville in 1998, Gary Harris of Hamilton Southeastern in 2012 and Zak Irvin of Hamilton Southeastern in 2013.
            Smith is the first boy just the fourth player from Westfield High School to earn a spot on the Indiana All-Stars. Other Shamrocks previously selected to the All-Stars, all girls, have been Jenn Anderson in 2013, Kayla Brown in 2014 and Alyssa Crockett in 2022.
            While in high school, Smith was chosen IBCA Senior Supreme 15 this season. Previously, he was voted IBCA Underclass Large School All-State as a sophomore and IBCA Underclass Supreme 15 as a junior. He also was selected first-team all-Hoosier Crossroads Conference as a sophomore, junior and senior.
            Mr. Basketball and Miss Basketball traditionally wear No. 1 jerseys for the respective Indiana Boys All-Stars and Indiana Girls All-Stars in the annual series with Kentucky. The All-Stars will face the Indiana Junior All-Stars in an exhibition doubleheader on June 8 at a site to be announced. The All-Stars follow with their home-and-home doubleheaders with Kentucky — June 10 at the Owensboro SportsCenter in Owensboro, Ky., and June 11 at Southport Fieldhouse in Indianapolis.
            A list of Mr. Basketball honorees follows.
Indiana Mr. Basketball honorees
1939: George Crowe, Franklin
1940: Ed Schienbein, Southport
1941: John Bass, Greenwood
1942: Bud Brown, Muncie Burris
1943: not awarded (World War II)
1944: not awarded (World War II)
1945: Tom Schwartz, Kokomo
1946: Johnny Wilson, Anderson
1947: Bill Garrett, Shelbyville
1948: Bob Masters, Lafayette Jeff
1949: Dee Monroe, Madison
1950: Pat Klein, Marion
1951: Tom Harrold, Muncie Central
1952: Joe Sexson, Indianapolis Tech
1953: Hallie Bryant, Indianapolis Attucks
1954: Bobby Plump, Milan
1955: Wilson Eison, Gary Roosevelt
1956: Oscar Robertson, Indianapolis Attucks
1957: Joan Coalmon, South Bend Central
1958: Mike McCoy, Fort Wayne South
1959: Jimmy Rayl, Kokomo
1960: Ron Bonham, Muncie Central
1961: Tom VanArsdale, Indianapolis Manual, and Dick VanArsdale, Indianpolis Manual
1962: Larry Humes, Madison
1963: Rick Jones, Muncie Central
1964: Dennis Brady, Lafayette Jeff
1965: Bill Keller, Indianapolis Washington
1966: Rick Mount, Lebanon
1967: Willie Long, Fort Wayne South
1968: Billy Shepherd, Carmel
1969: George McGinnis, Indianapolis Washington
1970: Dave Shepherd, Carmel
1971: Mike Flynn, Jeffersonville
1972: Phil Cox, Connersville
1973: Kent Benson, New Castle
1974: Steve Collier, Southwestern (Hanover), and Roy Taylor, Anderson
1975: Kyle Macy, Peru
1976: Dave Colescott, Marion
1977: Ray Tolbert, Anderson Madison Heights
1978: David Magley, South Bend LaSalle
1979: Steve Bouchie, Washington
1980: Jim Master, Fort Wayne Harding
1981: Dan Palombizio, Michigan City Rogers
1982: Roger Harden, Valparaiso
1983: Steve Alford, New Castle
1984: Delray Brooks, Michigan City Rogers, and Troy Lewis, Anderson,
1985: Jeff Grose, Warsaw
1986: Mark Jewell, Lafayette Jeff
1987: Jay Edwards, Marion, and Lyndon Jones, Marion
1988: Woody Austin, Richmond
1989: Pat Graham, Floyd Central
1990: Damon Bailey, Bedford North Lawrence
1991: Glenn Robinson, Gary Roosevelt
1992: Charles Macon, Michigan City Elston
1993: Maurice "Kojak" Fuller, Anderson
1994: Bryce Drew, Valparaiso
1995: Damon Frierson, Ben Davis
1996: Kevin Ault, Warsaw
1997: Luke Recker, DeKalb
1998: Tom Coverdale, Noblesville
1999: Jason Gardner, North Central
2000: Jared Jeffries, Bloomington North
2001: Chris Thomas, Pike
2002: Sean May, Bloomington North
2003: Justin Cage, Pike
2004: A.J. Ratliff, North Central
2005: Luke Zeller, Washington
2006: Greg Oden, Lawrence North
2007: Eric Gordon, North Central
2008: Tyler Zeller, Washington
2009: Jordan Hulls, Bloomington South
2010: DeShaun Thomas, Fort Wayne Bishop Luers
2011: Cody Zeller, Washington
2012: Gary Harris, Hamilton Southeastern
2013: Zak Irvin, Hamilton Southeastern
2014: Trey Lyles, Indianapolis Tech
2015: Caleb Swanigan, Homestead
2016: Kyle Guy, Lawrence Central
2017: Kris Wilkes, North Central
2018: Romeo Langford, New Albany
2019: Trayce Jackson-Davis, Center Grove
2020: Anthony Leal, Bloomington South
2021: Caleb Furst, Fort Wayne Blackhawk Christian
2022: Braden Smith, Westfield
2022 IndyStar Indiana All-Star key dates
                Sunday, June 5 — Indiana Juniors vs. Kentucky Juniors at Bedford North Lawrence High School (595 Stars Blvd., Bedford, IN 47421) — girls, 2:00 p.m.; boys, to follow; admission, $8 at the door for adults and school-aged students (pre-school children are free).
                Wednesday, June 8 — Junior-Senior All-Star game at Site TBA — girls, 6:00 p.m.; boys, to follow; $8 at the door for adults and school-aged students (pre-school children are free).
                Friday, June 10 — Indiana at Owensboro Sportscenter (1215 Hickman Ave., Owensboro, KY 42301) — girls, 5:30 p.m. CDT (6:30 p.m. EST); boys, to follow. Ticket information TBA.
Saturday, June 11
 — Indiana vs. Kentucky at Southport Fieldhouse (971 E. Banta Rd., Indianapolis, IN 46227) — girls, 5:00 p.m.
; boys, to follow. Tickets: $10, $25 and $75. Ordering information, TBA.