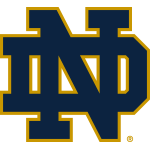 Williams, Eichenberg Selected as ACC Players of the Week
Credit Source: University of Notre Dame
NOTRE DAME, Indiana — Notre Dame running back Kyren Williams was selected as ACC Running Back of the Week, while offensive lineman Liam Eichenberg was tabbed ACC Co-Offensive Lineman of the Week, for their performances in the 31-17 win over No. 19 North Carolina. Williams notched his fourth ACC weekly honor of the season, while Eichenberg claimed his second. Notre Dame players have now earned 13 ACC weekly honors this season.
KYREN WILLIAMS
Posting 23 rushes for 124 yards and two touchdowns, Williams added four receptions for 20 yards and a touchdown. His three total touchdowns ranked tied for third among all FBS players on the weekend. He was the only FBS player with three or more touchdowns this weekend to have at least one receiving touchdown and one rushing touchdown. His three touchdowns tied for most by a single ACC player (non-quarterback) on the weekend.
Williams' 144 all-purpose yards were the most among any ACC running back on the weekend, and were the fourth-most among all ACC players. Ranking 16th among FBS running backs with his 144 all-purpose yards, Williams is the only running back who posted 122 or more all-purpose yards who also scored a receiving touchdown. Friday marked Williams' fifth 100-yard rushing performance of the season, which ties for most in the ACC.
No FBS freshman had more than Williams' 18 points on the weekend. Williams posted the most all-purpose yards (144) of any Power 5 freshman running back, and ranked third in all-purpose yards among all FBS freshman players on the weekend.
LIAM EICHENBERG
Eichenberg and the offensive line paved the way for 478 yards of total offense (199 rushing with three touchdowns, 279 passing with one touchdown) and 35:04 time of possession, even while starting just three of Notre Dame's regular five starting offensive linemen.
Entering the game, Notre Dame was averaging 34:05 time of possession, a figure which led the ACC. Accumulating 35:04 Friday, the Irish have now won the time of possession battle in eight of nine games this season. They now average 34:12 per game, which continues to lead the ACC by more than two minutes per game, and ranks 10th among all FBS teams.
The Irish posted four touchdown drives of at least 75 yards Friday, including a season-long 97-yard scoring drive. Notre Dame's 199 rushing yards, led by Williams, tied for second-most in the ACC this weekend, and posting 229.7 yards per game, Notre Dame has the second-ranked rushing offense in the ACC.
Williams, Eichenberg and the Irish will again take the field Saturday, December 5, to close out their home schedule as they welcome Syracuse (2:30 p.m. ET on NBC) to Notre Dame Stadium.