Credit Source: Purdue University Athletics
Gillis Named Big Ten Freshman of the Week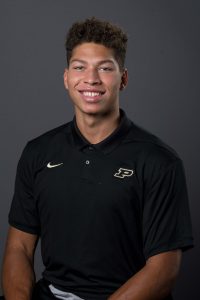 WEST LAFAYETTE, Ind. – After helping Purdue to a pair of victories over No. 20-ranked Ohio State and Notre Dame, Mason Gillis has been named the Big Ten Freshman of the Week, the league office announced Monday.
Gillis averaged 9.0 points and 4.5 rebounds per game, scoring 18 points with nine rebounds and two assists in 40 minutes during the two-game week. He scored six points with an assist in the win over Ohio State, then recorded his best game to date with 12 points, nine rebounds and an assist in Saturday's win over Notre Dame.
During the week, Gillis went 7-of-7 from the field, 2-of-2 from long range and 2-of-2 from the free throw line. He has made 10 straight field goal attempts spanning four games.
For the season, Gillis is averaging 6.0 points, 3.1 rebounds and 1.1 assists per game. He is shooting 59.4 percent (19-of-32) from the field and 43.8 percent (7-of-16) from long distance.
Gillis and the Boilermakers will travel to No. 4-ranked Iowa on Tuesday night and host Maryland on Christmas Day.