RED STORM LIGHT UP PURDUE FROM DEEP THEN HOLD ON TO WIN FIRST FOUR GAME IN COLUMBUS OHIO
by: Shawn Martin/Excel H Sports
photos by: John Alexander
St. John's guard Jayla Everett hit a five foot contested runner to the right of the basket with three-tenths of a second left in regulation to win the game for the Red Storm. 66-64 over Purdue in the opening game of the 2023 NCAA Women's Basketball Tournament.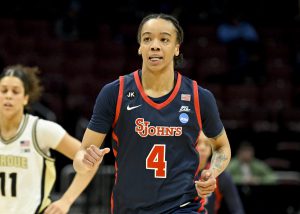 After a slow start, the St. John Red Storm stormed back into the game in the final two and a half minutes of the second quarter to take control of the game that Purdue had led or was tied for all but one minute of the game to that point. They then held on at the end when a furious Purdue comeback tied the game at 64 with 30 seconds to go.
Two free-throws made by Red Storm guard Bailey Kadaja gave St. John's a 28-27 lead with 2:33 left in the opening half.
Purdue would not lead again.
While the Boilers did not lead again, the game was far from over.
St. John's (23-8) trailed most of the first quarter before they got a steal underneath the Purdue basket, and got the ball to Unique Drake who hit a driving layup at the other end as the buzzer sounded to end the opening stanza and tie the game at 13 as the teams headed to their benches.
Eveett opened the second quarter scoring with a three with 9:01 left to give St. John's a 16-13 lead. A half a minute later Boilermaker Junior Madison Layden answered with a three of her own to tie it at 16 which began an eight nothing run by the Boilermakers. 6-4 Red Shirt Senior forward Danielle Cosgrove hit another three for St. John's and Purdue led 21-19 with 6:13 left in the half.
The Red Storm entered the game averaging 6-1/2 made threes a game. They hit eight of their fourteen attempts in the opening 20 minutes and finished the game 11-23 from deep. In one 70 second stretch late in the second quarter, Drake tickled the twine from beyond the arc three straight possessions for St. John's as her team extended a lead to close out the first half up six, 39-33.
St. John's came out blazing again to start the second half – first grabbing four offensive rebounds before Mimi Reid hit a layup, then after a Purdue turnover, Everett hit a three to put St. John's up 44-33, and the Red Storm appeared to be on pace to blow the game wide open. That start to the third quarter continued throughout the ten minutes. Purdue (19-11) trailed 60-48 when the fourth quarter commenced in Value City Arena at Ohio State University Thursday night.
Purdue's Jayla Smith scored a bucket with 8:36 left to cut the lead to ten, 60-50. Almost two minutes later Petree hits a three and the lead was now seven. A jumper by Red Storm post player Raven Peeples proceeded another three by Petree, and Purdue was now down just six (62-56) with 6:08 left.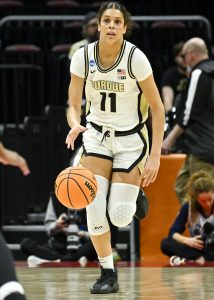 With 4:20 left, Boilermaker senior post Caitlyn Harper – who will be entering Medical School shortly – hit a layup, and suddenly Purdue was only four points down.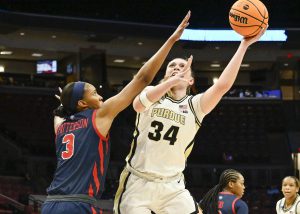 They weren't finished yet.
Purdue got a steal and got the ball to senior guard Abbey Ellis who's drive to the basket was met with a hard – but clean – foul by Everett. Everett then was assessed a Technical Foul in addition. Purdue's Petree was also given a T in the aftermath – the two Technical Fouls offset, and Ellis casually made both free-throws and suddenly, the Boilers were down only two.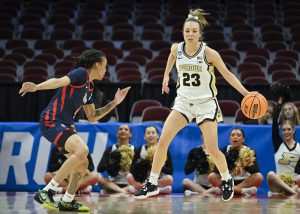 After a St. John's turnover, Petree tied the score at 62 with a jumper. We had a ballgame with 3:10 left. Everett and Petree traded baskets as the time ran down in regulation which set up Everett's game winner at (almost) the final horn.
Everett's final heroics gave her twenty points for the game. Drake, who wound up 4-6 from three-point land, added 16. Petree led Purdue with 20 while Harper added 14.
St. John's will face 6th seeded North Carolina Saturday in Value City Arena after #3 Ohio State plays #14 James Madison at 1:30.
"Outside of our locker-room, nobody thought we would make the tournament." Purdue coach Katie Gearlds said. "They are fighters."
Gearlds, the former Boilermaker player who took the reigns as head coach right before last season began, added "I wasn't supposed to be their coach eighteen months ago, but they believed in me and they believed in each other, and we made it."