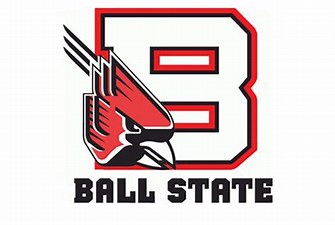 Akron Rides Hot Second Half Past Cardinals
Credit Source: Ball State University Athletics
Photos (credit Ball State University): https://ballstate.box.com/s/tyz9lypeov30cg7299za0zsv3n7i7hj9
MUNCIE — Ball State was looking to take down one of the MAC's top teams at Worthen Arena for the second time three games.
Akron came into Friday night's action a half game behind Toledo for the top spot in the standings. BSU had taken down Toledo with a big second half two weeks ago. This time it was the visiting team that surged after the break.
Ali Ali led five double-figure scorers for Akron in an 88-79 win to sweep the season series from Ball State (7-11, 5-8 MAC). Ishmael El-Amin scored 20 points to pace BSU, while Brachen Hazen scored a career-high 18 points on 8-of-14 shooting.
It was the second game in a busy stretch for the Cardinals after a 10-day hiatus.
TURNING POINT: Ball State led by as many as 13 points in the first half and took a 36-30 lead into the break. But Akron got off to a blistering start in the second half, hitting its first nine shots from the floor, including five from 3-point range, in the first five minutes of the half. Ball State scored 10 points of its own during that stretch but could not keep pace, falling behind 53-46. It was tight from there, but the Zips never trailed again and ultimately pulled away down the stretch.
STRAIGHT FROM THE COACH: "It was a really hard-fought game," James Whitford said. "I thought our guys were focused and really competed. I thought we learned some of the lessons from the Bowling Green game, but our defense in the second half couldn't hold it. (Akron point guard) Loren Cristian Jackson is a great player. I thought we did a really good job of getting him to shoot a lot of mid-range in the first half. In the second half, they were able to get below us and behind us in pick-and-rolls. Our defense didn't hold up for the full 40 minutes; I thought that was the difference."
BRACHEN'S BUCKETS: Hazen scored in double figures for the fourth straight game and the 10th time this season. The redshirt senior post player scored 11 in the second half and raised his scoring average to a career-best 9.9 points per game.
FACING THE POY: Akron's Loren Cristian Jackson, the reigning MAC Player of the Year, had a double-double with 12 points and 11 assists. The Cardinals held him in check scoring-wise on 2-for-12 shooting before he hit late free throws to reach double figures.
TALE OF TWO HALVES ON DEFENSE: Ball State held Akron two 34 percent shooting in the first half, but Akron rode its hot early shooting after the break to a startling 73 percent performance in the second half.
UP NEXT: Ball State is in the midst of what is scheduled to be a five-game homestand. The Cardinals face a quick turnaround, hosting Western Michigan at 7 p.m. Sunday.