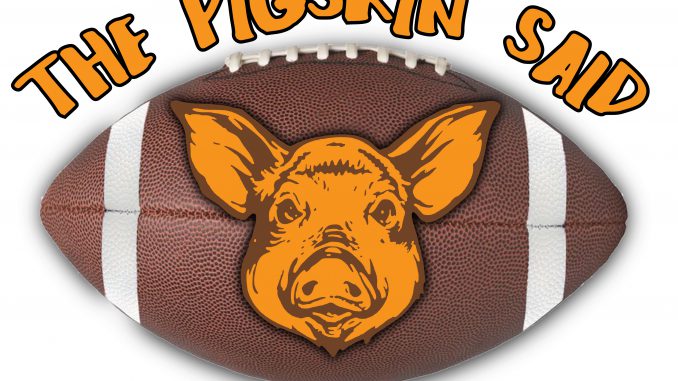 "AND THE PIGSKIN SAID"
By Shawn Martin
ExcelHSports.com
Columnist
     In the blink of an eye here we are – ready to start the second third of the IHSAA High School Football regular season!
      In most team sports, coaches, the media, and fans like to break the seasons into segments, where they evaluate where they are, what they do well, and most importantly – what they need to improve on.  These snapshots of a season can be telling – or they can offer a bit of Fools Gold.
    To most knowledgeable football watchers in the state, two teams have kind of separated themselves from the rest by their complete and total dominance on the gridiron so far this season.  Center Grove has one of the most talented groups in the history of the state.  Cathedral has been scored on once – by our ExcelHSports 4th ranked Brownsburg team.
     The Trojans and the Irish each won their respective State Championships last year on Thanksgiving weekend in dominating fashion, and each had more than enough returning talent to sprint out of the gates this season the way they have.  Little surprise to this football watcher.
    Two other programs with equally storied histories as the two mentioned above, have struggled out of the gate this season with uncharacteristic 0-3 marks.  Chatard has won the last two 4A State Titles. Columbus East had spent the previous class cycle in 6A – in a Sectional with the aforementioned Center Grove – after significant success in 5A with a State Runner-up in 2016, a State Championship in 2017, and a loss in the Semi State in 2018.
   Chatard has played the third toughest schedule so far in the state according to the Sagarin ratings system. They have rival Cathedral Friday night – 0-4 is a very real possibility.  The last time the Chatard Trojans were winless in their first three games of the season was 2001! They lost only one more game that season and won a State Title that year. Chatard will have a great deal to say about who hoists a trophy in Class 4A on Thanksgiving weekend 2021!
   I saw Columbus East play in their first game this season under new Head Coach Eddie Vogel. Thirty-two lettermen donned Caps and Gowns last June, and the growing pains were evident. Bob Gaddis was legendary leading the Olympians for 20 campaigns, garnering a 212-43 record and two State Championships. John Stafford started the Olympians football program in 1972 and coached them for 26 seasons. He went 149-115 including a State Championship.
   Both Gaddis and Stafford started their Columbus East tenures with 0-3 marks. No worries in Bartholomew County.
    Supposed to be a gorgeous Friday evening here in the Hoosier state – get out and support your favorite high school football team.