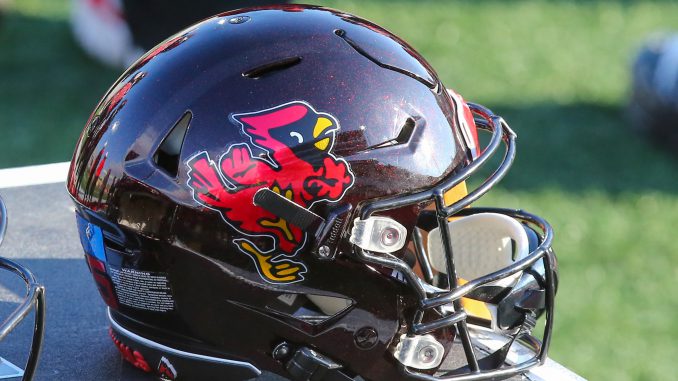 Ball State Football Adds Three to Bring '21 Signing Class to 21
Cardinals welcome Indiana Mr. Football at running back plus Florida quarterback and Missouri wideout
Credit Source: Ball State University Athletics
MUNCIE, Ind. — The Ball State football program added to its 2021 signing class Wednesday with three more high school standouts. Along with the recruits signed during the early period in December, BSU's class now stands at 21.
The Cardinals' latest additions feature Indiana's Mr. Football in Center Grove running back Carson Steele, one of Florida's top quarterbacks in Colin Blazek of Venice, and one of Missouri's top wide receivers in Chevalier Brenson of St. Louis.
"Our program got better again today with these three phenomenal student-athletes, all of whom were among the top players in their states," Ball State head coach Mike Neu said. "They are tremendous additions to this well-rounded and versatile signing class of 2021. We are excited about what the future holds for each guy in this class."
The full class comes from across the Midwest and beyond, now with five from Illinois, four from Indiana, three from Missouri and Ohio, two from Florida and Michigan, and one each from Maryland and Virginia. The Cardinals filled positions all over the field in this class, signing four running backs, three tight ends, three linebackers, three defensive backs, three quarterbacks, two offensive linemen, two receivers and one defensive lineman.
The 2021 class will join a Ball State program riding high. The MAC champion Cardinals went 7-1 last fall, winning the Offerpad Arizona Bowl and finishing No. 23 nationally in both the AP Top 25 and the Amway Coaches Poll.
For the most up-to-date news on the Ball State football team, please follow @BallStateSports, @BallStateFB and @BSUCoachNeu.
February Signees
Colin Blazek, QB, 6-3, 205, Fr., Venice, Fla. (Venice HS)
HIGH SCHOOL: Played his senior season at Venice for coach John Peacock … 3-star recruit via 247Sports … a first-team all-area selection, team offensive MVP and team captain … threw for 2,646 yards and 28 touchdowns as a senior … ranked among the state's passing leaders … quarterbacked Venice to a top-10 ranking in Florida's Class 7A … selected to compete in the Florida vs. Georgia All-Star Game … played previously at Neuqua Valley High School in Illinois … an academic all-conference selection at Neuqua Valley … high honor roll member … also played high school baseball … PERSONAL: Son of Chuck and Julie Blazek … has one brother, Justin, who plays football at Wisconsin-Platteville … father played football at Ohio … born July 17, 2002 … full name is Colin Smith Blazek.
Chevalier Brenson, WR, 6-4, 200, Fr., St. Louis, Mo. (Christian Brothers College HS)
HIGH SCHOOL: A three-year letterwinner at Christian Brothers College High … played for head coach Scott Pingel …. 3-star recruit via 247Sports … the No. 17 prospect in Missouri … caught 32 passes for 545 yards and six touchdowns in only six games in 2020 … had 44 catches for 676 yards and seven touchdowns as a junior in 2019 … a team captain … also plays high school basketball … PERSONAL: Son of Anthony Brenson and Javda Wilson … born April 28, 2003 … full name is Chevalier Brenson.
Carson Steele, RB, 6-1, 215, Fr., Greenwood, Ind. (Center Grove HS)
HIGH SCHOOL: A four-year letterwinner at Center Grove … played for head coach Eric Moore … named Indiana's Mr. Football in 2020 … also the MaxPreps Indiana Player of the Year … an all-state selection … ran for 1,659 yards and 31 touchdowns as a senior … helped Center Grove to a 14-0 record and the Class 6A state championship in his final season … finished his high school career with 5,907 yards and 82 touchdowns on the ground … broke 16 Center Grove single-season or career records … earned all-conference and Johnson County Player of the Year honors multiple times … a team captain … PERSONAL: Son of Joseph and Angela Steele … has one sister … born Oct. 21, 2002 … full name is Carson Joseph Steele.
2021 Ball State University Football Signing Class
Thailand Baldwin*, CB, 6-0, 170, Fr., Hampton, Va. (Life Christian Academy)
Rico Barfield, RB, 6-1, 210, Fr., St. Louis, Mo. (DeSmet Jesuit HS)
Colin Blazek, QB, 6-3, 205, Fr., Venice, Fla. (Venice HS)
Chevalier Brenson, WR, 6-4, 200, Fr., St. Louis, Mo. (Christian Brothers College HS)
Drayton Charlton-Perrin, TE, 6-4, 235, Fr., Northbrook, Ill. (Glenbrook North HS)
Jaret Frantz, TE, 6-3, 210, Fr., Elyria, Ohio (Elyria Catholic HS)
Phyllip Gunn, OL, 6-3 , 315, Fr., Hammond, Ind. (Merrillville HS)
Drew Hughes, DL, 6-2, 260, Fr., Willow Springs, Ill. (Nazareth Academy)
Brady Hunt, QB, 6-6, 215, Fr., Muncie, Ind. (Delta HS)
Jalen Johnson, OL, 6-3, 330, Fr., River Rouge, Mich. (River Rouge HS)
Kiael Kelly, QB, 6-2, 210, Fr., Tampa, Fla. (Gaither HS)
Tanner Koziol, TE, 6-6, 215, Fr., Bloomingdale, Ind. (Mt. Vernon HS)
Rae'Quin Lee, RB, 5-10, 180, Fr., Southfield, Mich. (Southfield A&T)
Jordan Marshall, SAF, 6-1, 205, Fr., St. Louis, Mo. (Christian Brothers College HS)
Justin Morris, LB, 6-4, 220, Fr., Vernon Hills, Ill. (Vernon Hills HS)
Vaughn Pemberton, RB, 5-11, 210, Fr., Lake Forest, Ill. (Loyola Academy)
Nick Presley, WR, 6-0, 180, Fr., Cincinnati, Ohio (Walnut Hills HS)
Jordan Riley-Scott*, CB, 6-1, 195, Fr., Clinton, Md. (National Christian Academy)
Carson Steele, RB, 6-1, 215, Fr., Greenwood, Ind. (Center Grove HS)
Joey Stemler, LB, 6-2, 230, Fr., Cleves, Ohio (Elder HS)
Jackson Wiegold, LB, 6-2, 220, Fr., Vernon Hills, Ill. (Vernon Hills HS)
February signees in bold italics
Asterisk (*) denotes joining team in 2021 spring semester