Ball State Football Throttles Indiana State 45 to 7
story by: Steven Stremming
presser photos by: Cainan Harper/Indiana Sports Network
game photos by: Tony Harper/Indiana Sports Network
On a Saturday afternoon at Scheumann Stadium in Muncie, Indiana State held tough in the first half, as the Sycamores moved the ball but miscues and missed field goals thwarted their efforts.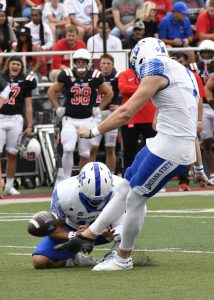 Ball State scored in the second quarter as Rico Barfield caught a 16-yard reception from Kaden Semonza for the first score with a Jackson Courville extra point to push the Cardinals to the lead.
Courville later added 23-yard field goal to push the Cardinal led to ten nothing at the break.
Courville also missed a 53-yard field goal attempt as the first half ended by banging the ball against the upright.
The second half was a Ball State owned half.
Barfield scored again this time on a 24-yard run which culminated a short three play 55-yard explosion to put Ball State up 17 to nothing.
Indiana State caught a glimpse of narrowing the score when Elijah Owens hit a streaking Dakota Caton for a 49-yard score and after a Stephen Ruiz extra point, the Sycamores found themselves with a ten-point deficit heading into the final stanza.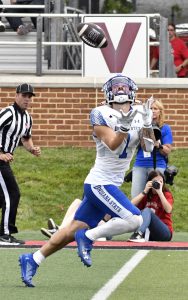 This is when Marquez Cooper put the exclamation mark on his outstanding day when he scored from 11-yards out capping a 13-play drive for 75 yards that ate up over seven minutes of the clock.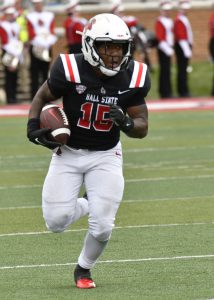 Impressive wide-out Tanner Koziol secured a eight-yard pass from Semonza to put the margin to 31 to 7 early in the fourth quarter.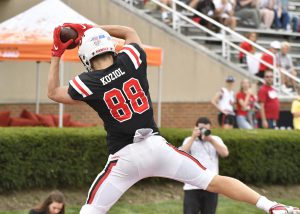 Things would get worst for the Sycamores as Keionte Newson scooped up a fumble and proceeded 66 yards to pay dirt to move the score to 38 to 7 and the last score of the game was Charlie Spegal's one-yard scamper culminating a five play 35-yard scoring drive.
For the day, Cooper rushed for 177 yards on 22 carries, Barfield added another 48 while Kiael Kelly added 40.
Indiana State was led by Tee Hodge's 46 and Plez Lawrence's 39.
Koziol was the leading receiver with seven caught passes for 60 yards and Ahmad Edwards hauled in another 32 in the winning cause.
Harry Van Dyne led the Sycamores with 80 yards of reception while Caton added 59.
Kadin Semonza would complete 17 passes for 137 yards for the homestanding Cardinals while Owens would complete nine passes for 157 yards.
Keionte Newson would lead the Cardinals in tackling with a team total of eight, while Sycamore Maddix Blackwell would total 12 for the day.