Louisville Starts Fast/Defense Stands Tall Late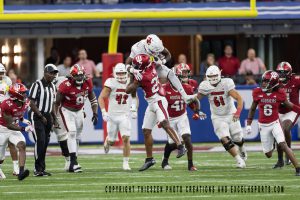 by: Steven Stremming
photos by: Eric Theiszen, Excel H Sports/Theiszen Creations
The Louisville Cardinal Football team is in our Excel H Sports Below the 25 rankings and their start on Saturday, in the confines of Lucas Oil Stadium, would show why they are receiving some notice, while the second half of the game shows why there is more work to be done.
So, let's start from the beginning, simply put Jeff Brohm's Cardinals simply dominated the first half as they led 21 to nothing at the break.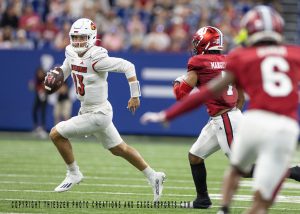 Jamar Thrash opened up the Cardinal scoring on a 85 yards touchdown reception from Jack Plummer and after a Brock Travelstead extra point, the Cardinals went up seven to zero.  That drive took all of 15 seconds on two plays.
The Cardinal were not done as Maurice Turner slashed for a two-yard score on a drive that lasted 13 plays and 78 yards and then Louisville added to their lead with a Jawhar Jordan 25-yard scamper on a drive of seven plays and 69 yards to put Louisville up at the break.
The second half belonged to Indiana until the Cardinals final stand.
The Hoosiers opened up the second half with a brilliantly placed onside kick which Indiana recovered.
Tayven Jackson, a transfer from Tennessee, where he hardly saw the field, would take command when Jackson hit Jaylin Lucas on a 30-yard touchdown pass, which by the way, was his first scoring touchdown of any kind.
Jackson was not done as he deftly drove the Hoosiers down the field 97 yards just two series later and was rewarded when Josh Henderson bulled his way into the end zone to close the margin to seven points.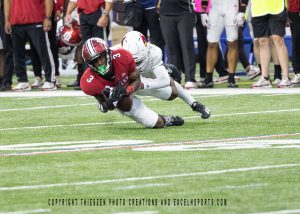 Indiana was not done yet as they drove the ball to what would be the decisive play of the game, when Indiana called a slower developing hand off to Henderson which both Stanquan Clark stuffed him in the backfield along with T J Quinn ending the drive and the game as the Cardinals offense ran out the clock for the win.
Brohm claimed his first win at Lucas Oil after two previous setbacks in the building, the first in his debut as a Purdue Boilermaker Head Coach and yes, you got it, against Louisville and his last game against Michigan, in last year's BiG Ten Championship game but it wasn't without excitement.
Brohm improved to five and one against Indiana Coach Allen.
For the game Cardinal quarterback Jack Plummer was 13 of 23 for 238 yards, one score and one pick. Thrash caught four passes for 159 yards and Jordan carried 18 times for 139 yards.
For Indiana, Jackson went 24 of 34 for 299 yards, a score and a pick, Lucas carried the ball eight times for 29 yards and ten receptions for 98 yards.
For the game, Louisville recorded 164 yards on 39 carries averaging 4.7 per carry, 238 yards through the air on 13 receptions for a whopping 16,3 yards per catch.
For the game, Indiana rushed for only 58 yards on 27 carries averaging 2.1 yards per carry while through the air, 299 yards on 24 receptions for a impressive 12.5 yards per reception.
Louisville's top defender was Cam'Ron Kelly with twelve total tackles while Indiana was led by Aaron Casey's ten total tackles.
Indiana has now lost 10 of their last 12 games as they head back to Bloomington to take on MAC opponent Akron, Saturday night.