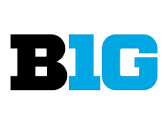 All 14 Big Ten programs are gearing up to take part in the 10th annual ACC/Big Ten Women's Basketball Challenge on Wednesday and Thursday. This matchup of two of the nation's top women's basketball conferences will feature 20 schools that competed in postseason play last year, including 11 from the Big Ten (five in the NCAA Tournament, six in the WNIT).
The ACC/Big Ten Women's Basketball Challenge has ended in a tie during three of the past five seasons, finishing in a 7-7 draw in the last two years, as well as a 6-6 deadlock in 2011. The Big Ten schools with the most success in the Challenge have been Maryland (8-1 all-time, split between its memberships in the Big Ten and ACC), Michigan (7-2) and Indiana (6-3).
Ten of the 14 games in this year's ACC/Big Ten Women's Challenge will feature at least one school that is either ranked or receiving votes in one of the major national polls, highlighted by three matchups between Top 25 programs — No. 5/5 Maryland at No. 7/7 Louisville, No. 9/10 Ohio State hosting No. 18/16 Miami and No. RV/22 Michigan State at No. 20/21 Syracuse.
Seven Big Ten schools are ranked or receiving votes in this week's AP or USA Today polls, led by No. 5 (AP)/No. 5 (USA Today) Maryland. Ohio State is also ranked in the top 10 at No. 9/10, while Michigan State is receiving votes in the AP poll and is ranked No. 22 in the coaches' poll. Michigan is receiving votes in both polls, while Northwestern is receiving votes on the AP ballot.
On Monday, Northwestern senior forward Nia Coffey was named the Big Ten Player of the Week after averaging 28.0 points, 7.5 rebounds and 6.0 assists per game last week, including 26 points and 14 rebounds in the Wildcats' win over No. 16/20 Florida last Friday. Purdue guard Dominique Oden is the Big Ten Freshman of the Week after averaging 15.3 points in the Boilermakers' three games (two wins) at last week's Cancun Challenge.
Three Big Ten schools currently leads the nation in various NCAA statistical categories. Maryland is No. 1 in the country in scoring margin (+41.3 ppg.) and field-goal percentage (.521), while Michigan is tops in three-point percentage (.455) and Northwestern sets the pace in blocked shots (8.0 bpg.).
Maryland and Michigan State came away with tournament titles during the Thanksgiving weekend, with the Terrapins claiming top honors at the South Point Shootout in Las Vegas, and the Spartans doing likewise at the Radisson Thanksgiving Classic in Northridge, Calif.
Maryland's Brionna Jones and Michigan State's Tori Jankoska were named the Most Valuable Player at their respective tournaments, while MSU's Taya Reimer earned all-tournament team honors, as did Iowa's Megan Gustafson (Cancun Challenge), Michigan's Katelynn Flaherty and Hallie Thome (Paradise Jam), Ohio State's Kelsey Mitchell (Gulf Coast Showcase), and Purdue's Ashley Morrissette and Bridget Perry (Cancun Challenge).
Northwestern's Lauren Douglas became the fourth Big Ten student this season to score her 1,000th career point, reaching the milestone on Sunday against Evansville. Douglas is the second Wildcat to hit the 1,000-point mark this year (along with Ashley Deary), giving Northwestern four 1,000-point scorers on its active roster (the others are Nia Coffey and Christen Inman). All told, 16 active Big Ten students have scored 1,000 career points, with the full list on page three of this release.
Big Ten women's basketball programs produced 68 students that earned Academic All-Big Ten honors in 2015-16, the ninth consecutive season at least 45 women's basketball students received the award. That list included Iowa's Ally Disterhoft, who was the 2015-16 Academic All-America Division I Team Member of the Year. Disterhoft is among 36 Academic All-Big Ten women's basketball selections returning this season, with Iowa, Michigan and Northwestern each returning a conference-high four honorees.