Boilers Withstand Rutgers Start
by: Steven Stremming
photos by: Anthony Harper
The Rutgers Scarlet Knights began the B1G Ten Men's Conference basketball championships Quarterfinals with a strong start when Paul Mulcahy hit two three shots, once contested, one left wide open to give Rutgers a early twelve to four lead.
Purdue Boilermaker Head Coach Matt Painter inserted transfer David Jenkins, Jr. and he immediately showed his worth as he solidified the defense, and he produced dividends by nailing a pair of threes himself to help Purdue cut the margin to a workable deficit.
Westfield, Indiana freshmen Braden Smith again proved his worth by controlling the offense and keeping the Boiler offense active and ended the game with a team high five assists.
Zach Edey, B1G Ten Player of the Year was his steady force, even being triple teamed the entire game.
Edey would once again produce a double-double with 16 points and eleven rebounds.
The story of the game for Purdue was the combo play of Mason Gillis and David Jenkins, Jr.
Mason Gillis, a New Castle, Indiana product led the Boilers with 20 points and nine rebounds, only trailing Edey's eleven.
Gillis was a force on the offensive boards where he totaled five of his nine.
Jenkins, Jr. was perfect from the floor, where he hit three of three from behind the arc and added a single bucket from inside the arc.
Brandon Newman was silent on the offense end for the game but produced six rebounds, two assists.
Rutgers was once tough once again and  proved why they more than a place in this year's NCAA tournament.
Freshmen Derek Simpson put the fire into the Rutgers offense where he scored 18 points, including six of eight from the line and adding three steals for the game.
Cam Spencer would add 13 points while both Paul Mulcahy and Clifford Omoruyi would add ten points a piece.
Omoruyi would collect eight rebounds for the Scarlet Knights.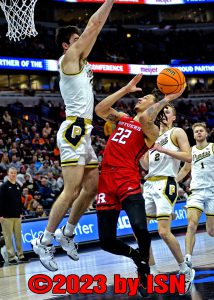 photo by: Anthony Harper/Excel H Sports/Indiana Sports Network
Purdue moves on to the winner of Michigan State and upset minded Ohio State.
The following per: Purdue Athletics
[5] Purdue 70, Rutgers 65 (Postgame Notes) 
Purdue advanced to the Big Ten Tournament semifinals for the second straight year with a 70-65 win over Rutgers at Chicago's United Center on Friday afternoon.

 

The Boilermakers will be making their ninth semifinal appearance on Saturday, owning a 5-3 record. Purdue has won its last three semifinal games entering tomorrow's contest with No. 13-seed Ohio State.
Purdue is looking for its fourth championship game appearance in the last seven seasons.

 

Purdue also won for just the second time in the last seven meetings against Rutgers, now having won two of the last three games with Scarlet Knights.
Purdue fell behind 17-5, six-and-a-half minutes into the game. Over the next 30 minutes, Purdue outscored Rutgers 61-40, before settling in for a 70-65 victory.

 

Since the start of last season, Purdue is now 56-13 (.812), the fourth-most wins in the country in that span. The Boilermakers are now just one win from the school record for most wins in a two-year span.

 

Purdue won its 10th

 

quad-1 game with the victory over Rutgers, the first non-Big 12 team with 10 quad-1 victories. Purdue is 10-4 in quad-1 games and 17-5 overall in quad-1 and quad-2 games. The 17 wins are the second-most nationally.

 

Purdue is 13-5 against KenPom top-50 teams, the most wins nationally against KenPom top-50 teams.

 

Purdue is now 5-0 in neutral-site games, including 4-0 in NBA arenas (Gonzaga, Duke, Davidson, Rutgers).

 

Purdue won its 22nd

 

straight game when shooting a higher field goal percentage than its opponent.
Mason Gillis scored 20 points with nine rebounds and an assist. It marked his second 20-point game of his career (29 vs. Penn State).

 

Zach Edey recorded his 24th

 

double-double of the season with 16 points, 11 rebounds, one assist and a block. Edey now has 1,450 points and surpassed 800 rebounds for his career in the win over Rutgers.

 

David Jenkins Jr., scored 12 points off the bench, going 4-of-4 from the field and 3-of-3 from long range. He now has 1,972 points and 346 career 3-pointers.