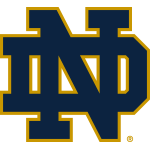 Book, Williams Tabbed for CFPA National Player of the Year November Watch List
NOTRE DAME, Indiana — University of Notre Dame graduate student quarterback Ian Book and sophomore running back Kyren Williams have been selected to the 2020 CFPA National Performer of the Year Trophy November Watch List after their performances in the win over then-No. 1 Clemson.
The CFPA National Performer of the Year Trophy is selected based on objective scientific rankings of the extent to which individual players increase the overall effectiveness of their teams.
This week, Book was also named to the Davey O'Brien Award Great 8 List, while Williams was selected as the ACC Running Back of the Week.
IAN BOOK
Book was awarded the game ball for his performance, in which he completed 22 passes for 310 yards and a touchdown, with zero interceptions and 14 rushes for 67 yards.
His 310 passing yards came against the top-ranked passing defense in the ACC in Clemson (allows 191.8 avg./game), marking the eighth 300-yard game of his career. He now ranks third all-time in 300-yard passing games among all Irish quarterbacks, passing John and Bobbie Arlotta Offensive Coordinator Tommy Rees (7). His 310 yards ranked third among all ACC quarterbacks on the weekend.
Book went 5-for-5 to start the game, not throwing his first incompletion until 13:20 remained in the second quarter. Thirteen of Book's 22 completions were for gains of 10 yards or more, and four gained 28 yards or more. Six of Book's completions came on successful third-down conversions.
Book has totaled 168-consecutive passing attempts without an interception, the longest current streak in the ACC and fourth-longest among all FBS QBs. Only one Power 5 quarterback has a longer streak (Arizona State's Jayden Daniels, 157).
His 67 rushing yards alone outpaced the entire Clemson offense, which posted 34 rushing yards Saturday.
KYREN WILLIAMS
Williams posted 23 rushes for 140 yards (65-yard long) and three touchdowns, including both scores in overtime, vs. Clemson. It marked his first-career three-touchdown game, and his fourth-career game with multiple rushing touchdowns (all occurring this season). He is the second Irish player to rush for three touchdowns in a single game this season (Ian Book vs. South Florida). His140 yards came against the third-ranked rushing defense in the ACC, as Clemson entered Saturday allowing just 99.9 rushing yards per game. Prior to Saturday, Clemson's defense had allowed just three rushing touchdowns all season. Williams single-handedly doubled that figure.
Williams broke through for a 65-yard rush on the first official play of the game's opening drive, tying his career-long rush (Florida State) and marking the longest scoring rush of his career. Only one player in the ACC this weekend had a longer scoring rush. Williams surpassed the 100-yard rushing mark with a five-yard run on Notre Dame's final drive of the first half, and he contributed six of Notre Dame's 22 first downs on the day.