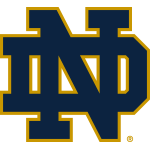 Owusu-Koramoah Named Nagurski National Defensive Player of the Week
NOTRE DAME, Indiana — University of Notre Dame senior linebacker Jeremiah Owusu-Koramoah has been selected as the Bronko Nagurski National Defensive Player of the Week for his performance in the win over then-No. 1 Clemson.
The senior is the sixth Notre Dame player to earn the honor, and is the first since Jerry Tillery in 2018 vs. No. 7 Stanford. This week, Owusu-Koramoah has also been named the Bednarik Award Player of the Week and the ACC Linebacker of the Week.
Owusu-Koramoah posted nine tackles (seven solo), 0.5 sack and 2.0 TFL (-6 yards) vs. Clemson. He recovered a Clemson fumble and returned it 23 yards for a touchdown in the second quarter, marking the only fumble returned for a touchdown this week in the ACC.
It was the first touchdown of the senior's career, and the third fumble recovery of his career (first this season, last came in 2019 vs. Iowa State in the Camping World Bowl). Owusu-Koramoah's touchdown marks the first true defensive touchdown of the season, as both prior non-offensive touchdowns were on opponent punts.
Three plays later, Owusu-Koramoah forced a Clemson fumble, which was recovered by cornerback Nick McCloud. It led to an Irish field goal.
Owusu-Koramoah tied for the team lead in tackles with nine, and ranks 14th overall in the ACC in total TFL with 8.0 this season.