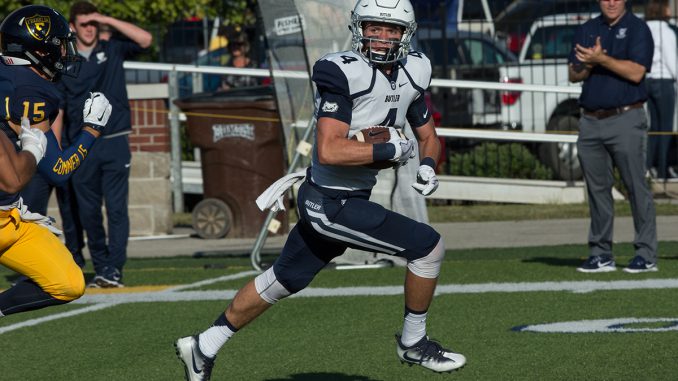 photo by: Eric Thieszen/Excel High School Sports/Thieszen Photo Creations
Temple Shines Early/Marty On Target
by: Steven Stremming
A large crowd filed into Faught Stadium, on the beautiful campus of Franklin College on Saturday night, and were treated to a  night of football in Central Indiana as the home-standing Grizzlies welcomed the FCS Division 1 (non-scholarship) Butler Bulldogs.
Butler came into the game with four consecutive wins over the host and within the first plays of the game, in fact, at 14:24 left in the first quarter the Bulldog defense trapped All-American pre-season Grizzly quarterback Chase Burton in the end zone for a quick two points (safety) to take a early 2-0 lead.
Butler was not done quite yet,  within four minutes the Bulldogs put up another score as Duvante Lane, red-shirt senior (Evansville North) 26 carries for 117 yard, scored from two yards out and a Drew Bevelhimer (Brebeuf Jesuit) extra point placed the Bulldogs up 9-0.
If you think Franklin was going to go quietly away into the night, then you don't know Grizzly football and how Head Coach Mike Leonard draws up the game plan.
Standing along the Butler sidelines throughout the game fans were speaking highly of  Senior Franklin quarterback, Corydon Central graduate Chase Burton, 19 of 34 for 329 yards for the game.
Burton did not disappoint as he and his teammates went to work with a quick eight play eighty yard drive that resulted in a Burton to senior (Indianapolis Emmerich Manual) graduate Deontez Alexander 28 yard strike to tighten the game to a nine to six (9-6) score.
photo by: Eric Thieszen/Excel High School Sports/Thieszen Photo Creations
At that point the Bulldogs took over the game and scored at the 5:06 mark in the first quarter as Pace Temple (Geneva, Illinois) junior continued his first quarter highlight film with a 28 yard reception from Butler red shirt junior quarterback Will Marty (Wyoming, Ohio). Temple caught eight passes for 156 yards in the game.
Marty would go on to complete 21 of his 30 throws for 313 yards and three touchdown throws.
Marty completed scores to Temple, Cord Collier (Franklin, Tennessee) red shirt senior for 18 yards and  Brad Sznajder (Aurora, Illinois) for 17 yards.
The aforementioned Bevelhimer hit two field goals from 37 yards and 46 yard field goals and four extra points.
Instead of buckling Franklin once again showed backbone and why they have been one of the elite small school programs in the Midwest.
Chase Burton once again placed the team on his throwing arm and quickly struck back when he hit Paoli, Indiana's senior Lee Wroblewski with a 43 yard strike.
Bishop Dwenger senior Stephen Colligan hit from 20 yards out in the second quarter to pull the Grizzlies within ten at 26-16.
The second half of the game Butler outscored Franklin 10-8 with neither team scoring in the final quarter.
For the game, yes this is a fact, both teams combined for nearly 900 yards, in fact, they were one yard shy of that mark.
For the Bulldogs, Batavia, Illinois redshirt junior Anthony Scaccia would rush for 25 yards on seven carries, redshirt sophomore Alpharetta, Georgia caught three passes for 32 yards while Franklin's sophomore Jacob Earl (Tangier, Indiana) led the Grizzlies with eight carries for 38 yards.