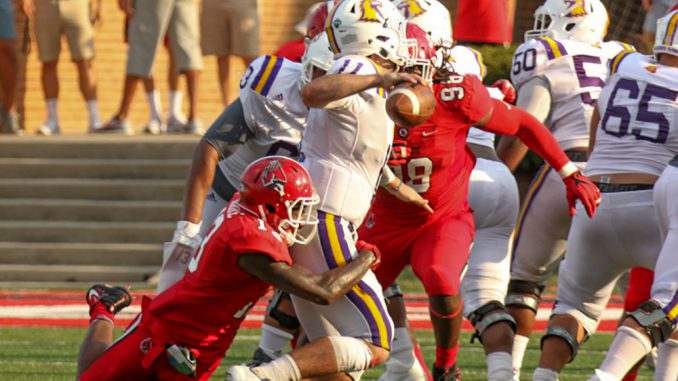 Cardinals Win 28-13, Defense Steps Up
by: Steven Stremming
Ball State came into Scheumann Stadium with a win under their belts on Family Day.
The Cards opponent Tennessee Tech, (FCS) Ohio Valley Conference came into the game trying to snap a 0-31 all-time record against FBS opponents.
photo by: Wayne Carter/Excel High School Sports/Wayne Carter Photography
The Cards of second year Head Coach Mike Neu would have none of that as they struck early with a Riley Neal, Yorktown Junior quarterback strike to Nolan Givan, Sophomore/Freshman from Berkley, Michigan, from three yards to put the Cards up six to zero.  Plainfield, Indiana junior Morgan Hagee made the extra point to go up seven to zero.
The first quarter ended with the Cards up 7-0  but the second quarter would see the Cardinals hit pay dirt again at the 10:38 mark  with a Neal to Douglasville, Georgia freshman Justin Hall pass and another point after touchdown from Hagee put the Cards lead to 14-0.
photo by: Wayne Carter/Excel High School Sports/Wayne Carter Photography
Tennessee Tech would get on the board with a three yard run from Jackson, Tennessee sophomore Andre Goldsmith and a Arlington, Tennessee junior Nick Madonia extra point to close the score to 14-7 in the second quarter at Scheumann Field.
Then instead of settling for halftime, the Cardinals ran a eight play drive in one minute and nine seconds with the final result being a score with 19 seconds left in the half when James Gilbert took in a Riley Neal pass from seventeen yards to give the Cards a 21-7 locker room lead.
That reception gave Neal three (3) first half touchdown tosses.
photo by: Wayne Carter/Excel High School Sports/Wayne Carter Photography
That throw was Gilbert's first receiving touchdown of his career and the 24th of his stellar career in Muncie.
14,265 fans witnessed the visiting Golden Eagles come out competing for every yard in the third quarter and a 16 play drive of 62 yards, that consumed over seven minutes of clock time, saw them place three on the board when Madonia hit from 37 yards out to close the score to 21-10.
Five minutes later the Golden Eagles hit another field goal from 21 yards out to pull them to within eight at 21-13.
Thirty six seconds later, yes you read that right, thirty six seconds is all it took for Malik Dunner the sophomore Carpenterville, Illinois speedster to race  66 yards putingt the Cards up 27-13, with a Hagee PAT forthcoming to light the scoreboard 28-13 Ball State to the appreciative home crowds liking.
One of the biggest plays of the day was in the final stanza when Mathews, North Carolina fifth year senior David Moore forced a quarterback sack  on third down forcing a fourth down that would see the ball sail out of bounds and secure a Cardinal victory.
Balance was the key of the game for Ball State as the team rushed for 228 yards and passed for 238 yards in the win.
Riley Neal would end the day 23 of 31 with two picks. Gilbert ended the night with 92 yards, Dunner 79 yards and Atlanta, Georgia freshman Caleb Huntley with 51 yards.
On defense Saint Louis, Missouri sophomore Lamar Anderson, not even listed on the pregame depth chart, led the Cardinals with nine total defense, Louisville freshman Bryce Cosby shined with eight total tackles with Indianapolis, Indiana fifth year senior Anthony Winbush securing seven total tackles including two sacks and two tackles for loss and Altamonte, Florida junior/sophomore Romero Wade with seven total tackles.
"I am very proud of our defense and the way they finished the game for us," Neu said. "There were some momentum-changing turnovers that our defense created that really kind of covered the offense's back … Our defense just kept fighting the fight.
"It's good to get win number two here at home," Neu said. "After a tough season-opening loss, to win two in a row is great. Great win and a great crowd here today."
A youthful Tech team were led by Goldsmith leading the ground game with 64 yards and Philadelphia, Pennsylvania sophomore Yeedee Thaenrat with 62 yards. Little Rock, Arkansas redshirt freshman quarterback, Andre Sale threw for 239 yards.
Riley Neal, Anthony Winbush, Kevin Willis, James Gilbert and Devin Reece were all Goal Post Football Yearbook cover players.