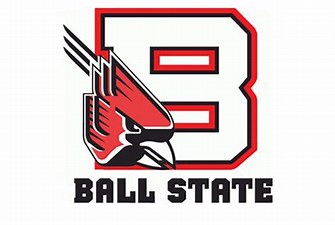 Credit Source: Ball State University Athletics
The Ball State men's basketball team is back in action Saturday evening after an idle mid-week. The Cardinals play at Buffalo Saturday for a chance at a 3-1 league start. The Cardinals are also shooting for their third MAC road victory of the young season. Buffalo is playing for the first time since Dec. 19.
The Starting 5  –  The Top 5 Storylines For This Game
RUNNING IT BACK
These two MAC West division schools just played each other two games ago, on Dec. 22. Ball State won 76-68 at Western Michigan in a game that was moved up from late February. K.J. Walton scored 20 points on 10-for-15 shooting and Luke Bumbalough scored 17 with four made 3-pointers. The Broncos led 43-36 at halftime but Ball State went on a 12-0 run early in the second half to take the lead and built it down the stretch. Bumbalough hit a '3' with 2:13 left. Western limited scoring changes for Ishmael El-Amin, who had seven points. But, the senior guard made his impact felt in other ways with six rebounds and a career-best seven assists. B. Artis White scored 20 in the game for Western Michigan.
CARDS AND BRONCOS – THE SERIES
Ball State and Western Michigan have played each other in basketball since 1932, when Branch McCracken coached the Cardinals to a 35-31 win over Western Michigan. With the win two weeks ago, BSU now leads the all-time series 68-67. The Cardinals have won four of the last five and seven of the last 11 against WMU. Ball State's current 7-4 mark against Western Michigan dates back to 2016 and includes a MAC tourney win in 2017.
SHOOTING INTO FORM
The Cardinals' last two games have been their best shooting performances of the year. After shooting .410 with 6.5 made treys per game in the season's first six games, the Cards are shooting .491 over the last two games with 18 made 3-pointers (nine in each game). Ishmael El-Amin and Miryne Thomas combined for seven made 3-pointers against Ohio.
SHARING THE SUGAR
Four Cardinals had 4+ assists in the loss to Ohio on Saturday. Luke Bumbalough led the team with five assists, and Miryne Thomas, Ish El-Amin and K.J. Walton each had four. It was the first time four different Ball State players had 4+ assists in the same game since a win over North Florida on Dec. 19, 2017 (Trey Moses, Tayler Persons, Jontrell Walker, Francis Kiapway).
SOME CARDS MISSING FROM THE DECK
The deck of cards for Ball State is getting closer to being full after BSU was bitten by the injury bug in the preseason. Notably, 2020 MAC Freshman of the Year Jarron Coleman is still out after having foot surgery in October, but is making progress and may return in the upcoming weeks. Transfer Reggie Jones, who scored 723 career points at Western Michigan and Tulsa, is also out with a lower body injury. Blake Huggins missed Saturday's game with a finger injury but is said to be able to return soon. Additionally, many players have missed practice time for various reasons in a very disjointed offseason.