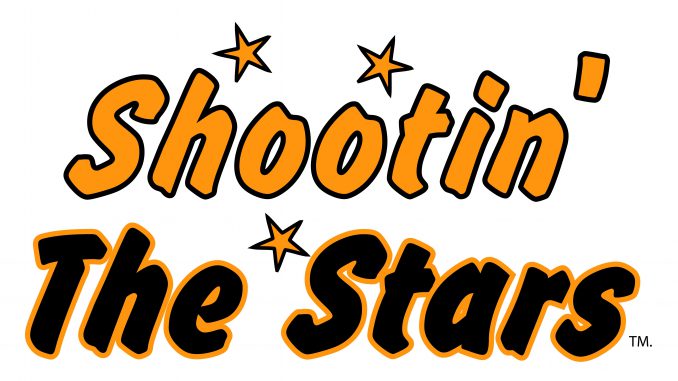 Shootin' The Stars by Mike Beas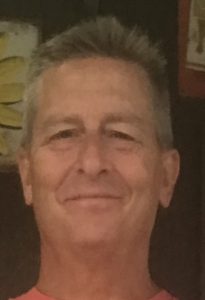 The 2020-2021 school year marks the 37th consecutive year that Mike Beas has covered high school sports in Indiana. Born and raised in Kokomo, Beas graduated from Ball State University before going on to write for The Indianapolis Star, Anderson Herald-Bulletin, and, currently, the Johnson County Daily Journal.
His travels have taken him to over 200 of the state's high schools for either feature stories or game coverage. Beas, recipient of numerous writing awards, lives in Indianapolis and is the father of two daughters.
Kouts Boys Basketball
by Mike Beas
In a different time, the Kouts Mustangs would have been the small-town boys basketball team none of the big schools in and around Porter County wanted to play in the postseason.
All the same, class basketball has failed to dilute the specialness of what's transpiring in Kouts, a town of roughly 1,900 residents located 10 miles south of Valparaiso.
Coach Kevin Duzan's squad isn't merely Class 1A good. It's just good.
"We've got one stoplight in town, and it's one of those old-fashioned Indiana basketball towns," said Duzan, 53, now in his sixth season. "The people here get behind their team. Our community has gotten together and all of our home games are live-streamed. The very first game we had (an 87-71 defeat of Michigan City Marquette) had over 2,000 views. That speaks volumes about the community we play in. "Off to a 9-1 start and ranked second in 1A, Kouts is turning heads and taking names. The Mustangs enter Friday's game at North Judson as the state's 13th-highest producer of points (76.7), eighth in average point differential (24.7) and runaway leader in the presence of identical twin brothers.
Kouts' starting backcourt is comprised of senior guards Cole and Cale Wireman, the former averaging 27.9 points a contest and perched second on the program's career scoring list. Cale, meanwhile, is good for 18.8 a game, followed by senior forwards Hunter Kneifel (8.8) and Parker Kneifel (8.6), standing 6-4 and 6-5, respectively, who are the Mustangs' top rebounders.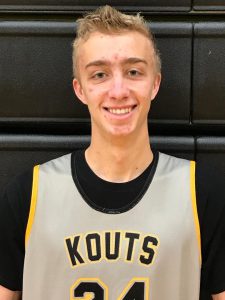 Hunter Kneifel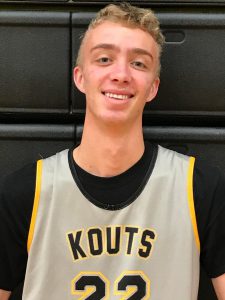 Parker Kneifel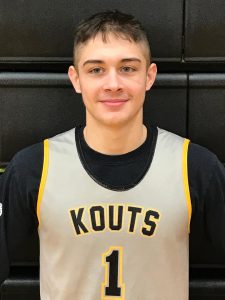 Cole Wireman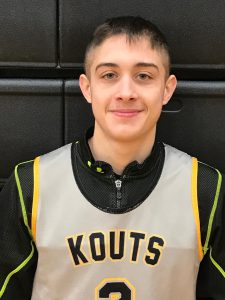 Cale Wireman
The man in the middle is the lone non-twin, 6-4 senior Cooper Schoon (5.8 ppg, 5.5 rpg), while Duzan's top players off the bench are sophomore guard Matt Baker, senior Noah Young and juniors Connor Croft and Joe Vick.
Kouts is no stranger to postseason success, winning four 1A sectionals and advancing to semistates in 1998 and 2001. Prior to that, Mustangs squads of 1987, 1995 and 1996 won sectional titles at Kankakee Valley in the one-class era.
This team, Duzan feels, has the makings of a state finalist as long as it keeps its focus centered on the next opponent rather than thoughts of getting to practice and eventually play inside Bankers Life Fieldhouse in Indianapolis late in March.
"For a 1A school to have that kind of size and athleticism, it doesn't happen very often," said Duzan. "I taught all of these seniors when they were fifth-graders. For a long time, Cole and Cale were undersized, but their ball-handling was amazing. As the varsity coach, we track these kids because at Kouts, it's a K-12 building. We thought they had a chance to be pretty special."
And pretty fearless.
Kouts' lone loss this season was a 50-41 decision to two-time Class 4A state champion Bloomington South at the Wabash Valley Tournament in Terre Haute. The Mustangs were in the game most of the way against a school with a little less than seven times the student enrollment (1,747 to 265); they would eventually regroup to finish the event strong with wins over Terre Haute South, Cloverdale and 2A No. 4 Linton-Stockton.
"That's the mentality of these kids. We got the chance to play in Terre Haute because three Illinois teams weren't able to play," said Duzan. "We competed with them. (Bloomington South) coach (J.R.) Holmes was very complimentary of the way we played."