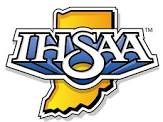 photo by Rick McIntyre, Excel High School Sports/McIntyre Imaging
Tindley, Tigers, Team
by Steven Stremming
Defense is known to win championships, seniors are known for experience and team play is essential to achieve success.
All three aspects of Charles A Tindley's team of Head Coach Bobby Wonnell were clearly evident on Saturday at the IHSAA'S 107th Boys Basketball State Championships presented by the Indiana Pacers and Indiana Fever held at Banker's Life Field House.
And not to be taken back by any sort of the imagination were the efforts put in by Head Coach Dave Barrett's Lafayette Central Catholic High School.
This game had all the makings of instant classic from the tip-off.
Both teams came out giving their best shots and yes, that included Tindey's seniors Chris Murff and Tyler Young along with LCC's seniors Jacob Page, Avery Denhart and Ben Tharp.
In fact, the only LCC basket not recorded by a senior was freshman and coaches son Carson Barrett.
On Tindley side of the ledger, Murff and Young tallied five points while Eric Hunter a junior accounted for five himself.
The second quarter was more of the same, but this time LCC outpaced Tindley 26-24 at the halftime.
For LCC, Senior Avery Denhart was high with five points while Tindley junior K J Coleman led the way with six points and Murff's four points.
The third quarter saw Tindley march back to the front with a 20-16 advantage led by once again by senior Chriss Murff's six pints, junior Joe Johnson's five points and the appearance of freshman Sincere McMahon with five points.
The fourth quarter was a back and forth, up and down, toe to toe defensive struggle that would leave the assembled throng at Banker's Life in gasp.
Tindley freshman McMahon had scored every point in the fourth quarter, five in all to tie the game up at 49-49 but then junior Hunter White, who had been saddled with foul troubles the whole game hit the game winner with scant seconds left and tie a nice bow on the win, Eric Hunter stole the inbound pass to end the game and seal the first victory in the school's scant ten year history.
LCC in the challenged third quarter were led by senior Denhart. Denhart scored nine points out of the teams sixteen while Tharp added four and fellow senior Tyler Powers adding three.
While Sincere, a freshman scored all of Tindley's points except the final basket, fellow freshman and Head Coach Barrett's son Carson scored all seven points for the Knights.
Charles A Tindley (24-5)-Joe Johnson 7, Hunter White 5, K J Coleman 6, Eric Hunter 8, Chris Murff 13, Sincere McMahon 10, Tyler Young 2
Lafayette Central Catholic (22-7)-Avery Denhart 17, Jacob Page 7, Thomas Gabbard 2, Ben Tharp 9, Carson Barrett 11, Tyler Powers 3, Grant Schrader 0.
To view more pictures please visit: www.mcintyreimaging.com