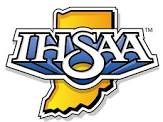 photo by Rick McIntyre, Excel High School Sports/McIntyre Imaging
Frankton Relentless in Victory
by: Steven Stremming
Saturday's second game, in fact, the IHSAA's Class 2A State Championship game was decided earlier than most people had expected.
Heck the game was started with a bang as the Frankton Eagles blew out to a 18-9 first quarter lead behind six points of junior Landon Weins, five from senior Keegan Freestone and three from sophomore Kaden Key.
Crawford County started slowly as they just hit three of ten from two point range and one of two from the charity line.
Tyrell Nickelson scored eight of the Wolfpack's nine points.
The second quarter say Head Coach Brent Brobston's Eagles provided the knock out blow with a 14 to 5 quarter placing the Eagles to a 32-14 half time lead.
Senior Maurice Knight tallied nine points on four of five shooting for Frankton backed up by Key's three and senior Patrick Spillman's two.
Crawford County managed just five points with Nickelson scoring two points along with senior Adam Beasley and a free throw from junior Matthew Dearborn.
As the third quarter started Frankton once again put the pedal to the medal and outscored Crawford County 18-6 putting the game out of reach for them.
Knight once again led the Eagles with 14 points out of the eighteen points scored in the third quarter.
The fourth quarter put a close to the game though the Wolfpack did outscore the Eagles 12-10.
This is Frankton's first state championship.
Frankton (23-6)-Landon Weins 6, Maurice Knight 23, Kayden Key 8, Travis McGuire 3, Rylan Detling 4, Brayton Cain 2, John Hatzell 0, Keegan Firestone 5, Patrick Spillman 6, Sebastian Davis 0, Cole Garner 3, Will Whatley 0.
Crawford County (22-7)-Brent Smith 6, Adam Beasley 6, Tyrell Nickelson 14, Matt Dearborn 4, Josh Thomas 0, Christian Carlton 0, Wyatt Allinger 2, Gavin Coleman 0, Noah Sturgeon 0, Cameron Marples 0, Nick Stroud 0, Dalton Sheckells 0.
Arthur L Trester Mental Attitude: Keegan Freestone.
Session 1 Attendance: 10,036