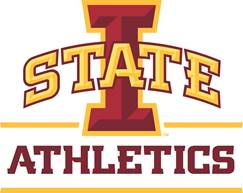 Cyclones Take Down Oklahoma State, 90-80
Credit Source: Iowa State University Athletics
AMES, Iowa – Iowa State (8-4 overall, 4-1 Big 12) outpaced Oklahoma State (9-3 overall, 5-1 Big 12), 90-80, on Wednesday night at Hilton Coliseum. One game after setting a new program record with 19 3-pointers, the Cyclones knocked down 16-of-33 from deep to hand OSU its first conference loss of the season.
How It Happened
The Cyclones got off to a fast start in their first home game since a Dec. 22 victory over Drake. Iowa State opened the game by knocking down 6-of-8 field goal attempts, including 3-of-4 from 3-point range, to jump out to a 15-10 advantage less than six minutes into the game. Ashley Joens scored Iowa State's final five points of the quarter, including a pair of free throws with less than one second left on the clock to put ISU in front 20-14 after one.
Joens also scored Iowa State's first six points of the second quarter, followed by Lexi Donarski splashing home a triple to give ISU its largest lead of the first half at 29-16 with 8:14 to play. Oklahoma State battled back into the game a short time later with a 7-0 run, but Donarski put an end to the spurt with yet another 3-pointer to make the ISU lead 34-25. Rae Johnson and Morgan Kane both hit 3-point shots to close out the period, as Iowa State scored half of its 42 first-half points from beyond the arc. Joens led the way with 16 points as the Cyclones held a 42-33 advantage at the intermission.
Oklahoma State reeled off an 8-0 run early in the third quarter, including back-to-back 3-pointers by Lauren Fields and Lexy Key, to cut Iowa State's lead to 47-43 with 7:42 remaining in the period. However, that was as close as the Cowgirls would get, as Donarski knocked down a jumper to halt the run. Donarski and Joens combined to score 16 of ISU's 24 third-quarter points, including a Donarski triple in the final minute to give the Cyclones a 66-57 lead with 10 minutes to play.
Standout Cowgirl forward Natasha Mack scored 12 of OSU's 23 points in the fourth quarter in an attempt to spark a late rally, but the Cyclones came up with an answer at every turn. Emily Ryan in particular was critical down the stretch, knocking down a pair of 3-pointers midway through the fourth after Iowa State's lead had been cut to five points. Iowa State then went 6-of-6 at the charity stripe in the game's final minute to secure a 90-80 victory.
Players of Note
Ashley Joens put up yet another double-double with a 30-point, 15-rebound effort to lead the Cyclones past the Cowgirls. Joens pulled down five of Iowa State's 12 offensive rebounds and knocked down three 3-pointers.
Lexi Donarski knocked down 4-of-5 attempts from 3-point range to lead the Cyclones from long distance. Donarski totaled 14 points, including eight in the third quarter. She added five rebounds, three assists and one block.
Up Next
Iowa State is set to hit the road to take on No. 6 Baylor on Saturday in Waco, Texas. The game will tip-off at 7 p.m. CT and be televised on ESPNU.