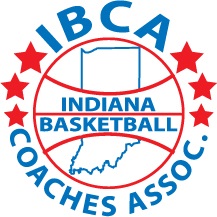 District-3 is Strong this Year; Gordon Tops the Week-2 IBCA/Franciscan Health Player of the Week Honorees
You MUST be an IBCA Member to Nominate Players!
Two weeks are complete in the 2020-2021 girls' basketball season, and four more ladies share honors for the Week-2 IBCA/Franciscan Health Player of the Week award.
Wabash Senior Mariah Wyatt, Anderson Senior Tyra Ford, Northwestern Sophomore McKenna Layden, and Heritage Hills Senior Rebekah Gordon have been selected as honorees for Nov. 9-Nov. 14 in the recognition program coordinated by the Indiana Basketball Coaches Association. Wyatt is the honoree for District-1. Ford and Layden are co-recipients for District-2. Gordon is the winner for District-3.
District-3 saw a number of huge performances last week, but Heritage Hills' Rebekah Gordon had one of the biggest offensive explosions of the young season. Thursday evening, the Senior forward erupted for 41 points on an impressive 17-21 shooting performance, helping the Patriots to an 85-42 home win against Evansville F.J. Reitz. The 6-0 forward also knocked down three of her four 3-point attempts and all four of her free throws, plus she grabbed seven rebounds, handed out an assist, and collected a pair of steals.
Saturday saw Heritage Hills travel to Jasper, where Gordon and company were able to win again, this time by a 60-32 margin. Gordon, an Auburn University signee, scored 22 points, grabbed eight rebounds, had another assist, and picked up three more steals in the effort. She was 2-4 from 3-point range and 2-2 from the charity stripe. Gordon also found her way to the prestigious 1000-point plateau during the week.
Wabash has been successful because of its interior play the last couple of seasons, and with the performances Senior Mariah Wyatt put forth last weekend, she is the recipient of the award in District-1. Friday, the Apaches hosted Mississinewa, a team they hadn't beaten in three seasons. But behind a 27-point, 24-rebound effort by the 5-11 Wyatt, Wabash was able to take this one by a close 58-54 score. The Senior front-liner also put forth three assists and a steal in the big win, helping Wabash to a 2-1 start.
The next day, Saturday, Wabash traveled to Marion, a team they hadn't beaten in four seasons. However, with Wyatt posting another double-double of 14 points and 10 rebounds, the Apaches were able to walk away with yet another key victory, this time by a 64-27 score. The Senior contributed another three assists, five steals, and a blocked shot in the contest. Over the weekend, Wyatt grabbed a total of 12 offensive rebounds, so she's now averaging a strong 5.3 offensive rebounds and 13.5 total rebounds per game early this season.
Anderson Senior wing Tyra Ford has been consistently productive throughout her entire career, however with the week she had, she's putting everyone on notice. Wednesday, Ford and the Indians played host to the IBCA #7 Fishers Tigers and nearly pulled off the upset, falling by a narrow 63-60 final score. The 5-10 wing posted a double-double with 37 points and 10 rebounds, plus she was an impressive 19-22 from the free throw line. She added an assist and three steals to her output as well.
Friday, Ford was back in action in another home matchup, this time against conference rival Richmond. Behind Ford's 49 points and 18 rebounds, Anderson came away with a 65-54 victory to start their conference season 1-0. The Senior wing, who has committed to play at IUPUI next year, also contributed three assists, three steals, and a pair of blocked shots in the contest. Through four games, she is leading the state in scoring with a 37.5 point per game average.
Sharing District-2 honors this week is Northwestern Sophomore McKenna Layden. After a severe case of the graduation effect, the Tigers have managed to start the season 4-0 once again, and a lot of that can be attributed to the play of the youngster Layden. Last Tuesday at West Lafayette High School, the 6-2 wing posted a triple-double with 19 points, 13 rebounds, and 10 assists on the evening. She added a steal and a blocked shot in the 61-47 win, as she has become the Tigers new playmaker.
The very next night, in a matchup with Rochester, Layden was at it again, posting 27 points, five rebounds, 11 assists, and four steals. She was 9-15 from the field, 3-5 from 3-point range, and a nice 6-7 from the free throw line as the Tigers took care of the Zebras 63-26. Saturday, in her third game in five days, the Sophomore wing posted one more double-double, as Northwestern defeated Tippecanoe Valley at home, 54-38. Layden had another 19-point effort, plus she contributed eight rebounds, 10 assists, and six steals in the win to finish off her strong week.
This is the 13th season for the Indiana Basketball Coaches Association Player of the Week program, but the first season it is presented by Franciscan Health, a corporate sponsor of the Indiana Basketball Coaches Association.
Player of the Week winners are chosen each week from each of the IHSAA's three districts. Girls winners will be chosen through the Monday following the IHSAA Girls State Finals. Boys winners will be chosen starting in two weeks and through the Monday following the IHSAA Boys State Finals.
Other Top Nominees for Week-2 (2020-21)
           District-1: Emme Boots, Bluffton; Trinity Clinton, Penn; Asia Donald, Hobart; Remi Jordan, Knox; Hailee Kline, Fort Wayne Blackhawk Christian; Annaka Nelson, Fort Wayne Concordia; Kiana Oelling, Valparaiso; Morgan Ostrowski, Garrett; Mila Reynolds, South Bend Washington; Lamyia Woodson, Fort Wayne South Side.
           District-2: Maddie Barnes, Speedway; Madelyn Bischoff, Roncalli; Katie Burton, Fishers; Alyssa Crockett, Westfield; Kenzie Fulks, Bethesda Christian; Sophia Morrison, Eastbrook; Ashlynn Shade, Noblesville; Jayla Smith, Lawrence North; Ariana Wiggins, Heritage Christian; Kyla Willis, North Putnam.
           District-3: Gracie Adams, Lanesville; Katherine Benter, Brownstown Central; Kylee Edwards, Shelbyville; Taylor Heath, Triton Central; Misti Kimberlin, Austin; Scarlett Kimbrell, Franklin Community; Paige Ledford, Jac-Cen-Del; Sheridan Robbins, Orleans; Ali Saunders, North Harrison; Bailey Tabeling, Trinity Lutheran.
2020-21 Weekly Winners
Nov. 2-Nov. 7: District-1 girls: Courtney Blakely, Bishop Noll. District-2 girls: Olivia Nickerson, Twin Lakes. District–3 girls: Hope Fox, East Central.
Nov. 9-Nov. 14: District-1 girls: Mariah Wyatt, Wabash. District-2 girls: Tyra Ford, Anderson, and McKenna Layden, Northwestern. District-3 girls: Rebekah Gordon, Heritage Hills.