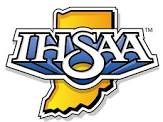 Tigers beat Braves
Steven Stremming
INDIANAPOLIS- In a game that featured two teams that most people, experts included, didn't think would be playing the day after Thanksgiving 2017 in Lucas Oil Stadium geared up to do battle for just that earned privilege.
In a tight fought, hard hitting, explosive play game both teams stood toe to toe with each other.
First team to strike was the Memorial Tigers as they took a 7-0 lead when 6'3, 195 pound Junior quarterback Michael Lindauer found 5'10, 190 pound senior fullback/defensive end Cole Foster for a four yard pass.
Braves Head Coach Mic Roessler's team struck back at the 9:01 mark in the second quarter when their own strong armed quarterback 6'2, 185 pound senior Derrick Ozobu hit a streaking 5'7, 145 pound sophomore with a 45 yard pass and a Alex Potts kick to tie the score up at seven.
Memorial would find pay dirt  again as Michael Lindauer ran the ball in from 13 yards out to give the Tigers a 13-0 lead before Matt Clark added the extra point for the 14-7 lead.
The third quarter would see both the Braves and Tigers score twice a piece. For the Tigers it was a Matt Clark 20 yard field goal and a Lindauer to 6'1, 190 pound sophomore running back Brock Combs.
While the Braves put up scores from senior cornerback/wide receiver senior Miles McIlwain on a 77 yard kick-off return and a 6'1, 185 sophomore kicker Alec Bevelhimer's field goal of 44 yards.
The final period was as physical as it could get with Memorial outscoring Brebeuf 6-0 when Lindauer hit 5'3, 185, senior wide out Kenyon Ervin.
Going into the game, only game purists knew the potential of Lindauer. After the game Lindauer set himself apart from all the other junior quarterbacks in the state.
The Blake Ress Mental Attitude Award Winner was Brebeuf Jesuit's Dillion Howell.
Officiating the game were: Rick Frank, Evan Hammond, Justin Faw, Peter Olson and Ryan Fisher.