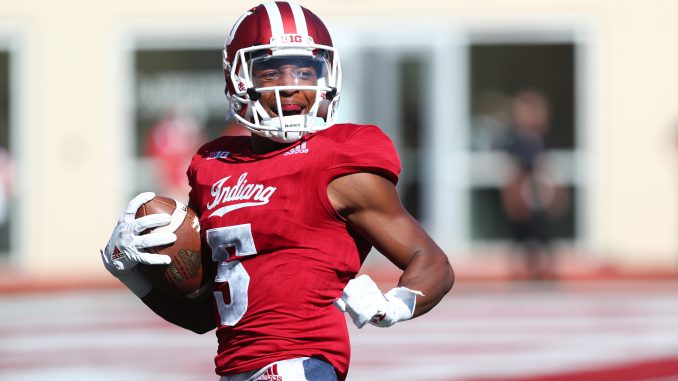 (photo by Rick McIntyre/Excel High Schools Sports/McIntyre Imaging
Hot. Humid. Hoosiers….
by Steven Stremming
On one of those hot, humid, Indiana summer days, okay, yes the fall equinox happened Friday but you get the jest, it was miserably hot in Bloomington on Saturday afternoon.
photo by: Rick McIntyre, Excel High School Sports/McIntyre Imaging
Tom Allen's Hoosiers got back on the gridiron Saturday to a outdoor ninety degree temperature and 42,886 souls weathering the heat to watch the Hoosiers get off to a quick drive down the field that incorporated 10 plays for 73 yards that included Pickerington, Ohio (Central) Freshman Morgan Ellison's two yard touchdown run and a Griffin Oakes extra point to push the Hoosiers up 7-0.  By the way, just the start of the day young Ellison would see unfold. Ellison would compile 186 yards rushing on 25 attempts with zero negative yardage.
photo by: Rick McIntyre/Excel High School Sports/McIntyre Imaging
After a quick three and out Georgia Southern punted the ball away and back to retrieve the punt was Fisher, Indiana native and another former Goal Post Football Cover photo player, J'Shun Harris II.
photo by: Rick McIntyre, Excel High School Sports/McIntyre Imgaing
All the Senior/Junior eligible Harris would do with the punt is scamper 70 yards for a score and with another Oakes extra point the Hoosiers would find themselves up 14-0 with 6:27 left in the opening stanza.
Then the game got out of hand for Georgia Southern as the Hoosiers had a quick five play, 46 yard drive that ended with a Oak Park, Senior/Junior eligible Simmie Cobbs, Jr. fumble recovery and a 21-0 lead at the end of the first quarter.
Indiana would strike again early in the second quarter when Greenwood, Indiana's Griffin Oakes would sail a 27 yard kick through the uprights for a 24-0 lead.
Yet another Ellison run and Oakes extra point would push the Hoosier team to a 31-0 lead with 11:49 showing on the opening half clock.
Georgia Southern showed some life at this point and scored after a eight play, seventy-seven yard drive that saw freshman quarterback Shai Werts complete a 23 yard pass to Ellis Richardson for Georgia Southern's only tally in the first half.
Hoosier fans were treated to three more touchdowns after the half, one from Plano, Texas fifth year senior quarterback Richard Lagow to Baltimore, Maryland senior Ian Thomas for 71 yards another completion from Cincinnati (Elder) Sophomore/Freshman quarterback Peyton Ramsey to Columbia, Missouri, Junior/Sophomore Devonte Williams for 42 yards and a strip interception from Decatur, Georgia's, Junior/Sophomore Andre Brown, Jr for 22 yards to make the final tally Indiana 52  Georgia Southern 17.
photo by: Rick McIntyre/Excel High School Sports/McIntyre Imaging
Things get back to the BIG next weekend as Allen's Hoosiers travel to nationally ranked (#4) Penn State.