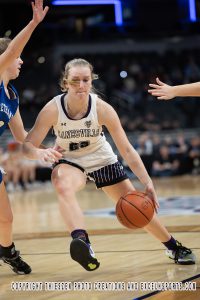 Lanesville Caps Magical Season to Capture First State Title
by: Shawn Martin/Excel High School Sports/Senior Writer
Lanesville used their significant advantage inside with twin towers – 6-1 Senior Morgan Sonner and 6-1 Sophomore Shelby Allen – to get a good start and then continue to dominate the inside throughout the game. Bethany Christian has one player that is 5-10.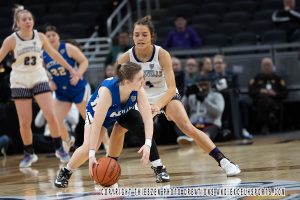 The pair came into today's game averaging a combined 14.6 points per game. Sonner led all scorers with 18 points and Allen tallied 11 leading the Eagles to their first state championship.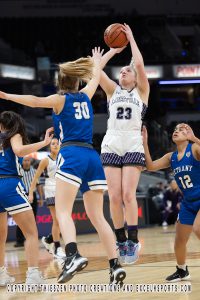 Lanesville Head Coach Angie Hinton becomes only the third coach in Indiana High School Girls Basketball history to win state championships at two different schools – Donna Chetham (Scottsburg and Southwestern Hanover), Kathie Layden (Tri Central and Northwestern), and now Angie Hinton (New Albany and Lanesville). Angie Hinton's husband Joe is a Hall of Fame coach – and his wife's assistant. He coached Floyd Central to two Final Fours under the old single class in 1971 and 1989. He has 594 career wins as a head coach and was inducted into the Indiana Basketball Hall of Fame in 2011.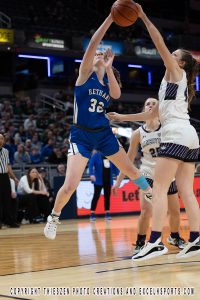 Sonner ad Allen routinely got free underneath for layups as the top ranked Eagles steadily and explosively built their lead. A 9-2 run in the first quarter opened up a 17-7 margin after eight minutes had been played. Lanesville led 28-13 when Bethany Christian Head Coach Krysten Parson called a timeout to calm her team and stem the tide. The Eagles would lead 34-18 as the teams headed to the locker room for halftime.
Lanesville (28-2) would jump right back on the gas pedal to open the second half with a blistering 6-0 run to extend the lead to 22 points. Seventh ranked Bethany Christian (24-4) closed out the third with a nice 13 to 4 run of their own and trailed 44-31 after three quarters. The Eagles finished off the Bruins by the score of 60-41.
The schools sit at either end of Indiana, 275 miles apart – Bethany Christian near the Michigan border while almost directly south, Lanesville is close to the Ohio River.
In addition to the two dominant inside players, senior Linzie Wiemert was the third double figure scorer with a dozen points and was a rebound shy of a Double-Double. She added four assists.
If that wasn't enough, she was also named the Mental Attitude Award winner. She carries a 3.9 Grade Point Average.
Junior guard Zoe Williams equaled her 17 point season average in leading her Bethany Christian team. Classmate Mariah Stolzfus added eleven.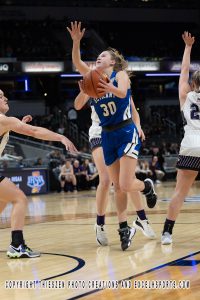 Defending Champion Still Shows They Have Heart; Despite Injury
by: John Grever
In the first 4 minutes of the 1st quarter the Rangers looked shaken by the knee injury to Danielle Eckert who left the game in the first 30 seconds, offense seems to not know what to do, but still finding shot.  Bulldogs feel the nerves committing 3 turnovers in their offensive plays. Forest Park leads 4-3
At the end of the First Quarter, it has become evident that this is going to be a defensive battle for open shots.  Forest Park starts to reset and find their rhythm with their offense.  Lapel, due to Forest Parks defensive pressure, is slowing the tempo down and finding open shots on offense.  After one 6-6
At the 4-minute mark of the Second quarter Forest Park is beginning to flex their muscle and show why they are the defending state champions with a 6-0 burst.  But Lapel answers with a sweet open layup from Laniah Wiils.  12-11 Forest Park.
At the half: Lapel leads Forest Park 16-14 by a very balanced scoring attack and a triple of 3's by Jaylee Hubble, Deannaya Haseman, and Madelyn Poynter.  Forest Park only has two players that have scored Amber Tretter (8) and Lydia Betz (6)
Forest Park came out of the half and showed that they can play without Eckert.  They pulled together a balanced attack both offensively and defensively, causing the Bulldogs to turnover the ball four times.  With the presence of Lydia Betz, they showed that they can put points on the board, 17 for that quarter.  As the Rangers, caused issues and lead 31-23.
Lapel comes storming back in the 4th quarter led by the hustle and determination of the underclassman Junior Madelyn Poynter and Freshman Laniah Wills.  In the fourth quarter alone, the junior scored 12 of her 15 points, but the defensive pressure of Forrest Park at the end was just too strong to overcome after falling behind during the third quarter.  The Bulldogs did end up taking the lead with 36 seconds on the clock from a 3 from Madelyn Poynter, but Forrest Park was able to get a layup from Amber Tretter to grab the lead back with 9 seconds later.  Lapel had a shot put up at the end by Poynter, but the shot bounced off the rim, giving the Rangers its second State Title in as many years.  The final score from Gainbridge Fieldhouse is Forrest Park over Lapel 38-37.
Forrest Park's Amber Tretter was named this year's Mental Attitude award winner for class 2A.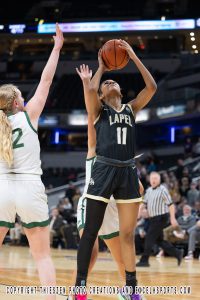 Forrest Park was lead is scoring by Lydia Betz with 15 and Amber Tretter with 13
Lapel leading scorers were Madelyn Poynter with 15; Jaylee Hubble with 9; and Laniah Wills with 8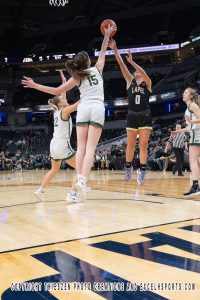 FREE THROWS AND DEFENSE LEAD FALCONS TO CHAMPIONSHIP
by: John Grever
The road to the State Finals is a grueling test, just ask the players from Fairfield and Corydon Central.  Both teams have beat the team that many thought would represent the South and North respectively.  So, entering today's State Finals game is already a victory but the victory was ultimately decided by two sister schools (in size and talent) that are on opposite ends of the state, by something that was learned in elementary school.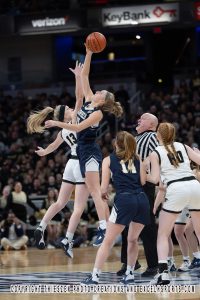 In the first quarter both teams were out to prove a point and so were the leading scorers for both teams.  No team had nerves of playing in Gainbridge Fieldhouse and Fairfield's Brea Garber and Corydon Central's Ava Weber were looking to put on a show.  Garber set the pace for the Falcons with 9 points and Weber had 6 points for the Panthers as the quarter ended with a score of 14-13 in favor of Fairfield.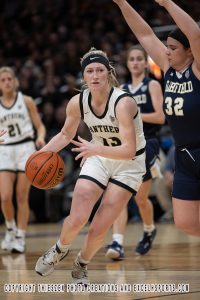 As the second quarter kept it pace both teams adjusted and found ways to defend each other's key players.  With both teams playing keep away from the other teams leading scorer. Fairfield's Garber and Corydon Central's Weber each had 2 and 3 points respectively.  So, both teams supporting cast showed up in the big moment.  For Fairfield it was Morgan Gawthrop with 5 points and Bailey Willard with 3.  For Corydon Central it was Josie Vaughn with 3 points and Bre Edwards with 3 points. Fairfield still hangs on to a 1-point lead as the half time horn blares 25-24.
In the third quarter the defense picked up for both teams as only 9 points were scored by both teams and Corydon Central is only allowed one field goal as they manage 2 points that quarter.  Fairfield's Brea Garber was the lone star of the quarter as she "shinned" with 5 points. After three Fairfield extended its lead and the score is 34-26
In the final quarter the game was a matter of that lesson they learned in elementary school.  As the Falcon's Ava Weber scored 14 points and tried to will her team to a victory. It all came down to a simple fundamental each player learned in elementary school and has tried to perfect since.  I will say Fairfield has perfected that fundamental.  The fundamental I am talking about is free throws.  Fairfield went 14-21 from the line in the fourth quarter and 25-35 from the game overall.  That is over 70% for the game after shooting 35 free throws. Due to the outstanding shooting from the line and tough defense in the third quarter Fairfield wins for the first time 49-42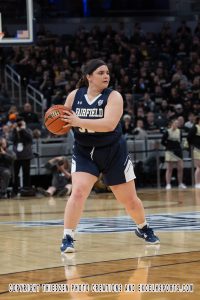 Fairfield Brea Garber is the 3A Mental attitude winner!!!
Fairfield top scorers were:  Brea Garber with 19; Morgan Gawthrop with 13; Bailey Willard with 12
Corydon Central top scorer was Ava Weber with 23
THE STARS ALLIGN AGAIN FOR 5TH STATE TITLE!!!
by: John Grever
Let's battle until the end…is what they say.  These two teams, Fishers and Bedford North Lawrence have come to play for a championship, and they have come as a team.  The first quarter has seen excellent defense, excellent plays, and balance scoring between teammates.  This game might be one that years from now they are talking about.  After the first quarter Bedford North Lawrence leads 10-8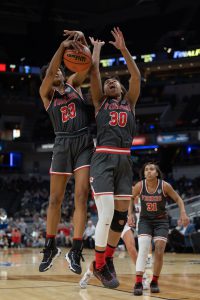 The second quarter has shown when teams are this even what comes into play is determination and defensive pressure and that is exactly what Fishers did.  They found a way to stop Star's Junior Chloe Spreen to 2 points in the quarter and the rest of the team to 1 point.  Meanwhile, Fishers Junior Talia Harris scored 5 in the quarter and has 8 points for the game.  Fishers led at the half is 18-13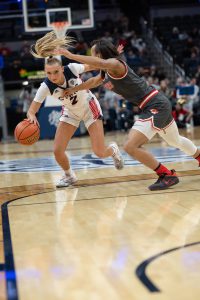 The third quarter saw the offenses come alive and the no quit spirit from Bedford North Lawrence led by the charge of Senior Mallory Pride's 7 points and Chloe Spreen's 6 points.  The Tigers also kept up with the pace behind the 8 points from Junior Joirdyn Smith.  After the dust settled, we entered the final frame at 32-30 Fishers.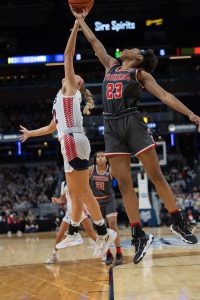 The fourth quarter was a quarter for the ages and lived up to what everyone was expecting. The Stars leading scorer Chloe Spreen scored 8 points in the quarter to keep Bedford North Lawrence in the game, but when she was double teamed it was Emma Brown who drove to the basket with 30 seconds left to put the Stars up by 2.  Fishers made a move with 5 seconds remaining to tie, but an illegal screen was call on the Tiger's Alycia Triplett. Bedford North Lawrence's Emma Brown was fouled on the next inbound play and sealed the game with 2 free throws. Fishers was led in the fourth quarter in scoring by Talia Harris with 5 points.  The final score of the game with the Stars on top without making a three-point shot 46-42.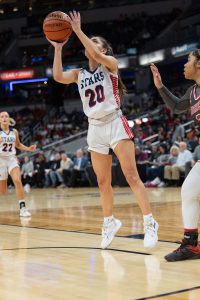 Bedford North Lawrence's Karsyn Norman wins the 4A Mental Attitude Award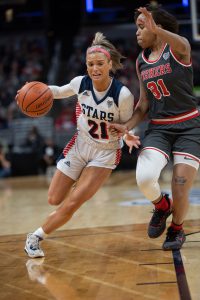 Bedford North Lawrence top scorers were Chloe Spreen with 20 points and Mallory Pride with 11.
Fishers' top scorer was Talia Harris with 15 points.