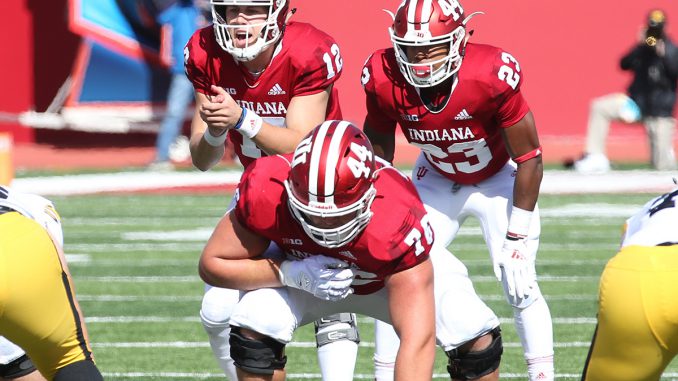 Maryland (5-5,3-4) vs. Indiana (5-5,2-5)
Date: Nov 10, 2018 • Site: Bloomington, Ind. • Stadium: Memorial Stadium
Attendance: 35264
Score by Quarters 1 2 3 4 Total
Maryland 6 9 8 9 32
Indiana 0 21 10 3 34
Qtr Time Scoring Play V-H
1st 10:05 UMD – Petrino, Joseph 29 yd field goal, 10-60 4:55 3 – 0
02:50 UMD – Petrino, Joseph 31 yd field goal, 12-74 5:39 6 – 0
2nd 12:30 IND – Ramsey, Peyton 35 yd run (Justus, Logan kick), 6-90 1:36 6 – 7
10:07 IND – Hale, Donavan 37 yd pass from Ramsey, Peyton (Justus, Logan kick), 3-64 0:52 6 – 14
08:11 IND – Scott, Stevie 2 yd run (Justus, Logan kick), 5-36 1:15 6 – 21
03:04 UMD – Fleet-Davis, Tayon 3 yd run (Petrino, Joseph kick failed), 10-75 5:07 12 – 21
00:07 UMD – Petrino, Joseph 31 yd field goal, 7-41 2:28 15 – 21
3rd 11:26 IND – Westbrook, Nick 19 yd pass from Ramsey, Peyton (Justus, Logan kick), 9-81 3:34 15 – 28
07:05 IND – Justus, Logan 23 yd field goal, 8-56 1:52 15 – 31
06:45 UMD – Leake, Javon 27 yd run (McFarland, Anthony pass from Pigrome, T.), 2-27 0:20 23 – 31
4th 12:25 UMD – Petrino, Joseph 39 yd field goal, 10-38 4:34 26 – 31
04:54 UMD – Jones, Jeshaun 15 yd pass from Pigrome, Tyrrell (Fleet-Davis, Tayon rush failed), 9-88 5:20 32 – 31
02:32 IND – Justus, Logan 42 yd field goal, 5-36 2:22 32 – 34
Kickoff time: 12 p.m. • End of Game: 3:36 p.m • Total elapsed time: 3:36
Officials: Referee: Michael Cannon; Umpire: Ken Zelmanski; Linesman: Bruce Keeling;
Line judge: John Quinn; Back judge: Robert Smith; Field judge: Grady Smith;
Side judge: Joel Clay; Center judge: Bryan Banks;
Temperature: 28 • Wind: N-NW 5 • Weather: Sunny
Hoosiers Get Justice when Logan Justus kicks game winner
by Steven Stremming
On a blustery, cold November afternoon at Memorial Stadium all in attendance were treated to defense, offense, turnovers and a game winner with just minutes left on the clock.
In fact, Indiana's defense held Maryland out of the end zone in a decisive first quarter that saw the Terps go up and down the field at will.
Maryland managed only six points in the opening stanza when Joseph Petrino kicked two field goals (29 and 31 yards) in what could have very well been more but the Hoosier defense held tough.
Indiana would get on the board in a high scoring second quarter that saw Peyton Ramsey cleverly side stepping Terp defenders on his way to the end zone from 35 yards out and after a Justus extra point the Hoosiers led seven to six.
A Donovan Hale touchdown reception from Ramsey from 37 yards out and and a touchdown by true freshman Stevie Scott from two yards out gave the homestanding Hoosiers a comfortable 21 to 6 lead.
Maryland would come right back and put up two scores of their own with a run from Tayon Fleet-Davis and another Petrino field goal  to pull the Terps to a  21-16 deficit at the break.
Indiana would score first in the second half as Nick Westbrook hauled in a Ramsey pass and a Justus field goal to put the Hoosiers back up by 15 at 31-16.
Javon Leake would score from 27 out and a Pilgrom to McFarland two point attempt was good to pull the Terps within reach at 31-24.  Then Petrino kicked it through the uprights from 39 yards to pull within five at 31-26.
Tyrell Pigrome would then connect with Jeshaun Jones to put the Terps on top with under five minutes to go 32-31.
Indiana would not be quiet on this Saturday afternoon and mounted a drive and with just a tick over two minutes left in the game Logan Justus provided the game winner from 42 yards out.
Indiana now balances their record at five and five with a road game next Saturday against the fourth ranked Michigan Wolverines before returning home for the Old Oaken Bucket game against Purdue.