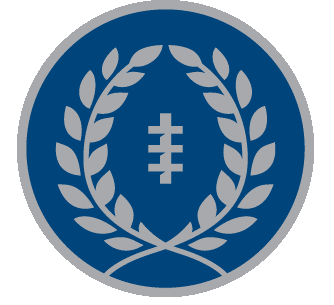 Advertising Executive and NFF Board Member shares his thoughts on Black History and its connections to football, his career experiences and current events.
Thom Gatewood joined the National Football Foundation Board of Directors in 2016. He is the owner and president of the advertising specialty company Blue Atlas Productions and the co-owner of Larkspur Lane Ltd., a television production company. He previously worked for ABC News and Sports, receiving both an Emmy and a Peabody.

A split end at Notre Dame from 1969-71, he became the first African-American captain of the Fighting Irish football team while earning recognition as an NFF National Scholar-Athlete in 1971. A consensus First Team All-American, he was inducted into the College Football Hall of Fame in 2015.
Your grandson AJ Dillon, played at Boston College and now with the Green Bay Packers. What's the key message that you would impart to him and future generations of African-Americans who would like to follow in your footsteps?
It's primarily preparation. There's always a struggle for Blacks in America. The way to succeed and the way out of the struggle is through achievement, which is about really working hard and being prepared. So, education is at the forefront of our existence. And so that's the message that has been there all along. It's about getting past the struggle to achieve.
What role has football played in your life?
I never miss an opportunity to applaud the NFF and talk about the difference college football has made in America. In terms of race, whether it's Black or White struggles, achievement, whatever, athletics is what launched it for me. Football gave me a link to success. It gave me confidence. It helped me understand how brotherhood works; how loyalty works; and most important about having a game plan; and maybe adopting a new game plan during the course of a game. I like to think of myself as being in the tape room – watching film, rewinding, learning how can I improve on what I did yesterday. All of us think we're hot stuff. Whether we're coming out of pony league, Pop Warner, high school, or the pros, there is always a need for more coaching, becoming self-aware and leaving your ego in the locker room.
Should athletes use their platform to take an active role in social issues?
If we talk about what is the obligation of an athlete, whether you're a pro or a college athlete, you have media attention. It's not about should. It's about having the opportunity and you should only speak if you are articulate enough to express yourself with the facts. It's not about your own theory, your own thoughts. There should be some basis for that motivation. Don't give a lesson to others unless you've been down that path yourself or have researched that information because it's powerful and can lead people into a lot of different directions. So, you must be cognizant of what you're saying, how you're saying it, and who you're saying it to before you open your mouth, before you write a note.
You had offers from more than 150 colleges as a high school senior, why did you choose Notre Dame?
Notre Dame had a unique set of offerings. One was one of the highest media profiles in the country with a network of 300 radio stations and at least two or three nationally televised games a season. Its high academic ratings and finishing in the Top 10 in football most seasons. George Young, the former general manager of the New York Giants who was my high school coach, put together some footage and sent it to Ara Parseghian. A very humble recruiter, he basically said, "I can't guarantee you anything, the only thing we can do is offer you an opportunity." It was different than what I was hearing from Ohio State, Michigan and USC who said I was almost guaranteed to be an All-American with my skill level. I didn't buy it.
I did buy the fact that Notre Dame was a national school, not a conference school, not a regional school but a national school playing schools all around the country. That was an enticement to me because I was looking for a vehicle by which to communicate. And that was television, I wanted to be a part of the movement Martin Luther King started in the 60s, but I was too young to get on a bus and ride to protest in the South during the Freedom Rides. But later, I was able to become a member of the Fighting Irish, and go all around the country, my name and my face on camera. That was powerful. I was communicating with a platform without uttering a word, just my face, in front of millions of other young Black kids, saying, if he can do it, I can do it.
What did your experiences at Notre Dame mean to you?
I was able to go from struggle to achievement and take on the best competition I could find. I was able to become an All-American in the best setting I could find while becoming the first African-American to be a football captain at Notre Dame after 84 years of playing in what was now 1971. So, it was a training ground. I would later become a corporate leader and the leader of my own company.
What's your perspective on social injustice in our country today?
I still don't feel the full breadth of liberty. Liberty to me is freedom, and I still cannot fully reach the 100% level. If I can't have liberty, the pursuit of happiness is still elusive. There are limits to pathways that I can take. I can tell my white teammates and whites who I have social contact with or worked with, and they cannot relate to the fact that from birth I have not had the freedom that allows me to pursue total happiness. It has never happened to me, and it may still not happen in my lifetime. But I hope that can happen to my grandchildren. So, the hope is out there. It is something of a spiritual one. It was really the whole fulcrum of Martin Luther King's movement. He was a minister, a man of God, a man of peace, a man of civil disobedience. That being his course, for how to get equality in America.
Do you have a favorite Black historical figure and why?
If I look at who impacted my life, it would begin with Martin Luther King, and it would end with Barack Obama. Obama's concept is it's a political situation that needs to be changed in America with legislation. In my mind, we cannot have a system of government where term limits can be the lifetime of a person. Issues change. Lives change. Demographics change. All kinds of things change. But if your legislators are the same people who control the laws and the enforcement, if they don't change with the changing society, it leaves a lot of people in a "same as usual" situation. So, your patience has to be so long. You're waiting and waiting and waiting. You just get frustrated. And that's how I feel in America.
How have things changed since you played in the 1970s?
Texas did not recruit me. Alabama did not recruit me. Over the last 20 years, the schools in contention for national titles like Miami (FL), Florida State, Florida, Alabama, LSU, Texas, Georgia, I could go on, who didn't recruit me, yet, I was able to become an All-American. I played at a school that was playing against all the top competition, and the pressure was on me when we went into the zones in the South where I wasn't recruited. All of a sudden, they were forced to see Black faces coming at them and that the world was changing. Now, the majority of the kids on the field are African-American at Miami and Florida State and Texas, and so forth.
So, what does that say in a matter of a mere 50 years of evolution? Well maybe, Earl Campbell saw Thom Gatewood's face on TV the day he scored a 56-yard touchdown against Woo Worster and the Texas wishbone offense. Maybe there was an impact, and maybe all of a sudden, Texas woke up and Darrell Royal said, there is a revolution happening…. I may not be welcomed but I'm competitive and at least as good as you are. So why can't I have that opportunity…. I'm at Notre Dame, and I get to play against the number one team in the country (Texas), and almost beat them in the first game and then beat them in a rematch the following year.
That's the national forum. That's a platform. The platform was not my philosophy or my thoughts. It was my performance, scoring in both those games. For me, it was exhilarating. It was exhilarating to be playing in the Cotton Bowl. That was all the inclusion I needed. It made me proud that I was able to participate in the Black movement without going to Selma, without going to Biloxi. I was doing it going on the road to New York, playing Army in Yankee Stadium, being written up, making an impact, having sports writers hear me speak for the first time and speak articulately.
What does it mean to you to be one of only 40 people to ever be recognized as an NFF National Scholar-Athlete and also be inducted into the College Football Hall of Fame?
I always regarded myself as a student-athlete, but I was always student first and an athlete second. I think I would have been successful just with the student part, but the athletic part introduced me to the outside world. It took me out of that quiet place and into a different place where you need to have some strength because of the competition factor. Competition drove me. For me, they were balanced. The classroom was just as important to me as the arena. I was fighting for superiority in both places, competing against myself and competing against other people. I thought good things would happen no matter what. If I had them both together, great. If I had one and not the other, great. I had some formula for winning. I just had high regard for scholarship and learning, and I just absorbed it like a sponge.
Do you have a favorite book or movie related to Black History?
Ken Burns' "Civil War." It had all the elements. It had love and hate. It had Black and White. It was historical. It was moving. It had historical context, and we had hope for the direction the country was headed with the war ending. The Union was saved. And the Emancipation Proclamation said going forward slavery is abolished. Blacks have an opportunity to go forward and not be indentured for life. For me, it showed pain, suffering and some heroes that I didn't even know were heroes.
What does it mean to you to serve on the NFF Board?
The NFF provides a platform to underline how big a deal football is. That it's not just a game. It is a positive environment, where mentoring takes place on an unlimited basis, which is a big part of my life. The NFF helps keep the competitive environment alive. I always felt like you could lose your job every day. You practice every day. Every day somebody gets better. And the game mirrors the society that you are going to walk into at some point. So, the NFF keeps the game strong, providing me an opportunity to influence the kids who wear those uniforms as well as the families who support those kids. It is a great teaching opportunity, a great mentoring opportunity.