Millers Capture Second School Title
Story by: Steven Stremming
The Noblesville Miller's came into the Indiana Class Basketball State Finals for the first time since the 1990 run.
In the late 80's the Millers were accustomed to being in the State Finals, as they had laid claim to the 1987 championship and had made three consecutive trips afterwards.
This group of Millers' head by Head Coach Donna Buckley had no seniors on the varsity team but they did have, 5'10 Junior, Ashlynn Shade, who is considered to be, if not the Top player in the state of Indiana, regardless of grade level, the second best.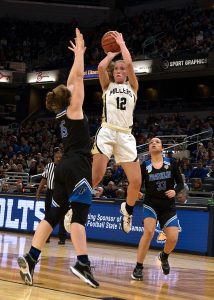 Photo by: Tony Harper/Indiana Sports Network
And Shade did not disappoint, as she started the game drawing in defenders just to pass the ball out to the perimeter players or set up other teammates with deft passing.
Shade's teammates did not disappoint either, as up and coming 5'8. sophomore Reagan Wilson and Dani Mendez, 5'11, Junior helped Noblesville post an 18 to 13 first quarter lead over Franklin Community.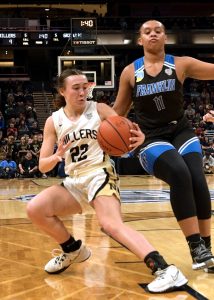 Photo by: Tony Harper/Indiana Sports Network
The second quarter belonged to Shade and her teammates.
Noblesville outscored Franklin 29 to 15 and secured a 47 to 28 halftime margin.
Shade came out in the second quarter and hit driving layups, but more to the Miller fans liking, post up jump shots in the paint to which Josh Sabol's Grizzly Cubs had no answer.
Two big reasons, other than Shade, were the aforementioned Mendez, who averaged 3.2 ppg in the regular season but scored nine in the state championship game, but also averaged 3.7 rebounds during the season but collected a team leading eight rebounds for the game.
Ava Shoemaker, a 5'9, Sophomore added 12 points, including two of four from behind the arc. Shoemaker averaged 4.8 points on the season.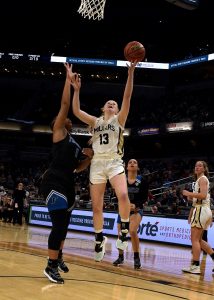 Photo by: Tony Harper/Indiana Sports Network
For the game the Millers were led by Shade's 31, Shoemaker and Wilson's 12. Mendez added nine while Kaitlyn Shoemaker added seven.
Shade tied the 4A individual scoring mark of 31 held by Ali Patberg, Reicina Russell and Christy Steffen.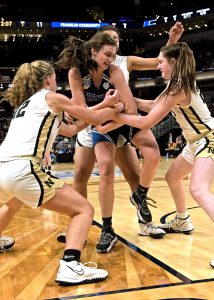 Photo by: Tony Harper/Indiana Sports Network
The over-all mark in single class was set in 1980 by Maria Stack (40) while the over-all state final record in class basketball is held by Jackie Young with 36.
Franklin Communities Grizzly Cubs were led in scoring by 5'9 Senior, Ashlyn Traylor's 18. Scarlett Kimbrel, Erica Buening and Adelyn Walker added eight a piece.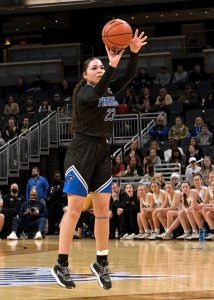 This was the first time since 1998 that Franklin had appeared in the State Final game.
Total attendance for the State Finals was,
2022 (Gainbridge Fieldhouse, Indianapolis)
A, 2A =  5,516
3A, 4A =9,465
Total 14,981
Photos by: Tony Harper/Indiana Sports Network