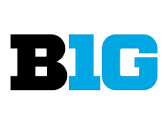 photo by Rick McIntyre, Excel High School Sports/McIntyre Imaging
by Steven Stremming
Indianapolis- Day three opened up with a Ohio State clinic. Unfortunately the recipient was the Northwestern Wildcats, winners of Day 2 competition against Iowa.
The key was early as sophomore Asia Doss put on a clinic of inbound defense.
First team All-American Kelsey Mitchell scored 16 points on five of eight shots of the two point variety, four of five shots from beyond the arc, three assists  and only one turnover in eighteen minutes.
Shayla Cooper added eleven points in fifteen minutes. In fact, nine Buckeyes reached the scoring book.
No Wildcat was in double figures at halftime.
The second half of the game saw much as the same as the Buckeyes outscored Northwestern 48-44 with much of the scoring coming from the support team.
Ohio State-Kelsey Mitchell-27, Kiara Lewis 11, Shayla Cooper 11, Linnae Cooper 11, Alexa Hart 11, Makayla Waterman 8, Tori McCoy 8, Sierra Calhoun 6, Asia Doss 4, Chelsea Mitchell 2, Jensen Caretti 0
Northwestern-Nia Coffey 21, Ashley Deary 13, Christen Inman 11, Lauren Douglas 8, Abi Scheid 6, Lydia Rohde 5, P Kunaiy-Akpanah 2, Abbie Wolf 0, Byrdy Galernik 0, Allie Tuttle 0, Oceana Hamilton 0, Maya Jonas
Check out Carl Jake Ennis' Facebook page for social media pictures and comments and also please visit www.mcintyreimaging.com for pictures from every game.