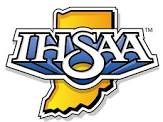 photo by: Rick McIntyre, Excel High School Sports/McIntyre Imaging
Crispus Attucks Rises Above Twin Lakes For Class 3A Title
by: Jeff Robison
INDIANAPOLIS-Indianapolis Crispus Attucks junior Jamal Harris may be one of the state's most athletically gifted athletes playing basketball this season. Saturday night, Harris applied his 50-inch vertical jump at the biggest moment of the Class 3A championship game against Twin Lakes, skying above the crowd to rebound and put back teammate Alex Cooley's miss for the game-winning basket, giving the Tigers a 73-71 victory and the Class 3A state title against the Indians.
The game took on historic implications as Crispus Attucks, which previously had a near 20-year hiatus as a high school, returned to glory with its first state title since 1959 with many members of its 1955, 1956, and 1959 champions in attendance. The young Tigers made their attending ancestors proud, a who's-who that included Hall of Famers Oscar Robertson, Hallie Bryant, John Gipson and Bill Hampton.
Cooley's missed three pointer was a rarity throughout much of the day for Attucks, who scorched the nets for 11-of-18 treys through the game. Despite that hot shooting, Twin Lakes would not yield the end result. Attucks shot nearly 65 percent in the first half, yet only led by three points (39-36) at the halftime break.
In the third quarter, the Indians picked up their pace as Bryce Bennington caught fire, and led Twin Lakes through a pair of 7-0 runs and took the game's biggest advantage at 59-50 late in the period. But, Nike Sibande kept the game from getting away as he hit a four-point play off one three-point attempt and added another trey, bringing momentum back to Crispus Attucks.
The game's high scoring pace slowed down the stretch after Bennington's layup knotted the score at 68-68 with 4:02 remaining. He tied the game back at 71-71, after hitting one-of-two free throws with 36 seconds left.
Attucks coach Chris Hawkins had his team trim down the clock before Cooley made his final attempt. And, while that shot did not go down, the best block out effort of Twin Lakes' Blake Bennington could not deny Harris and destiny.
"This was bigger than basketball," Attucks coach Hawkins said. "There were a lot of ups and downs. But, I am so proud of our kids to be able to start their own legacy here at Attucks."
"This was a tough way to lose," Twin Lakes coach Kent Adams said. "But, like I told these guys, we did not lose, Attucks won that game. We stayed close and made a nice run, but what our team accomplished has been unbelievable, and I am so proud."
Bryce Bennington led all scorers with 32 points, as Twin Lakes capped off its year at 25-4. Teyon Scanlon, who shot a game-best 9-of-11 for Attucks, led the championship effort with 24 points, followed closely by Sibande, who had 23.
Twin Lakes senior guard Justin Crabb was the Class 3A recipient of the Arthur L. Trester Mental Attitude Award, earning a $1,000 scholarship for the school's general scholarship fund.
Editors Note: Please visit www.mcintyreimaging to view more pictures from all four games at the Boy's Class State championship games.