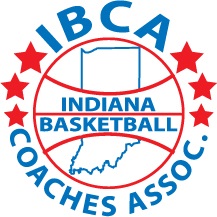 Grateful for a Return to the Court, Three Ladies Earn Week-1 IBCA/Franciscan Health Player of the Week Honors
Last Monday, November 2nd, saw the beginning of yet another basketball season. Despite an everchanging schedule, there is still hoops in Hoosierland, and three ladies have been chosen as the first IBCA/Franciscan Health Player of the Week recipients for the 2020-2021 campaign.
Bishop Noll Senior Courtney Blakely, Twin Lakes Freshman Olivia Nickerson, and East Central Junior Hope Fox have been selected as honorees for Nov. 2-Nov. 7 in the recognition program coordinated by the Indiana Basketball Coaches Association. Blakely is the recipient for District-1, Nickerson is the winner in District-2, and Fox takes home honors in District-3.
Courtney Blakely had a nice Saturday afternoon at the Lake Central Classic tournament, posting strong numbers in a pair of games. During a hard-fought, 52-48 win against Class 3A perennial power Benton Central, the 5-8 point guard began her season by scoring 29 points on a sizzling 11-14 shooting. She made one of her two 3-point attempts, and she buried six free throws in the effort. The Senior also contributed six rebounds, five assists, and a steal in the victory.
In Bishop Noll's second game of the day, Blakely raised her scoring output to 36 points on 13 made shots, however she was a stellar 5-7 from 3-point range in this contest. Add five more made free throws, five rebounds, an assist, and three steals, and she finished a strong weekend by helping her Warrior team to a 60-54 win.
If Freshman Olivia Nickerson had any nerves entering her first Varsity game last Thursday, it certainly didn't show. The skillful youngster posted a 42-point scoring effort in her first ever game, making six of her 13 3-point attempts, while impressively burying 16 of 20 shots from the charity stripe. It wasn't enough, though, as Twin Lakes fell to West Lafayette, 81-68. Nickerson did add seven rebounds, a pair of assists, and a pair of steals in her initial outing.
Saturday, against powerhouse Northwestern, the 5-6 guard knocked down another six 3-pointers on her way to 25 more points. Again, the Lady Indians fell short to another top opponent, this time by a score of 61-34. Nickerson added five rebounds, three assists, and a pair of steals in her second contest of the year. So far, the rookie has scored 67 of their 102 points this season, or 66%.
East Central got their season started off on the right foot, with a strong 73-51 victory over seven-time State Champion Heritage Christian. Right in the middle of the action was Trojan guard Hope Fox, as she rarely missed in a 29-point performance. The 5-7 Junior was 11-15 from the field, 3-5 from 3-point range, and a perfect 4-4 from the free throw line in the outing. Fox also posted seven rebounds, a pair of assists, and a steal, as the Trojans began their season with a win.
This is the 13th season for the Indiana Basketball Coaches Association Player of the Week program, but the first season it is presented by Franciscan Health, a corporate sponsor of the Indiana Basketball Coaches Association.
Player of the Week winners are chosen each week from each of the IHSAA's three districts. Girls winners will be chosen from now through the Monday following the IHSAA Girls State Finals. Boys winners will be chosen starting in three weeks and through the Monday following the IHSAA Boys State Finals.
Other Top Nominees for Week-1 (2020-21)
District-1: Addi Baker, Northfield; Emme Boots, Bluffton; Kaylee Chavez, Lowell; Nevaeh Foster, Mishawaka Marian; Lilliann Frasure, North Judson-San Pierre; Samya Gardner, Hammond Morton; Maddie Hudspeth, Oregon-Davis; RaShunda Jones, South Bend Washington; Remi Jordan, Knox; Hailee Kline, Fort Wayne Blackhawk Christian.