Purdue Men Clinch B1G Ten Conference Championship/Clinch number one seed
by: Steven Stremming
photos by: Anthony Harper
Behind National player of the year candidate, Zach Edey, the Boilermakers opened up an early lead on the Nittany Lions in the championship game presented by TIAA at United Center in Chicago.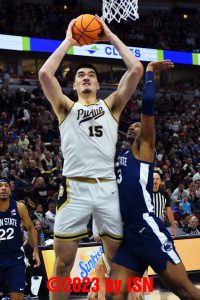 photo by: Anthony Harper/Excel H Sports/Indiana Sports Network
David Jenkins, Jr. came off the bench and added instant firepower to the Boiler offense.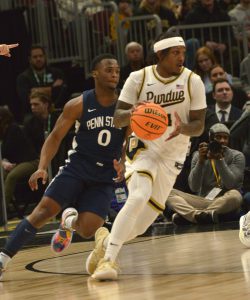 photo by: Anthony Harper/Excel H Sports/Indiana Sports Network
Penn State would make a valiant comeback and force the pro Purdue crowd into a bit of a last few minutes frenzy until Fletcher Loyer hit a free throw and then at 0.6 Ethan Morton threw a inbound pass that only Zach Edey could get to and appropriately swatted it await as time expired.
Penn State having already, virtually sealing their NCAA bid earlier, by sending Indiana home proved to be a tough out once again by co-All B1G Ten conference all-tournament selections with another solid outing.
Seth Lundy led the Nittany Lions with 19 points on five of nine shooting from the field, a six of seven afternoon from the free throw line and a team high eight rebounds.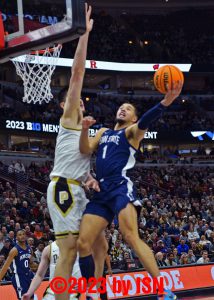 photo by: Anthony Harper/Excel H Sports/Indiana Sports Network
Anyone who hasn't seen Jaylen Pickett play live, really has a clue how good he really is, and this afternoon Pickett, who was slowed down in his offensive output by Martin and Brandon Newman, he still accounted for six rebounds, four assists while scoring eleven points.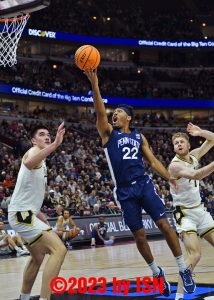 photo by: Anthony Harper/Excel H Sports/Indiana Sports Network
Camren Wynter was the other Penn State player in double figures with 14 points and four assists.
The Boilers were not to be denied as Zach Edey proved he is the National Player of the Year, as he scored 30 points on twelve of seventeen shots from the field, hit six of seven charity tosses and added 13 rebounds, including six offensive boards.
David Jenkins, Jr. provided offense throughout the game while scoring eleven points while Mason Gillis was a fixture in the paint as he grabbed six boards and scored ten points.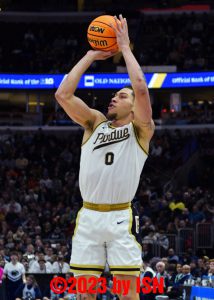 photo by: Anthony Harper/Excel H Sports/Indiana Sports Network
Braden Smith did not score from the floor in the win but ran the offense with perfection as he recorded a seven assists game.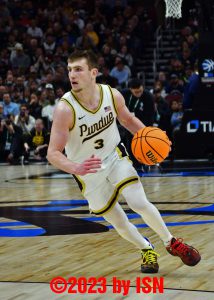 photo by: Anthony Harper/Excel H Sports/Indiana Sports Network
Brandon Newman collected seven rebounds in the win.
Below provided by both Purdue University athletics and Penn State University athletics
[5] Purdue 67, Penn State 65 (Postgame Notes)
Purdue won its second Big Ten Tournament title with a 67-65 win over Penn State in Chicago on Sunday afternoon. The title was Purdue's first since the 2009 season.

 

Purdue became the first Big Ten team since 2019 (Michigan State) to win both the regular-season title and tournament titles. The Boilermakers are the first Big Ten team to win the regular-season title by at least three games and win the tournament title.

 

Purdue won its 29th

 

game and has set the school record for most victories in a two-year span (58). Purdue is now 58-13 since the start of last season.

 

The Boilermakers were making their fourth title-game appearance in the last seven tournaments, and is now 2-4 all-time in Big Ten Championship games.
Purdue improved to 30-6 under Matt Painter against Penn State. The Boilermakers have won 16 of the last 17 games against the Nittany Lions.

 

Purdue is now 5-1 in the last two Big Ten Tournaments.
Purdue will enter the NCAA Tournament with a 17-5 record against KenPom top-50 teams – the most wins in the country against the top 50.

 

The Boilermakers improved to 7-0 in neutral-site games and lead the country in wins away from home with 15.

 

Zach Edey was named tournament MVP after averaging 26.0 points and 12.7 rebounds in the three tournament games.

 

Edey became the first Purdue player to score 30 or more points in consecutive games since Glenn Robinson in 1994.

 

Edey now has eight 30-10 games this season, the most for a major-college player in the last 15 years, surpassing the seven by Duke's Marvin Bagley and Texas' Kevin Durant.

 

Edey surpassed 1,500 career points in the win over Penn State, and now has 736 points (6th

 

in school history), 423 rebounds (2nd

 

in school history), 69 blocks and 51 assists this season. He needs 14 points and 37 rebounds to become the first player since Navy's David Robinson (1986) to have 750 points, 450 rebounds and 50 blocks in a season.

 

Edey's 78 points and 38 rebounds in a single Big Ten Tournament are both the most in school history. The 78 points are the 7th

 

most by any player in Big Ten Tournament history while the 38 rebounds are 4th.

 

Braden Smith's 17 assists in the three games were the most for a Purdue Boilermaker.
Valiant Comeback Effort Falls Just Short as Penn State Falls to #5 Purdue in Big Ten Championship Game
Nittany Lions cut 17-point second-half deficit down to one but come up just short in Big Ten title game
CHICAGO – The Penn State men's basketball team timed a 17-point deficit down to one in the final minute, but came up just short of completing the comeback in a 67-65 loss to top-seeded Purdue in Sunday's Big Ten Tournament Championship game at the United Center in Chicago.
The Nittany Lions magical run in the Big Ten Tournament comes to a close after taking down Illinois, Northwestern, and No. 19 Indiana on its path to the second title game in program history.
Seth Lundy and Jalen Pickett were both named to the All-Tournament team for their respective performances in Penn State's tourney run.
The Nittany Lions' senior leaders came up big in the championship game, with 19 points and eight rebounds from Seth Lundy pacing the squad, followed by 14 points, four boards, and four assists from Camren Wynter. All-American Jalen Pickett had 11 points, six rebounds, and four boards.
HOW IT HAPPENED
Penn State got out to an early 4-0 start but a 15-2 run by the Boilermakers had them up by nine at the 9:47 mark of the opening half.
An 8-2 spurt by the Nittany Lions, including two threes from Myles Dread and a bucket by Camren Wynter, put the Nittany Lions right back in it, down 17-14, with 8:17 remaining in the half.
Eight in a row by Purdue put them back up by 11 with just under six minutes to play in the opening frame.
A quick 7-2 run by the Nittany Lions cut the Purdue lead back down to single digits and the Nittany Lions entered the under-4:00 media timeout down 27-21.
Penn State was able to get within five, but two quick buckets put the Boilermakers up by ten once again as the clock ticked under a minute to play in the first half.
The Nittany Lions got a bucket from Jalen Pickett with 22 seconds left and entered the break down 35-27. Wynter led the way with seven points in the half, followed by Pickett and Dread with six apiece.
Following a Mason Gillis three out of the break for Purdue, the Nittany Lions went on a 9-2 scoring run to work the deficit back down to four points at the 16:28 mark of the second half.
Purdue responded with its own 20-7 stretch to go up by 17 with 6:18 left in regulation.
The Nittany Lions did not go quietly, storming back with a 15-4 streak to get back within four at the 1:55 mark of the half.
A bucket from Zach Edey put Purdue back up by six with a minute remaining but a triple by Myles Dread and a bucket by Wynter cut the Boilermaker lead to just a single point with 6.4 seconds left on the clock.
Purdue knocked down one free throw on a dead ball foul, giving the Nittany Lions 3.3 seconds to run one final play. Penn State was unable to get one last shot off, as they fell 67-65.
GAME NOTES
The Nittany Lions head into the NCAA Tournament having won eight of their last 10 games.
With two threes this afternoon, Myles Dread moved into a tie for sixth place in school history for 3-pointers in the Big Ten Tournament with 12.
Jalen Pickett moved into the second spot in the Penn State Big Ten Tournament record books in both career scoring (120 points) and tournament scoring (2023, 66 points). He also moved into second place in tournament rebounding with 31 in this year's tournament.
With 19 points in the game this afternoon, Seth Lundy moved into fourth place in Penn State history in Big Ten Tournament career scoring with 103 total points.
FROM THE SOURCE
Head Coach Micah Shrewsberry, Myles Dread and Jalen Pickett, Camren Wynter
http://bigtenmbb.hammondcg.com
UP NEXT
The 2022-23 Nittany Lions will take on seventh-seeded Texas A&M at the Wells Fargo Arena in Des Moines, Iowa. Time and television designations will be announced later tonight.