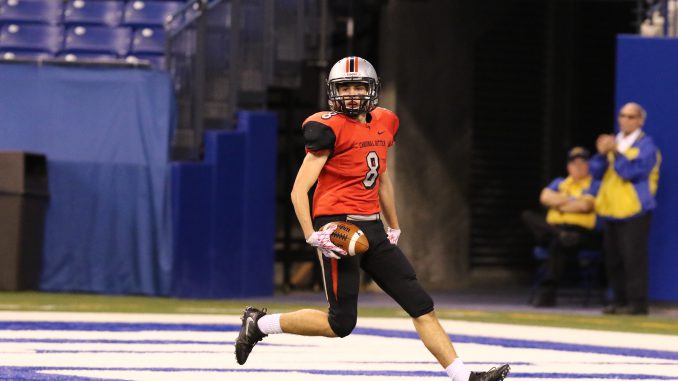 (photo by Rick McIntyre, Excel High School Sports/McIntyre Imagaing)
Ritter Raiders Collect Class 2A Title Over Eastbrook
(story by Jeff Robison, Excel High School Sports)
Indianapolis Cardinal Ritter made an aggressive start against the Eastbrook Panthers, scoring on the game's first offensive play, and kept the Panthers offense at bay throughout as the Raiders prevailed for a 28-6 victory in the Class 2A state championship game, opening the 44th annual IHSAA state football championship weekend.
The Raiders put themselves in favorable position immediately as junior wide-out Brad Bacon ran a reverse, and tight roped the sideline before pulling away for a 72-yard touchdown and 7-0 start. Bacon, who came into the game as second tier player in the depth chart, proved an unsung hero for the day as he caught three passes for 123 yards in addition to his game-opening rush.
Ritter coach Ty Hunt accomplished the keys to his game plan.
"We definitely wanted to come out and be aggressive as we possibly could," Hunt said. "From offense to defense to special teams, we wanted to make those plays that counted."
Ritter quarterback Diomoni Small provided the Raiders a sense of security with a pair of touchdown passes before the halftime break. Trevor Browder made a 14-yard catch for a second touchdown in the first quarter, while Kyle Price finished off the half with a four-yard scoring catch, a play set up by Bacon's 55-yard catch one play earlier.
Bacon was an unknown quantity going into the game, but his versatility proved itself in this game.
Brad really stepped up for us today," Hunt said. "We believed in him. We had called upon him once in the playoff run against Milan stepped in as a defensive back, and he did an outstanding job."
With the lead up to 21-0 at the break, the Raiders defense continued to limit Eastbrook's offensive success. The Panthers stayed in the game as they denied further scores from Ritter, but had to turn to an unfamiliar air attack to score their lone touchdown, a 60-yard pass from Jackson Liddick to Andrew Barajas, a catch where Barajas wrestled the ball from a Ritter defender.
Eastbrook gave its fans a sparkle of hope in the final quarter when Clay Dalton intercepted Small in the final quarter. But, the Panthers could not capitalize as Ritter's Zach Yetter returned the ball to the Raiders by intercepting Liddick.
The Raiders sealed Eastbrook's loss as Avery Hall clicked off the game's final score with a 24-yard run.
Eastbrook senior offensive tackle/linebacker John Ragan was named recipient of the Blake Ress Mental Attitude Award following the contest. One of the team captains, Ragan plans to attend Taylor University to continue his education.