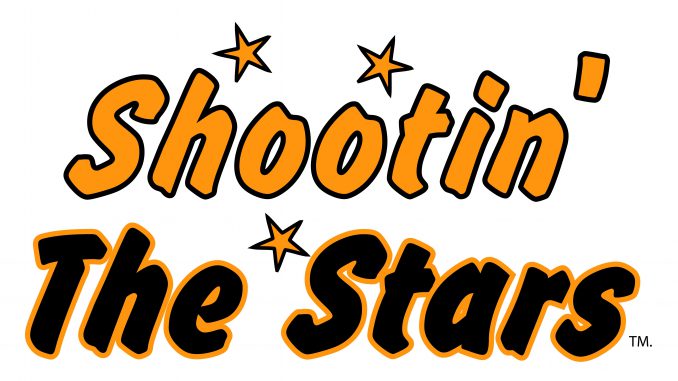 The 2020-2021 school year marks the 37th consecutive year that Mike Beas has covered high school sports in Indiana. Born and raised in Kokomo, Beas graduated from Ball State University before going on to write for The Indianapolis Star, Anderson Herald-Bulletin, and, currently, the Johnson County Daily Journal.
His travels have taken him to over 200 of the state's high schools for either feature stories or game coverage. Beas, recipient of numerous writing awards, lives in Indianapolis and is the father of two daughters.
Shootin' The Stars
by Mike Beas
David Neidorf lives roughly 2,000 miles from Indiana, has been to our state three times, knows of no relatives here and still considers himself something of an honorary Hoosier.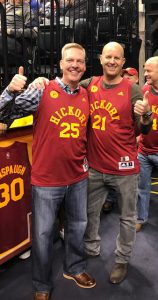 David Neidorf (Right) and Steve Hollar
Starring in a movie that continues to reach new waves of fans more than three decades after its release gives an actor that type of confidence.
Or in Neidorf's case, former actor.
Neidorf was in his mid-20s when he hit the trifecta with a role in three of the most memorable films of the 1980s – Hoosiers, Platoon and Bull Durham.
In Hoosiers, Neidorf played Everett, the kind-hearted son of Dennis Hopper's character, Shooter. It was the first of 15 acting credits Neidorf would receive (including television spots on L.A. Law and Matlock) before deciding to retire from acting in 1995 and aim his life in different directions.
Born in Los Angeles, Neidorf lives in Bend, Oregon, with his wife, Pauline, and three daughters – Casey, 32, from Neidorf's first marriage; Adin, 16, and 10-year-old Stella. Neidorf started his own property management company, Full House Consulting, Inc., 12 years ago.
Having turned 58 in November, Neidorf is at a stage in life where fewer and fewer persons glance his way and think, "Hey, that guy was in 'Hoosiers'."
"Very, very rarely now. It's really the plus-50 set," said Neidorf. "It's flattering, but it was a movie that came out a long time ago. It's a little shocking. We're not kids anymore."
Nonetheless, Neidorf cherishes the opportunity to be part of a movie that continues to weather the changes of time. He occasionally communicates with former Hickory Huskers teammates, Wade Schenck (Ollie) and Brad Boyle (Whit), but is mostly playing the ultimate "away" game these days living in Oregon.
"I don't live in the past, but I do feel love to the state of Indiana," Neidorf said. "It was really fun for me to learn about Indiana in that way. I do feel like an honorary Hoosier."