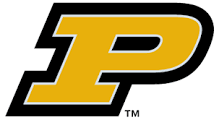 Swanigan Earns School-Record Tying 5th Big Ten Player of the Week Honor
WEST LAFAYETTE, Ind. – National Player of the Year candidate Caleb Swanigan was named the Big Ten's Player of the Week for his role in a pair of Purdue wins over nationally-ranked teams.
The accolade is Swanigan's fifth Big Ten Player of the Week honor this season tying Glenn "Big Dog" Robinson for the most weekly honors in school history. His five citations are now tied for the second most in league history just behind Evan Turner's seven (Ohio State; 2009-10).
Swanigan averaged 25.0 points and 13.0 rebounds in wins over No. 25-ranked Northwestern on Wednesday and No. 17-ranked Maryland on Saturday. He went a combined 16-of-30 from the field, 5-of-10 from 3-point range and 13-of-15 from the free throw line in the two victories.
Swanigan scored 24 points with 16 rebounds and an assist against Northwestern, going 7-of-11 from the field, 2-of-4 from 3-point range and 8-of-9 from the free throw line. In the win over Maryland, he tallied 26 points with 10 rebounds, a career-high three steals and two blocks. He scored 17 of his points in the second half, helping Purdue overcome a 12-point second-half deficit for the win.
In the win over Maryland, he surpassed 300 rebounds for the season, becoming just the sixth player in school history with 300 rebounds in a season (Joe Barry Carroll, Robinson, Terry Dischinger, Frank Kendrick, Brad Miller), now ranking sixth on Purdue's single-season rebounds list (306). Over the last 25 seasons, the most rebounds by a Big Ten player is 416 rebounds by Iowa's Reggie Evans during the 2000-01 campaign.
In addition, he recorded his school-record 19th double-double in the win over Northwestern and now has 20 on the season – the third most for a Big Ten player in the last 20 years.
For the season, Swanigan is averaging 19.1 points, 12.8 rebounds and 2.8 assists per game while shooting 54.7 percent from the field, 50.0 percent from 3-point range and 79.6 percent from the free throw line. He leads the nation in double-doubles (20) and is second in rebounding (12.8). His 19.1 points per game (in all games) rank second in the league and 63rd nationally.
In league games only, he is averaging 20.0 points and 13.0 rebounds per game, leading the Big Ten in both categories, while also ranking sixth in the conference in 3-point percentage (.485) and eighth in free throw percentage (.844).
Swanigan and the Boilermakers travel to Indiana on Thursday for a 7 p.m. ET, tip on ESPN2.