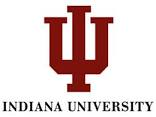 Tyra Buss Added To Wade Trophy Watch List
BLOOMINGTON, Ind. – Junior guard Tyra Buss has been added to the Wade Trophy Watch List, announced by the WBCA NCAA Division I Coaches' All-America Selection Committee on Monday afternoon. Buss is one of 10 players nationally to be added to the award mid-season and is one of 35 players up for the prestigious honor.
It's just the second time in school history that the Hoosiers have featured a player on the Wade Trophy watch list, as the program's all-time leading scorer Denise Jackson appeared as a finalist twice in 1983 and 1984.  Buss joins the preseason list of 25 "Wade Watch" list of hopefuls are Monique Billings of UCLA, Lexie Brown of Duke, Napheesa Collier of Connecticut, Asia Durr of Louisville, Tori Jankoska of Michigan State, Chantel Osahor of Washington, Brittney Sykes of Syracuse, Katie Lou Samuelson of Connecticut and Gabby Williams of Connecticut.
The Wade Trophy — now in its 40th year — is the oldest and most prestigious national player of the year award in college women's basketball. It is named in honor of the late, legendary Delta State University head coach Lily Margaret Wade, who won three consecutive national championships with the Lady Statesmen. First awarded in 1978 by the American Alliance for Health, Physical Education, Recreation and Dance (AAHPERD), now known as SHAPE America, the Wade Trophy has been presented to the WBCA NCAA Division I National Player of the Year since 2001.
Buss leads Indiana and eighth in the Big Ten with 18.5 points along with 4.7 assists and 2.5 steals per game. She became the fastest player to score 1,000 points in program history this season, hitting the career mark in just 66 games played. She currently ranks 13th on the all-time scoring list with 1,407 career points.
She also ranks in the top 10 in assists (351, 7th) and steals (193, 7th) and scored the fourth-most points in a single game in school history with 38 against North Carolina State on Dec. 1. Buss also set a new school record for consecutive double figure scoring games with 59 over the last two seasons. She has led the Hoosiers in scoring 12 times, in steals 13 times and in assists 11 times.
The Mt. Carmel, Ill. native was also named to the Naismith Trophy Preseason Top 50 Watch List this season and earned a spot on the Big Ten Player of the Week Honor Roll a week ago and was a First Team All-Big Ten selection in 2015-16.
The "Wade Watch" list will be trimmed to four finalists in March. The WBCA will officially announce the winner of the Wade Trophy during the 2017 WBCA Convention, held in conjunction with the NCAA® Women's Final Four® in Dallas.